5 Things to Know About the February 2018 Battlefield 1 Update
DICE's cooking up a new Battlefield 1 patch for February and today we want to guide you through the update's release date, release time, and changes.
The developer's February 2018 Battlefield 1 update is going to be a substantial update for Xbox One, PlayStation 4, and Windows PC owners.
In addition to the usual collection of important bug fixes, this month's patch is set to deliver the Apocalypse DLC to Premium Pass holders and anyone looking to buy the DLC as a standalone expansion.
Last month, DICE pushed the Turning Tides North Sea campaign to Premium Pass holders inside the game's January patch and this month it will release Apocalypse DLC content inside the February update.
The release date is extremely close and today we want to go over everything we know, and think we know, about the February 2018 Battlefield 1 patch for your console.
Battlefield 1 February 2018 Update Release Date
DICE's confirmed an official release date for its next patch, and here's what you can expect.
EA's Battlefield 1 Turning Tides free trial stretches from February 13th and February 19th. During this period, anyone can try the current Battlefield 1 DLC expansions for free.
One day later, the developer is expected to launch the Apocalypse DLC and thus, the February patch.
Battlefield 1 February 2018 Update Release Time
Here's when you can expect the February patch and the Apocalypse DLC to arrive for your console on release day.
We expect DICE to follow the usual release protocol and that means you'll most likely see servers go down sometime in the morning on release day.
If the company sticks to its usual pattern, look for the release time for the Xbox One, PS4 and Windows PC to look something like this:
PC: Multiplayer will be offline for 2h starting 08.00 UTC / 12.00 AM PT.
PS4: Multiplayer will be offline for 2h starting 10.00 UTC / 2.00 AM PT.
Xbox One: Multiplayer will be offline for 2h starting 12.00 UTC / 4.00 AM PT.
DICE typically confirms the exact timing shortly before the roll out and you'll find the details over here on its official forums when the time comes.
Apocalypse DLC Content
Battlefield 1's February patch should be accompanied by some, or all, of DICE's Apocalypse DLC content.
Apocalypse includes five brand new maps including two that are focused on the intense dog fighting in World War I. It also includes a set of brand new weapons and gadgets, new vehicles and a stationary weapon, a new Specialization type, new Dogtags, new Codexes, and new ranks.
For details on those changes, take a look at our guide to Apocalypse.
Bug Fixes
The February patch should also bring a nice list of bug fixes and tweaks to all three platforms. The list of changes in testing in the CTE is subject to change, but we expect many of these changes on board the finished product.
SMG 08/18:
Aligned the SMG 08/18 closer to how it probably actually fired.
Reduced the SMG 08/18's zoom-in speed.
Hellriegel:
Reduced the Hellriegel's zoom-in speed.
Ribeyrolles:
Decreased the first shot spread multiplier of the Ribeyrolles 4 -> 3.
Increased the horizontal recoil of the Ribeyrolles 0.16 -> 0.33.
These changes should reduce the Ribeyrolles's ability to magdump for very long ranges and make bursting more effective.
Automatico:
Decreased the horizontal recoil of the Automatico 0.6 -> 0.4.
Decreased the first shot recoil multiplier of the Automatico 2.8 -> 2.4.
These changes make the Automatico more consistent at mid-range and make it more worthwhile to use in the current Assault arsenal.
Maschinenpistole M1912/P.16:
Slightly reduced the Maschinenpistole M1912/P.16's vertical recoil.
Vehicles:
Fixed an issue where incendiary and grenade type bombs dropped by bombers and attack planes would sometimes not properly disappear from the bomb racks when dropped.
Bomber:
Adjusted the aiming constraints on the Caproni Ca5 rear gunner.
Heavy Bomber:
Improved the handling of the Heavy Bomber.
Reduced the rate the Repair Tool is able to repair the Heavy Bomber.
Switched Smoke Bombs on Heavy Bomber Support Package for Gas.
Heavy Bomber (Strategic Bomber):
Heavy Bomber's Cluster Bomb blast radius 7 -> 12.
Heavy Bomber's Cluster Bomb drops an additional bomb in the middle of the cluster to fix the safe zone in the middle.
Switched Heavy Bomber's Flechettes to twin HE Autocannons.
The changes here are intended to improve the Strategic Bomber Package's role in eliminating large groups of infantry.
C-Class Airship:
Fixed an issue where the seat layout information was not displayed correctly when customizing the C-Class Airship.
Fixed a weapon description which showed an incorrect bomb count on the C-Class Airship.
Fighter Plane:
Significantly Fighter Plane Incendiary Rounds increased damage to airplane wings/engines.
Significantly increased the accuracy of Fighter Plane Incendiary Rounds.
Attack Plane:
Adjusted attack plane throttle settings to increase their minimum speed slightly.
This change gives Attack Planes slightly less time to line up their attack runs on ground targets, and gives fighters a braking advantage over attack planes.
Cavalry:
Cavalry can now heal themselves and their horses by tossing bandage pouches without having to dismount.
Made Cavalry more resistant to damage while mounted.
General:
Fixed an issue where PS4 would not display tooltips for deployed gadgets.
Changed the stats displayed at the end of each game mode to better reflect how the final score was reached.
Changed the stats displayed in Conquest from "Flag Captures" and "Squad Spawns" to "Score From Flags" and "Score From Kills".
Changed the stats displayed in Domination from "Flag Captures" and "Squad Spawns" to "Score From Flags" and "Flag Captures".
Changed the stats displayed in Team Deathmatch from "Revives" and "Squad Spawns" to "Kills" and "Revives".
Reduced friction during sprint slide. Player now maintains momentum in the initial slide direction.
Removed ability to slide directly backwards or sideways.
Fixed animation error when initiating a vault while sprint sliding.
Added a minimum sprint speed for slide to engage.
Reduced damage of AT Grenades against standard soldiers by 10%.
Fixed an issue where the map icon of the SK45 coastal gun wouldn't properly change colors to show if it was occupied by a friendly or enemy.
Fix for weapons skins (like "The Incarcerator" one) to show in the killcard.
Fixed issue where pigeon could not take pictures with his camera while wearing a nice vest.
Given the size of this list and the size of Apocalypse, we expect the February 2018 update to require a substantial download on Xbox One, PS4, and Windows PC.
The update will be a mandatory download for all players, not just those who own the Premium Pass.
What's Next
Unless DICE decides to split Apocalypse up into two releases, we aren't too sure.
DICE's promised to release monthly bug fix updates, but it's unclear how the end of the DLC might impact those plans. The game will almost certainly continue to get bug fixes and tweaks, but they could become less frequent as the developer turns its attention to the next Battlefield game.
We expect the Battlefield 1 CTE to go on for a few years. Battlefield 4 was initially released in late 2013, but the Battlefield 4 CTE lived on until in March 2017.
13 Things to Know About Battlefield 5
Battlefield 5 Release Date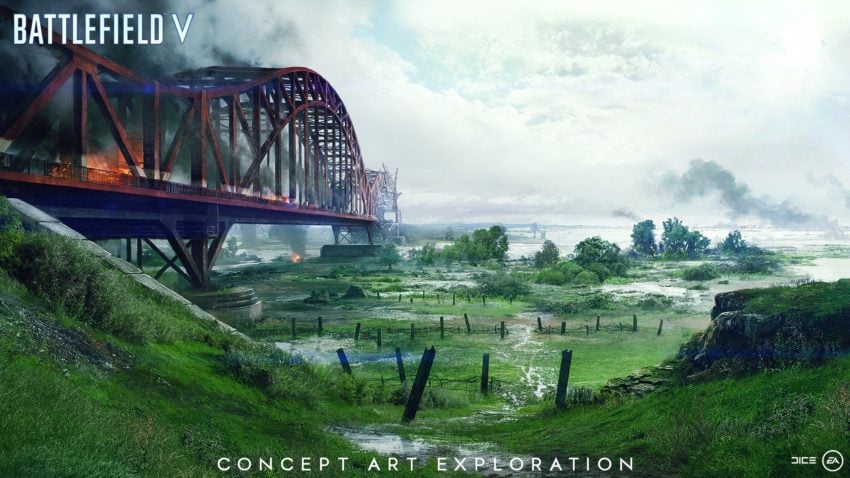 If you're excited about the next Battlefield game you're probably wondering when it'll go on sale.
Earlier this year EA said that it planed to release the next Battlefield game in October, 2018 and the company is sticking to that window.
Battlefield 5's worldwide release date is confirmed for October 19th, but there are actually three Battlefield 5 release dates.
Battlefield 5 will open up for EA and Origin Access members on October 11th.
Those who pre-order the Battlefield 5 Deluxe Edition will get access on October 16th while those who buy the standard version of the game will get access to the game's content a few days later on October 19th.

As an Amazon Associate I earn from qualifying purchases.