Star Wars February Battlefront Update: What's New
Now that the patch is out, we want to take a look at everything Xbox One, PS4 and PC owners need to know about the massive February Star Wars Battlefront update.
EA and DICE have been busy during the first two months of 2016. In January, the companies released a January Star Wars Battlefront update that brought new features and a long list of bug fixes and tweaks to the game on console and Windows PC.
The company's also detailed upcoming Star Wars Battlefront DLC and two free updates that will be touching down in February and March respectively.
The February Star Wars Battlefront update is now available for all three platforms after some server downtime.
As expected, the update includes new maps, new features, balance tweaks, and a long list of bug fixes for Star Wars Battlefront problems.
Now that the update is here and widely available, we want to take a look at the most important things you should know about the latest release from DICE and EA. The March update doesn't have a release date yet so this version of the game should linger for a few days at least.
This roundup will get you prepared for the changes and the problems plaguing users after the February Star Wars Battlefront update. We'll continue to update this with new information as we push away from the update's release.
February Star Wars Battlefront Update Size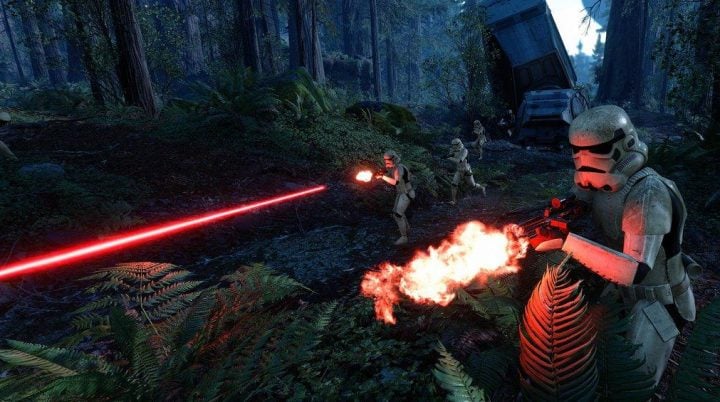 Let's start out with some basics.
Now that the update is rolling out, we know what you can expect from the February Star Wars Battlefront update's size. As expected, this is a gargantuan update for the PC and console and it requires a hefty amount of hard drive space.
On the PC, you can expect the new update is 4.5GB in size. On the PlayStation 4, it's 4.4GB. The Xbox One update is a similar size. This is absolutely huge for a point update but it was expected given the changes on board.
With all of that in mind, we recommend doing some hard drive clean up right now if you think you're going to be cutting it close.
If you're using a slow connection or an unreliable wireless connection, now would also be a great time to figure out a way to plug your ethernet cable into your system. This could help speed up the download and installation process.
You might also consider flipping on Instant On (Xbox One) and automatic updates if you're fine with the update installing without your supervision.

As an Amazon Associate I earn from qualifying purchases.