Take Amazing Firework Photos on the iPhone
Taking great firework photos with the iPhone is easy with the right apps and a few key accessories.
If you have a DLSR, it is much better suited for taking photos of fireworks, but if you just want to share firework photos on Facebook, Twitter and Instagram the iPhone is a great choice.
The Fourth of July offers plenty of opportunities to take firework photos using the iPhone. These tips will work on the iPhone 5, iPhone 4S and iPhone 4, but the iPhone 5 offers a nice trick that lets users record video and take photos at the same time.
It's a good idea to familiarize yourself with the various iPhone photography apps and the built-in camera app before you are out in a dark field or a dimly lit ballpark.
Turn Off the Flash
If you plan to use the iPhone camera app to take firework photos, the first thing to do is to turn off the flash. The iPhone flash isn't going to do anything but annoy those near you and wash out any part of the photo that is within a flash range which tops out before 10 feet.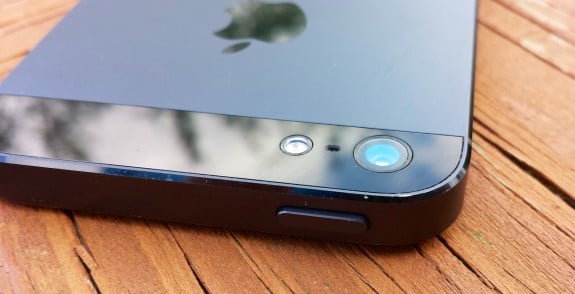 To turn this off, tap on the Flash indicator in the upper left. It may say Auto, tap on it and select Off. With this out of the way we can work on tak]ing photos.
Learn the Camera Lag
The iPhone camera is pretty fast to respond to a shutter press, but it's not as fast as a DSLR. It's a good idea to learn how long it takes from press to picture taking. This is especially important when it comes to fireworks.
An easy way to test this is to take photos of cars driving by on the street. Take a few minutes to figure out when you need to press the shutter to get the car in frame and you'll be ready to take firework photos on the iPhone.
Get a New Camera App
The basic iPhone camera app is nice, but there are third-party camera apps that offer more control and better photos thanks to manual control and nearly-magical features that can add clarity to a photo.
Camera+ is an amazing iPhone camera app that is just $1.99 and offers a set of amazing filters that make photos pop. In addition to the Clarity filter and other post-processing filters, Camera+ lets users tweak other important settings.
Users can pick separate exposure and focus points, which means it is easy to get the firework in focus and keep the exposure where you want it to avoid a overly bright photo that is washed out.
The app also includes a Stabilizer mode that will help keep the shot clear, another much needed feature when shooting in low light. Users will also benefit from the burst mode which can take a series of photos rapidly to help catch the fireworks at just the right time.
Almost DSLR is another app that brings some DSLR like controls to the iPhone. This allows users to manually set the exposure and to lock focus, exposure and white balance for iPhone photographers that need more control. 
Use a Tripod
The whole point of taking firework photos on the iPhone is portability, but a small tripod can goa long way in taking better firework photos on the iPhone.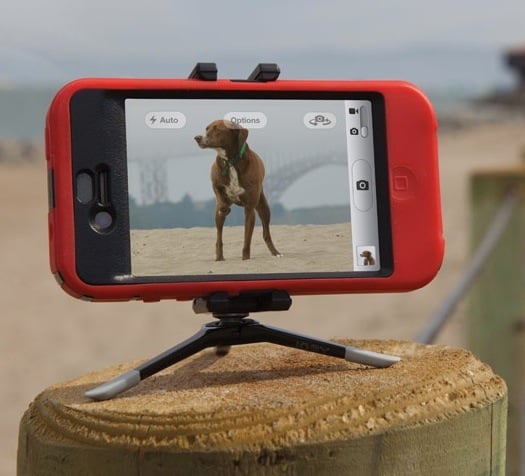 Users can pick up the Olloclip iPhone case and lens to use the iPhone with any tripod, or they can pick up a small tripod grip like the Joby GripTight Micro Stand to take better photos. This small stand connects to a tripod or to the small stand that comes with the grip to offer a tripod anywhere there is a flat surface.
Of course it's fun to move the camera around some during a longer exposure to create a cool streaking effect with fireworks.
Find a Good Location
It's important to find the best spot to take firework photos. If you have time to get to the spot early look for a location that is best suited for taking photos. We recommend looking for;
A place without street lights and other lights that will ruin a photo. 

A spot where fireworks are n front of you, not above you

Look out for trees or buildings

 that might get in the way, or where others might stand in front of you. 
There's no perfect fireworks spot to take photos with the iPhone, so find a spot you can be with family or friends rather than camped out on the fringe of the festivities.
Take a Fireworks Video Instead
If you can't capture the best looking iPhone firework photos, try taking a video instead. There's no need to time the shot and a video will look much better than a bad photo. Here is a sample Firework video shot on the iPhone 5.
If you don't want to take a full length video,  try Instagram Video or a Vine to share a quick burst of Fireworks with your friends on Facebook and Twitter.