Fujitsu the Latest OEM to Recycle Android Hardware to Power Next-Generation Windows Phone 7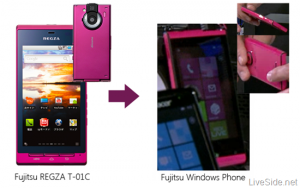 With manufacturers licensing both Windows Phone 7 and Android operating systems for use on their devices, we're beginning to see a small bevy of handsets share the same or similar hardware designs for both OSes and Fujitsu is the latest to recycle its hardware designs while simultaneously supporting dual platforms. In the past, we've seen the HTC HD7 released as a variant that's a cross between the HTC Desire HD and the HTC EVO 4G and more recently we're beginning to see a Windows Phone 7-powered Samsung Galaxy S II.
In the case of Fujitsu, recycling old Android hardware for its Windows Phone 7 release may not be such a bad thing for consumers as the Android handset supported a number of high-end features. Eager-eyed observers noticed that the magenta-hued Windows Phone 7 handset from Fujitsu with a waterproof front glimpsed at a recent Microsoft conference in Los Angeles, California bore a striking resemblance to the company's Regza Android handset. The Fujitsu Regza T-01C has a 12.2-megapixel camera, which on the surface matches the resolution on Nokia's Symbian-powered N8 hardware, a 4-inch LCD display, and 3 physical hardware navigation buttons on the front fascia of the device just beneath the screen. Additionally, the Regza design also carries support for NFC and DLNA functionality.
Given Nokia's camera focus on the Nokia N8 and the fact that the Finnish smartphone-maker has decided to jump from Symbian to Windows Phone 7, we can anticipate that Microsoft's platform will begin to support increased camera resolutions, better video recording capabilities, and larger image sensors on some hardware. Additionally, with Microsoft's integration with SkyDrive for cloud-based image storage giving users free access to 25 GB of space, camera functionality can stand to be a great selling point for the platform.
At this point, it's unclear how many of the Regza hardware features will make it to the final release of Fujitsu's yet un-named Windows Phone 7 hardware, but striking similarities between the two devices suggest that most, if not all, of those features should make it over to Microsoft's second-generation of hardware running the company's mobile platform.
Via: WMPU via Nanapho.jp

As an Amazon Associate I earn from qualifying purchases.