Galaxy Nexus/Ice Cream Sandwich Event Confirmed for October 19th
We had a pretty good feeling that Samsung and Google would be announcing something in Hong Kong on October 19th and sure enough, invites are now spreading like wildfire for an event that is scheduled to take place on the 19th, an event that will revolve around Google's Android 4.0 operating system and will likely be the launch pad (see the Samsung logo?) for the Samsung Galaxy Nexus.
Now, this means that the announcement won't take place until late in the day here in the United States. 7PM Pacific to be exact. Luckily, the event will be livestreamed on YouTube so you'll want to grab a bite to eat, gather the family and crowd around the computer monitor to listen in.
We fully expect both a hardware and software announcement and right now, we believe that the Galaxy Nexus with Ice Cream Sandwich will be launching on or around November 3rd.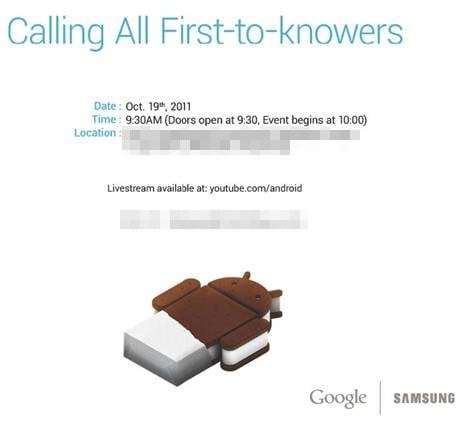 We still aren't sure exactly what the Galaxy Nexus looks like, though we have a pretty good idea, but we're pretty sure we know its specifications.
It's said to include a 4.65-inch 1280 x 720-pixel Super AMOLED HD with curved glass, LTE/HSPA depending on carrier, 1,750 mAh battery, 1GB of RAM, and a 5MP camera with a 1.3 front facing camera.
We're pretty sure this is going to be the Android phone that many of you have been waiting for, and will want to pick up – sorry HTC Vigor, so be sure to tune in on the 18th for what promises to be an exciting event.
Via: Droid-Life