Galaxy Note 4 Release: 5 Smart Reasons to Wait
With a Samsung Galaxy Note 4 launch date confirmed for September 3rd and a Galaxy Note 4 release date rumored for September, many of you are starting to gear up for the arrival of Samsung's Next Big Thing. For those that are still unsure, here are some good reasons why you should at least think about waiting for the Galaxy Note 4.
In the past three years, Samsung has released six big name, flagship smartphones. In 2011, it was the Galaxy S2 and the Galaxy Note. A year later, it was the Galaxy S3 and the Galaxy Note 2. And last year, the company took the curtain down from around the Galaxy S4 and the Galaxy Note 3. The Galaxy Note 3 remains a flagship. The others? They've hit the bargain bin.
The Samsung Galaxy Note 3's time is almost up and soon Samsung's Galaxy S from this year, the Galaxy S5, will be joined by a brand new Samsung Galaxy Note, a device that should be called the Samsung Galaxy Note 4.
Samsung's Galaxy Note 4 release has been rumored throughout 2014 with rumors pointing to its launch date, Galaxy Note 4 specs and even, the Galaxy Note 4 release date. As we've gotten closer to the company's usual Galaxy Note launch window in September, the frequency of those rumors has increased and Galaxy Note rumors have started to paint a vivid picture of Samsung's plans.
Interest in the Samsung Galaxy Note 4 has begun to pick up thanks to rumors and thanks to the Galaxy Note 4 launch date that Samsung confirmed earlier this month. We're now starting to get Galaxy Note 4 questions from average consumers, people that don't keep a close eye on the smartphone world. And one of the more common questions we've been getting is:
"Should I wait for the Galaxy Note 4?"
It's an extremely difficult question to answer because everyone's situation is a little bit different. Some people are dealing with a broken phone, others just came across some extra cash, and some people are just impatient.
What we can do is help point you in the right direction and that's exactly what we aim to do here. Here, we take a look at five reasons why you should wait for the Samsung Galaxy Note 4 release.
Galaxy Note 4 Launch Sept. 3rd
If you're in the hunt for a brand new smartphone, you'd be wise to wait a few days. That's because the Samsung Galaxy Note 4 will be coming out on September 3rd at an Unpacked Event in Berlin, Germany. That date is confirmed. That's seven days from now and that's nothing in the grand scheme of things.
The Galaxy Note series is like the iPhone or Google's Nexus, it comes out once a year. Typically, when people ask us about waiting for a new smartphone, it's several months away. Not the Galaxy Note 4. It's a week away and that 's not very long to wait.
Galaxy Note 4 Specs
We realize that the Galaxy Note series isn't for everyone but that doesn't mean that you should wait a few weeks to rule out the Galaxy Note 4.
Samsung's Galaxy Note 4, on paper, looks stunning and there's a good chance that it could quickly find itself among the top devices of the year. Devices like the iPhone 5s, LG G3, and Samsung Galaxy S5.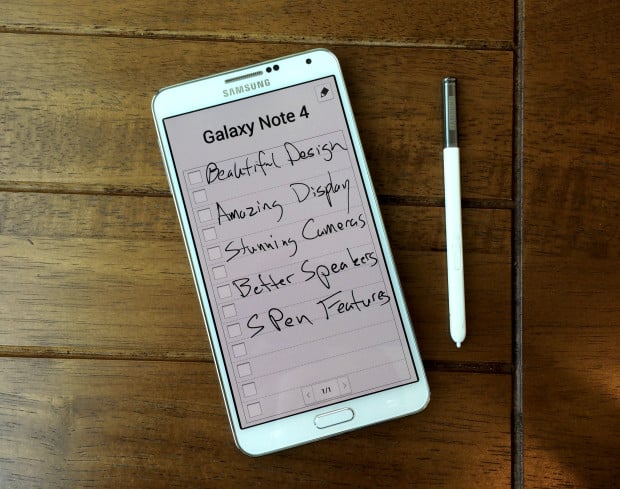 Galaxy Note 4 rumors point to a spacious 5.7-inch QHD display that's perfect for gaming, watching movies, reading books, and multitasking. All key components of every smartphone. Rumors also point to a powerful quad-core processor with a ton of RAM. The new processor, a Snapdragon 805, should help deliver insane graphics and solid battery life.
We've also heard that it will have a 16MP camera with Optical Image Stabilization. In addition to the sensor upgrade, OIS will help cut down on shakiness in photos and video. This should help it deliver stunning photos and video footage. The device is also said to have a premium design that features a fingerprint sensor and perhaps, dust and water resistant properties.
https://youtu.be/pzO5Ac3-YBA
It'll also rely on the company's S Pen and from the teaser videos that Samsung's putting out, it looks like we could see an emphasis on the S Pen's software. The S Pen allows users to write and draw on the screen but it can also utilize key apps like S Note for notetaking in class or in meetings.
The point is that the Galaxy Note 4 is no slouch. It has a chance to become one of the top smartphones of the year and one of the best Android devices available. You only have a few days to wait so wait. If only to compare it to other top devices on the market.
Top Devices Aren't Going Anywhere
The top smartphones on the market aren't going anywhere so there's no reason to scoop up a phone like the LG G3, Samsung Galaxy S5 or iPhone 5s right now. All of these phones are going to be available in one way or another during the month of September or beyond. So there is no reason to rush at all. In fact, we highly, highly recommend waiting so that you can compare the Galaxy Note 4 to these top smartphones.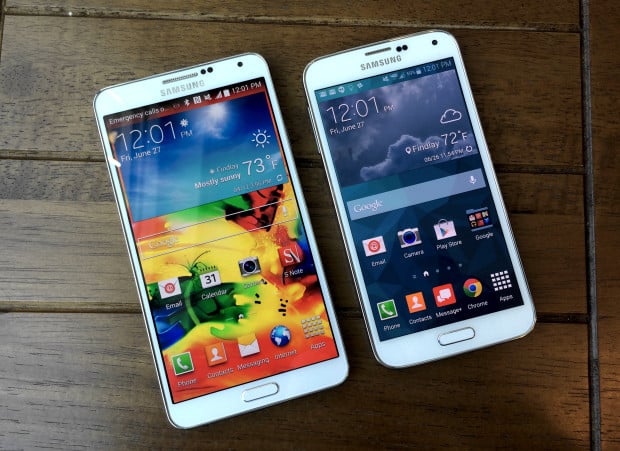 We have a feeling that the Galaxy Note 4 is going to match up quite well with the LG G3. It will almost certainly be a solid alternative to the Samsung Galaxy S5. And it will be another option for those that might be thinking about ditching iPhone or Windows Phone for a brand new Android smartphone.
The phone or phone that you're looking at right now isn't going anywhere so wait for the Galaxy Note 4 release to see how it compares.
September Phone Deals Likely
Not only will the top of the current flagships still be on sale once the Galaxy Note 4 arrives, they'll probably be cheaper. We're starting to see flagships like the Galaxy Note 3, LG G3 and iPhone 5s drop in price as we head into September towards the fall. And with the arrivals of the Galaxy Note 4, Moto X+1 and iPhone 6, we should see current prices drop even further.
iPhone 6, Moto X+1 & Moto G2
By waiting for the Samsung Galaxy Note 4 release, you'll also find yourself starting into the face of three other top notch smartphones, all of them Galaxy Note 4 competitors.
On September 4th, Motorola will announce both the Moto X+1 and the Moto G2, successors to the company's popular Moto X and Moto G2. Both devices look like they are going to be worth the wait. So with a launch date that's right after the Galaxy Note 4's, waiting seems like a no-brainer.
Then, on September 9th, Apple will announce the iPhone 6, a device that's expected to come in two sizes, 4.7-inches and 5.5-inches. The iPhone 6, like the Galaxy Note 4, appears to be a massive upgrade over its predecessor, and there's a very good chance that the iPhone 6 and its large screen will quickly become one of the best smartphones that money can buy.
Even if you're not a fan of iOS, we think that it's absolutely worth waiting for. Who knows, the big screen, new design, and the camera might be enough to tempt you into buying one.
Recap
So let's run this down. Here are the five reasons why you should consider waiting for the Galaxy Note 4 to arrive:
The Galaxy Note 4 launch date is only a week away. That's confirmed.
Samsung's Galaxy Note only comes around once a year and the Galaxy Note 4 looks like a fantastic addition to the Galaxy Note family. It's worth checking out.
The current crop of smartphones isn't going anywhere. There's no need to make a hasty decision.
In fact, the current crop of smartphones should be cheaper come September when we see a flurry of smartphone release dates.
And finally, just by waiting, you give yourself three other potential options including the Apple iPhone, Moto G2, and the Moto X+1.

This article may contain affiliate links. Click here for more details.