The Galaxy Note 4 Specs: Everything We Know
With the Samsung Galaxy Note 4 launch date confirmed for tomorrow, consumers are starting to prepare for the inevitable Galaxy Note 4 release date. Ahead of the launch, we want to take a look at everything we know about the Galaxy Note 4 specs including details about the display, processor, camera, software, and more.
For eight long months, we've heard about the new Galaxy Note release that Samsung has in store for 2014. Rumors have centered on the name Samsung Galaxy Note 4, a probable name for a device that will represent the company's fourth-generation Galaxy Note and a successor to the acclaimed Samsung Galaxy Note 3 from last year.
Samsung Galaxy Note 4 rumors have stretched far and wide and they've left no stone unturned. We've heard about the Galaxy Note 4 release date that will supposedly happen in close proximity to the iPhone 6 release date in September. Samsung typically does a good job of masking specific release details but rumors point to an arrival much earlier than last year.
We've heard about the Samsung Galaxy Note 4 specs, specs that will supposedly include a high-powered display, speedy processor, new camera, the S Pen, and brand new software that should help separate it from Samsung's other flagship, the Galaxy S5.
With just days to go before the Galaxy Note 4 launch, and a flurry of other launches, we want to take a look at everything we know about the Galaxy Note 4 specs. These are the key details that prospective buyers will want to keep in mind as we head into the month of September and tomorrow's launch events set for tomorrow in Berlin, Beijing and New York City.
Galaxy Note 4 Display
For months, Samsung Galaxy Note 4 rumors have pointed to the arrival of a big, beautiful display that's perfect for the S Pen, gaming, multitasking, watching movies and more.
Galaxy Note 4 spec rumors point to a large 5.7-inch QHD (Quad HD) display. Quad HD resolution will offer higher resolution gaming, something that's key on a device of this size as it will also sharpen the look of movies, television shows and other content. As you can see in the video below, the LG G3's QHD display is significantly better than the Full HD display on the Galaxy Note 3.
New evidence suggests that the Galaxy Note 4 will indeed have a QHD display. A supposed Galaxy Note 4 poster for IFA includes the words "QHD" and a listing on Samsung's website shows a device with a known Galaxy Note 4 model number utilizing a display with 1440 x 2560 resolution. If Samsung's Galaxy Note 4 doesn't come with a QHD display, it'd be a bit of a shock.
Processor & RAM
Over and over again we've heard about the Galaxy Note 4 processor (or processors) that will evidently be attached to the Galaxy Note 4. We've seen the processors pop up in rumors and more recently, we've seen the processors pop up in supposed Galaxy Note 4 benchmarks ahead of launch.
Galaxy Note 4 spec rumors have consistently pointed to the arrival of Samsung's Exynos 5433 octa-core chip and Qualcomm's Snapdragon 805 processor. Samsung's been known to split up its processors based on region and it looks like we'll once again see two different chips inside a flagship Samsung smartphone.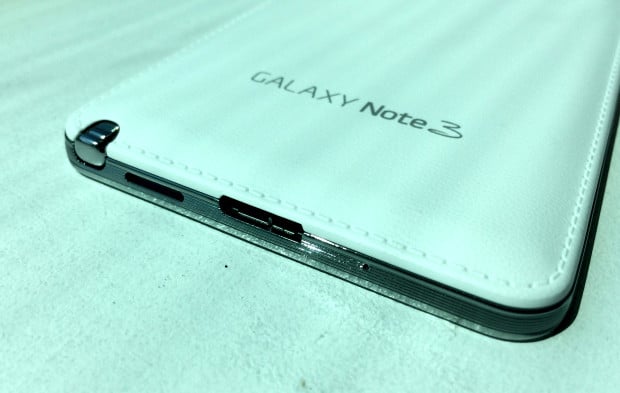 If the Galaxy Note 4 does come with a Snapdragon 805, it should provide some impressive performance in key areas including gaming and battery life. Here's how Qualcomm describes the GPU inside of it its processor:
The new Adreno 420 GPU in the Snapdragon 805 processor is the first commercial mobile GPU to introduce hardware tessellation and geometry shaders, which provide greater detail for visually stunning, realistic scenes and objects in a manner that requires less memory bandwidth and lower power consumption.
Galaxy Note 4 rumors also state that the device will be supported by 3GB to 4GB of RAM with 3GB currently the front runner. Translation: This will be an extremely powerful smartphone.
Storage
Galaxy Note 4 specs are said to include at least a 32GB version of the device though that rumor pertained to the U.S. and the U.S. only. Samsung's Galaxy Note 3 and Galaxy S5 arrived in the U.S. boasting a microSD card slot and one storage type so it's possible that we could see the same thing happen here with the Galaxy Note 4.
Galaxy Note 4 Camera
The Galaxy Note 4 is expected to feature a larger sensor at 16MP with Optical Image Stabilization, auto-focus and dual-LED flash. More specifically, it appears that Samsung will equip the Galaxy Note 4 with a 16MP Sony IMX240 camera sensor with OIS technology. This would match the technology found on the Nexus 5 and LG G3, two key competitors.
That recent User Agent Profile leak on Samsung's website hints at a 16MP camera, something that rumors have suggested all along, so it looks like we'll see an upgrade from the 13MP sensor found inside of the Galaxy Note 3. We still haven't seen any sample images leak out though we have heard about the software that could be on board.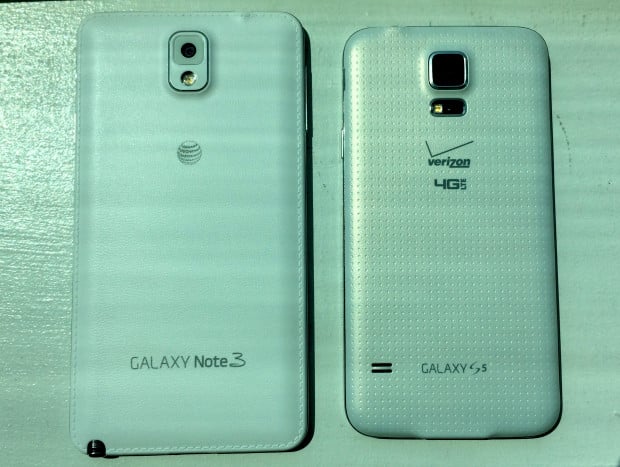 Samsung is known for introducing new camera features with every flagship Galaxy S and Galaxy Note smartphone and it looks like the Galaxy Note 4 will be no different. The device is expected to be accompanied by a number of new camera features including a new gesture that allows users easy access when the phone is turned off and four new camera modes that are intended for selfies. Here is how those breakdown:
Wide Selfie: Will allow users to take a wide-angle selfie.
Selfie: This will supposedly allow users to take selfies simply by smiling or winking.
Selfie Alarm: This feature will force the rear camera to automatically detect and focus on a user's face during a selfie.
It looks like the Galaxy Note 4's software will also include the Galaxy S5′s camera features including HDR Live, Selective Focus, Fast Auto-focus. The Galaxy Note 4′s camera interface will supposedly be the same as the Galaxy S5′s.
Fingerprint Sensor
All along, Galaxy Note 4 specs have been rumored to include a fingerprint sensor. Recently, new leaks all but confirmed the type of fingerprint sensor that will be on board the device.
Earlier this year, the Galaxy Note 4 was rumored to potentially have an area-type fingerprint sensor similar to Touch ID, rather than a swipe sensor. However, SamMobile reports that the Galaxy Note 4 will come with the same Synaptics' Natural ID fingerprint sensor that Samsung embedded inside the Galaxy S5 and the upcoming Galaxy Alpha. 

While all of this remains unconfirmed, it's looking like the Galaxy Note series will gain a fingerprint sensor for an extra layer of security and added convenience when trying to access the home screen.
UV Sensor
Credible Galaxy Note 4 rumors point to a new UV sensor that will tie into Samsung's S Health application and provide readings on UV levels. As we've pointed out, it's a feature that could save your life.
There's also a good chance that the Galaxy Note 4 will also come with a heart rate sensor like the Galaxy S5. These sensors should play a big role as Samsung pushes its fitness platform during the holiday shopping season.
S Pen
S Pen rumors remain scarce but thanks to a barrage of teaser videos, it's pretty clear that the company will be keeping the bundled stylus around for another year.
https://www.youtube.com/watch?feature=player_embedded&v=tPzaPI418_0
The teasers don't confirm any new features though they have focused on features like note taking, something that's provided by the company's S Note function.
Android 4.4.4 KitKat Update
With an Android L release date still unknown and the Galaxy Alpha set to come with Android 4.4.4, it makes sense that Galaxy Note 4 rumors and benchmarks all point to Android 4.4.4 KitKat as the device's base operating system.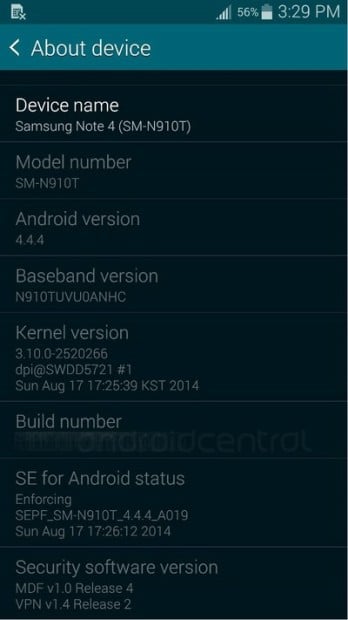 A new leak from Android Central all but confirms the Android 4.4.4 KitKat update for the Galaxy Note 4 and at this point, there's no reason to expect anything different.

This article may contain affiliate links. Click here for more details.