Galaxy Note 4 Specs: What Not to Expect
With a Samsung Galaxy Note 4 launch date now confirmed for September 3rd, consumers are starting to wonder about the Galaxy Note 4 specs, the features that will be aboard Samsung's answer to the iPhone 6 release. Here, we take a look at what we don't expect from the Samsung Galaxy Note 4 specs all in an effort to set your expectations accordingly ahead of launch.
The Samsung Galaxy Note 4 has been stuck in the rumor mill for a solid eight months now. In those eight months, we've heard an absolute ton about Samsung's new Galaxy Note including rumors about the Galaxy Note 4 launch date, Galaxy Note 4 release date and of course, the Galaxy Note 4 specs. As we've gotten closer to the fall and the company's usual release window, those rumors have come into focus and we're now just a few short weeks away from what appears to be pretty significant release.
Samsung recently confirmed the Galaxy Note 4′s launch date for September 3rd and it's there that the company will detail the Galaxy Note 4 specs, release date, and more for the very first time. Specs are going to play a big role in the success of the Galaxy Note 4 and we expect the Galaxy Note 4 launch date to be chock full of details.
Nothing is confirmed until Samsung takes the stage but we have a pretty good idea about what to expect from the Samsung Galaxy Note 4 specs sheet. Rumors have surfaced at an astonishing rate over the past three weeks and we've begun piecing together our own expectations ahead of the device's launch. And today, we want to share more of those expectations with you.
The Samsung Galaxy Note 4 will almost certainly be a powerful smartphone, maybe the most powerful the world has ever seen, and here we want to take a look at all of the fine details. Again, these predictions are based on credible rumors, Samsung's history and our gut. Here's what we do not expect from the Samsung Galaxy Note 4 specs.
Galaxy Note 4 Display
Throughout the year, Samsung executives have gone on record talking about a "new form factor" for the Galaxy Note 4. That new form factor is supposedly going to center on a flexible, three-sided display that provides better viewing angles for Galaxy Note 4 users. The device itself, if there is one, hasn't leaked out yet but the concept below shows what that might look like on a Galaxy Note.
A recent trademark for the name Galaxy Note Edge helped fuel these three-sided display rumors and some believe that Samsung could perhaps announce two Galaxy Note models at its Unpacked event. We're not sold on that, especially since Galaxy S5 rumors pointed to two models at its launch and we only came away with one.
If Samsung does announce a three-sided Galaxy Note 4, and there's a chance that it might, we don't expect the device to be the mainstream Galaxy Note 4 model. If anything, we'd expect it to arrive in a few select regions, if that. Last year's Galaxy Round, a device with a curved display, was limited to the Korea.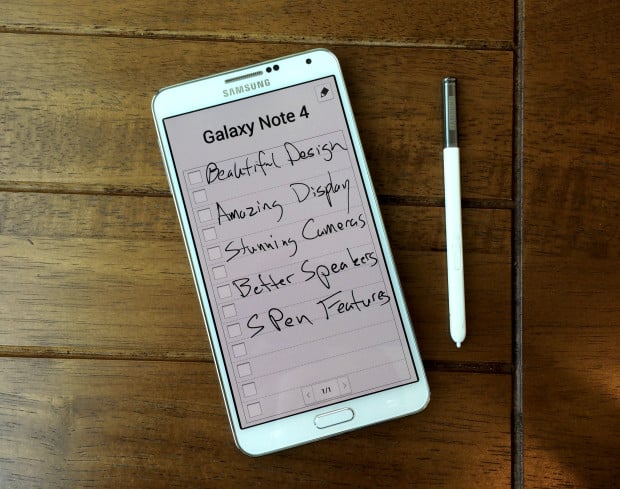 Just about every leak and rumor that we've seen points to a flat screen model being the mainstream variant and to us, that makes a whole lot of sense. Samsung has also not proven that its Samsung Youm technology is ready to be mass produced. And with a large screen iPhone 6 ready to pounce on Galaxy Note 4 sales, Samsung can't afford to release an unproven commodity into market. Instead, we expect it to bolster the Galaxy Note 4 in other ways.
Sapphire Display
LG and Samsung are reportedly looking into sapphire displays to protect their smartphones but we don't expect the Galaxy Note 4 to match the iPhone 6's rumored sapphire display.
Sapphire is extremely expensive and the Galaxy Note 4, with its S Pen and large high-resolution display, could cost as much as $299.99 without the use of sapphire. In order to compete with the iPhone 6, the Galaxy Note 4 is going to need to come with a reasonable price tag.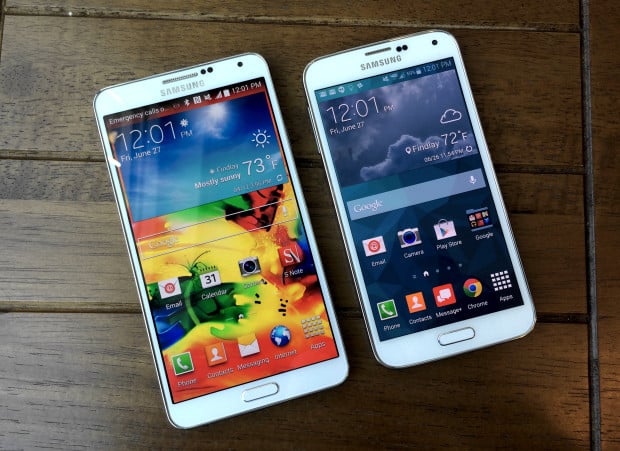 We also haven't heard any murmurings about Samsung sourcing sapphire for the Galaxy Note 4, something that almost certainly would have been leaked ahead of time.
Samsung might be investigating sapphire, especially because of the rumors surrounding the iPhone 6, but at this point we're not expecting it on the Galaxy Note 4. We'd be surprised if the company went with something other than Corning's Gorilla Glass. Samsung and Corning have been close partners for a number of years now.
Same Processor All Around
Again, where there is a ton of smoke, there is typically a ton of fire and Samsung Galaxy Note 4 rumors have continued to point to two different processor types. Benchmarks and leaks hint at a Qualcomm Snapdragon 805 chip for some variants and a Exynos 5433 octa-core CPU for other versions of the Samsung Galaxy Note 4.
We don't expect the Exynos chip to be the CPU inside the U.S. bound variants. U.S. Galaxy smartphones typically use the Qualcomm processor when Samsung splits the specs into two. We expect the Exynos chip to emerge for variants in Europe and Asia as it has done in the past.
We expect this to be one of the only major differences between the U.S. version of the device and the variant that hits other regions around the world. Other specs like display, camera, and software should be very similar if not identical.
Small Galaxy Note 4 Battery
We haven't heard anything about the Galaxy Note 4 battery but that doesn't mean that we don't have some idea about what to expect. The Samsung Galaxy Note series has always prided itself on having fantastic battery life. The Galaxy Note 3, for instance, has some of the best battery life that money can buy. We don't expect that to change with the Galaxy Note 4.
With a QHD display all but confirmed, we think that the Galaxy Note 4 will come with a fairly large battery that pairs with the processor to deliver excellent battery life. The large screen, the S Pen and the battery life are three of the key components of the Galaxy Note and we wouldn't be surprised if those three features were the ones that Samsung uses in its marketing campaign against Apple and the iPhone 6.
Look for a battery that's larger than the Galaxy Note 3's 3,200mAh battery.
A Lack of Storage
Don't expect the Galaxy Note 4 to skimp on storage space. The Galaxy Note series is aimed at those that love to game, get work done, multitask, and consume a ton of content. All of that takes up storage space. Samsung knows that and that's why it has, over the years, offered tons of internal storage to complement the device's microSD card slot.
Don't expect anything less from the Galaxy Note 4. If it comes with a microSD card slot, expect it to have at least 16GB of internal storage with a microSD card slot that can handle 128GB of expansion. If it doesn't have a microSD card slot, we should see it come with at least 32GB of storage with some free cloud storage to make up for the lack of space.
Vastly Improved Fingerprint Sensor
While nothing is confirmed, it's looking like the Galaxy Note 4 specs will include a fingerprint sensor is going to be similar to the one that's found on the Galaxy S5. What this means is that instead of an area sensor like the fingerprint reader inside the iPhone 5s' home button, we're likely going to see the same swipe-based sensor that Samsung installed on the Galaxy S5.
Fingerprint sensors are all about convenience and security but mostly convenience when unlocking a phone. With the iPhone 5s, you can simply put your finger on the home button and it unlocks. This is easy to do with one hand. For the Galaxy S5, you need two hands and you need to swipe, sometimes continually, to get it to work.
At this point, given what we've seen and heard, we don't expect major improvements to the sensor itself though we could perhaps see Samsung offer some improvements to the software that helps power the fingerprint sensor.
Waterproof Design
Finally, do not expect the Galaxy Note 4 specs to feature a waterproof design. We think there's a good chance that it will come with the same IP67 certification that the Galaxy S5 design came with but IP67 simply means that the design is dust and water resistant, not waterproof. In other words, there are limitations to what the Galaxy S5 can do.
IP67 means that the device is totally protected against dust but that it's only protected against the effects of water at depths between 15cm and 1m. Long periods of immersion have the potential to destroy an IP67 certified phone as well. In other words, a waterproof Galaxy Note 4 design is a long shot at this point. We don't expect it to happen.

This article may contain affiliate links. Click here for more details.