Galaxy Note 5 Buyers Guide: Everything You Need to Know
Earlier this month Samsung announced the all-new and completely redesigned Samsung Galaxy Note 5 and a big Galaxy S6 Edge Plus. Starting August 21st, both smartphones are available around the globe and from all major carriers in the United States. Below is a buyers guide detailing the features, specs, carriers, pricing, accessories and more for those interested in this big new 5.7-inch smartphone.
Samsung's new Galaxy Note 5 is available right now, a full two months earlier than all previous Note release dates. This year the company surprised many by announcing it back on April 13th, rather than in September at IFA, and it's now readily available to buy outright in multiple colors and storage options, from all carriers, and there are lots of neat accessories to go with it.
Read: Galaxy Note 5 Hands On
Just like the Galaxy S6 released earlier this year, the new Note 5 has been redesigned with glass and aluminum build materials. This means there's no more micro-SD slot and no removable battery. This has some users frustrated, but Samsung is offering two storage options to choose from, similar to Apple's approach. Read on for everything a buyer would want to know.
To start, the Samsung Galaxy Note 5 is available from all carriers in the United States including US Cellular, unlocked at Samsung.com, globally, and even at Best Buy. This phone is everywhere, and you'll want to know as much as possible before signing a 2-year contract, buying it outright, or signing up for a payment plan on T-Mobile.
First we'll start with the features, specs, and what the Galaxy Note 5 is all about, then below are all the links and details on what to buy, where, and for how much.
Galaxy Note 5 Specs
5.7-inch 2560 x 1440 Quad-HD S-AMOLED Display
Samsung Exynos 8-core processor with 4GB of RAM
32 or 64GB storage options (no Micro-SD support)
16 Megapixel f/1.9 Camera with Optical Image Stabilization
5 Megapixel front-facing camera
Android 5.1 Lollipop with Samsung TouchWiz
Premium Galaxy S6-like all glass and aluminum design
Improved Fingerprint sensor

3,000 mAh battery

Fast Wireless Charging
more
As you can see the Galaxy Note 5 is quite the smartphone. It's already being called the best screen on any smartphone ever by independent reports, the camera is excellent and slightly better than the award-winning Galaxy S6 camera, it has a beautiful new design, and the fingerprint scanner actually works now. Just like the Galaxy S6 or iPhone it only takes a tap, rather than the awful swipe method introduced on the Note 4.
The Galaxy Note 5 is actually slightly smaller in size, and lighter than the Note 4, yet packs a premium aluminum design with better internals, a fast 8-core processor, 4GB of RAM, and wireless charging and everything else we mentioned. It's also curved on the back, slightly skinner, and just easier to hold. If you liked the Note 4, you'll love the Note 5. As long as you can live without a micro-SD slot or a removable battery.
Galaxy Note 5 Price
Being a premium top-tier smartphone with nearly every box in the specs department checked, this is one of the best phones around, but comes at a price. The Galaxy Note 5 is expensive, especially if you want one with 64GB of storage or the Galaxy S6 Edge Plus with the curved screen. This guide is focused on the Note 5, so here's the pricing.
The Galaxy Note 5 is likely a device everyone will sign a 2-year contract for, or make monthly payments, and that's because it's pretty expensive. US Cellular and Verizon have the lowest outright price, but we'll breakdown all the pricing for those interested.
Note 5 Price Off Contract (Outright)
Verizon 64GB – $792
T-Mobile 64GB – $779
AT&T 64GB – $839
US Cellular 64GB -$769
As you can see the Note 5 is an expensive purchase, and AT&T is asking way more than everyone else. In fact, you can get the 64GB Galaxy Note 5 from T-Mobile for only $40 more than AT&T wants for the 32GB model. That said, AT&T has good pricing for monthly payments, and with a 2-year contract it's only $249, or $299 for the 64GB model.
Payment Plans
All carriers offer payment plans for smartphones now, rather than only 2-year contracts, and T-Mobile started all of that with its Uncarrier move a while back. If you can't afford $299 or don't want to sign a contract, and can't spend nearly $700 to buy it outright, make monthly payments to your carrier of choice.
Verizon – $29.00 for 24 months
$33 per month for the 64GB model
T-Mobile – $29.17 for 24 months
$28.99 per month with $99 down for 64GB model
AT&T – $24.67 for 30 months
$28.00 per month for the 64GB model (AT&T has two other tiered monthly options available if you'd like to pay more, or a 2-year contract for $249 and $299)
Sprint – $30 for 24 months
$34 per month for the 64GB model
US Cellular – $33.45 for 20 months
$38.46 per month for the 64GB model
The pricing can all get a bit confusing with monthly payments, easy pay, lease agreements, and more so it's best users head down to the closest carrier of their choice and choose what's right for them. That said, it looks like T-Mobile and Verizon are the best route. There's also some good deals floating around that can save buyers up to $200 off the Note 5 or Galaxy S6 Edge Plus.
Note 5 Colors
Another thing to consider is the color. The Samsung Galaxy Note 5 was announced in four beautiful colors, but sadly not all of them are available in the US. All carriers in the US have Sapphire Black (looks dark blue) and White only, but there's also Gold and Titanium Silver.
Heading over to our Galaxy Note 5 colors post, it looks like the majority of potential buyers would like to get the phone in Gold, but that's not an option yet from any US carriers according to their websites, but Gold may be available in stores.
Also, heading to BestBuy.com users will see Sprint, Verizon and AT&T all have the Note 5 in Gold. Every color is a fingerprint magnet, having glass covering the front and the back, so the color is all about preference. That said, Silver was my favorite, and Gold was my least favorite. To each his own. It doesn't look like the Silver version will be available in the United States, but may eventually be on Samsung.com.
Competition
Samsung's new Galaxy Note 5 has a lot of competition, and there are multiple excellent smartphones readily available that are also worth considering. Phones like the LG G4, the big 6-inch Nexus 6, the Galaxy S6 Edge Plus, or even the upcoming new Moto X Pure Edition. It features the same 5.7-inch screen size, customization, and a micro-SD card for $399, and will be released early next month.
Here's some comparisons against the competition, and other Samsung devices for potential buyers to help make the right decision.
Note 5 Accessories
Of course the Galaxy Note 5 is great by itself, but users will want to get some official accessories or cases. Many popular 3rd party manufacturers are offering cases, screen protectors and more, and Samsung has a wide array of accessories they're offering as well.
Head to Best Buy and check out all their accessories and official Samsung goods, or Amazon.com is loaded with options for the Note 5. As an alternative, the slideshow below contains some of Samsung's official accessories specific for the Note 5. Get your phone and enjoy it.
10 Exciting Official Galaxy Note 5 Accessories
Note 5 S-View Flip Case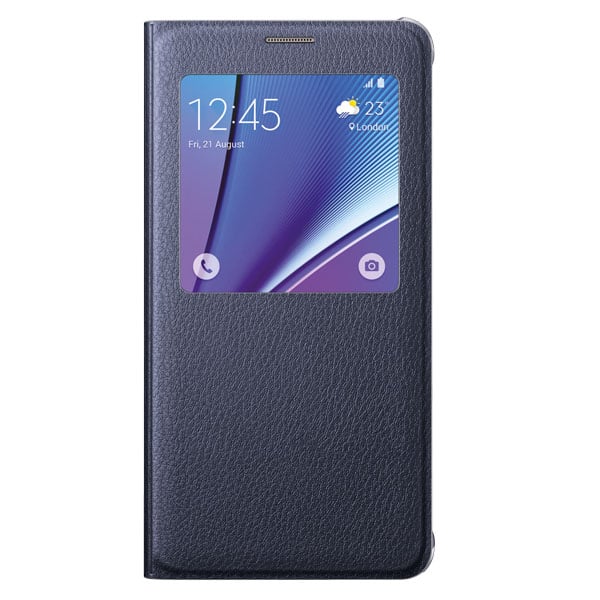 As expected, the popular S-View case is also available for the Galaxy Note 5, and currently all four colors are for sale online. Black, White, Gold & Silver. The S-View has been popular for years, and protects your device while letting you interact with it without ever opening the case. Basically offering full protection even while you answer calls, take pictures and more.
When closed, the S-View cover offers instant access to critical features through a unique window interface, thanks to the Samsung ID chip. View the home screen to check the time, weather and other status items. Accept or reject incoming calls with just a swipe, or reject calls with a preset message. Control your music playback directly on the S-View screen. If you miss anything, notifications are shown in the recent activity menu of your S-View cover.

As an Amazon Associate I earn from qualifying purchases.