Galaxy Note 5 Setup Guide: 10 Steps to Get Started
This setup guide will go over 10 essential steps and tips users will want to know about and do to get the most from the Galaxy Note 5. Now that the Samsung's new phone is readily available around the globe and from all major carriers in the United States, millions of users are getting their hands on this big, powerful 5.7-inch Android smartphone. The new Note 5 will run amazing right out of the box with a powerful 8-core processor and 4GB of RAM, but users will want to follow the 10 or so steps below for an improved experience.
Being equipped with a huge 5.7-inch Quad-HD display, the S-Pen stylus, one of the best 16 megapixel cameras we've used on any smartphone, and tons of advanced controls or features, this device has a lot to offer. In just 10 or 15 minutes the few steps outlined below will let users get the most out of the Galaxy Note 5, enjoy it to the fullest, make it faster and more secure, and get you setup for success.
Read: How to Reset a Frozen Galaxy Note 5
This time around Samsung made the Galaxy Note 5 a premium device built entirely of aluminum and glass. And while this takes away the removable battery and a micro-SD slot, there's more than enough to make up for that. It runs Android 5.1.1 Lollipop and is covered in a refined version of Samsung's own TouchWiz interface, and these 10 tips and instructions will get you setup to truly enjoy this smartphone.
Back in August Samsung announced the new Galaxy Note 5 a full month earlier than any other Note device, and released it only a week later. Being the fastest announcement and release in Samsung history, or any Android device that we can recall. It's already in the hands of millions of users, and many are considering buying it right now.
If you just picked up Samsung's impressive new Galaxy Note 5, here are 10 things you should do on the first day.
Better Security (Fingerprint Scanner)
One of the many many new improvements to the Galaxy Note 5 is with the fingerprint scanner built into the home button. The Note 4 had an awful swiping system that wasn't accurate, and just an awful experience. The new Galaxy Note 5 works like the iPhone 6, Galaxy S6, and others, and has an excellent fingerprint scanner for improved security. This is one of the first things all owners should do.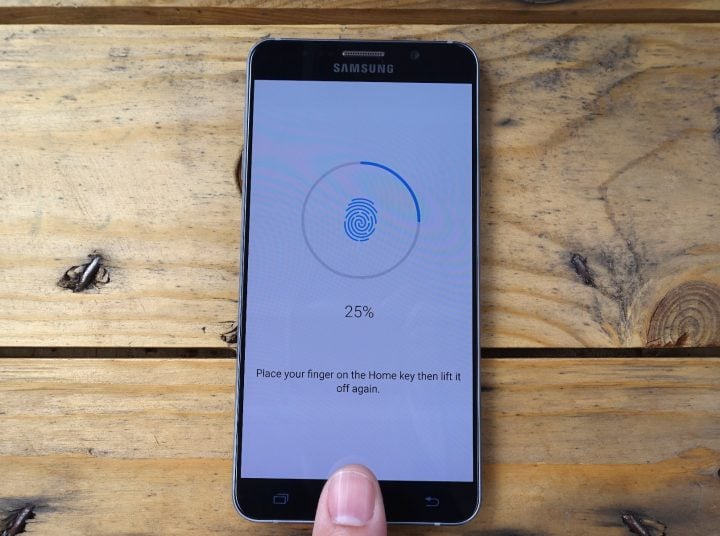 Android suggests this on startup, and if you skipped this step, you'll want to go back and finish it. If you hate having a lockscreen, there's a "Smart Lock feature" we'll explain below too, which will make using a security measure worth it, and not as frustrating. It takes about 30 seconds to set up a passcode, pin or pattern lock, and your device will be protected from prying eyes or in case of loss or theft. However, we suggest using the fingerprint scanner, as it works amazingly well.

Simply slide down the notification bar from the top of the display and tap the round gear-shaped settings icon near the top right. Select the "Personal column" and go to lockscreen and security and add some fingerprints (I did both thumbs and my pointer finger) or choose any of the other lockscreen security options.

Settings > Personal > Screen Lock > Lockscreen & Security > Fingerprints

It is recommended that most users at least have an option for a pin or pattern, as security is extremely important these days. The fingerprint method is faster, more accurate, and very secure. Once you set a lockscreen security measure additional options appear, like choosing how long before the device locks after use. I have it set for 3 minutes so I'm not constantly typing in a code or tapping my thumb every few minutes.
Running on Android 5.1 also means you can take advantage of smart lock, where it won't need a pin or security measure if you're near a trusted device or a trusted location. Something like a smartwatch, Android Auto device, or even at your home once you set up the smart lock features. Go into Smart Lock in the same settings menu and make your home a "trusted place". Then you'll only need to use your fingerprint to unlock the Note 5 when you aren't home, when security is actually needed.

Backup & Restore
Google will automatically backup everything in case your phone is lost or stolen, and it needs to be replaced or you upgrade. To be safe, make sure this is setup how you want it to be. Google's backup options will be brought up during setup, which we'd recommend most users agree to, but you can always control more backup & sync options in settings later.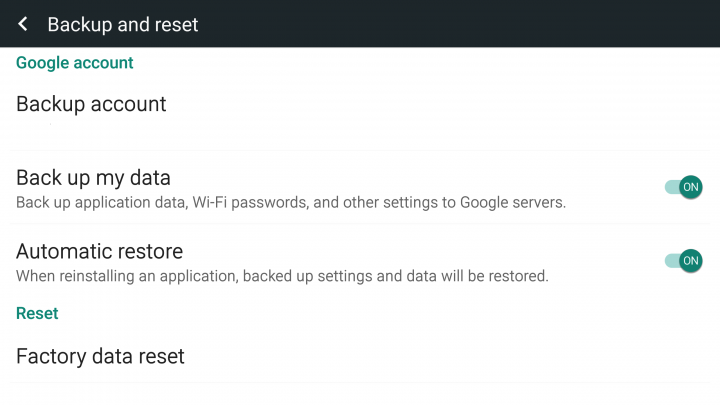 Settings > Personal >Backup & reset > Back up my data
Using the same steps as mentioned above you'll want to head into settings and scroll down to backup & reset. Here is where you can turn on/off Google's backup solution. It isn't an all-in-one solution, but will backup (and restore on a new device) your WiFi passwords, app data (and game saves) wallpapers, and other settings. This is extremely convenient.
Users can also check or uncheck the restore option where Google will automatically restore any available settings or data from an app being reinstalled.
Also, while were here you'll want to backup your photos so even if you lose or break your new Note, you'll always have your photos and won't lose a thing.
Read: How to Automatically Backup Photos on Android
Whether you use a cloud storage option like Dropbox or Google Drive, or just prefer to let Google Photos (on all Android phones) do it for you, the link above explains multiple easy ways to automatically save and backup full-resolution copies of all your photos.
Android Device Manager (Find Your Lost Phone)
Just like Find My iPhone, Google has something called the Android Device Manager you can use to find or erase a lost smartphone. There's almost no setup once you download the app from the Google Play Store, then just let Android's device manager find your lost phone if you ever need to. That said, you'll need to have it installed first, before the unfortunate event of loss or theft happens.
Users can lock the Note 5, wipe out all info to erase data from theft, or even make your phone ring if it's lost somewhere in your house, all using the Android Device Manager site from a PC, another phone, or a tablet. It's a powerful tool, so have it ready in case you need it. Above is showing an older device, but it works the same on the Note 5. You can even type "Find my Phone" into Google Search on Chrome to find it.
Learn About the S-Pen Stylus
On the bottom near the speaker is a hidden S-Pen stylus. Many users love this on the Note series, and some don't use it at all. Thankfully Samsung continues to make it more useful, and it's better than ever on the Note 5.
Click the S-Pen and it will pop-out a bit and let you pull it out, which instantly brings up a selection of uses. Owners can draw on the screen, take notes, draw on photos, take screenshots, cut out shapes and squares, and it will even convert writing into text. I just enjoy clicking it in and out, to be honest. It's like clicking a pen when you're bored.
The best new feature of the S-Pen though, is writing while the screen is off. Yes. You don't have to unlock the phone or anything. If a user is in a hurry just slide it out, the screen temporarily turns on. You can write a note, address, or a pretty girls phone number down, save it and slide the Pen back in and continue chatting without ever messing with or unlocking the device.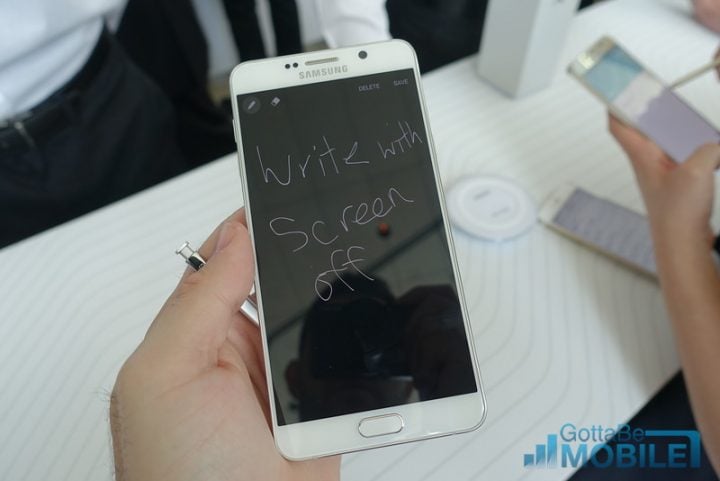 If you go to settings > S-Pen there are a few options, and one will alert you if you walk away and forget the S-Pen, so no one ever loses it. That's neat, and make sure it's enabled.
Set Mobile Data Limits
Another thing many owners never do, but will save you money, is set mobile data limits. Whether you have a 2GB data plan with AT&T or Verizon, or are on a family plan with T-Mobile sharing 10GB of data across multiple devices, it's always smart to set limits. This way users can't go over, and end up with a huge smartphone bill at the end of the month. Not to mention 4G LTE speeds and this big 5.7-inch screen will have you burning through HD movies more often than before.
Settings > Connections > Data Usage > Set Data Limits

This will ensure that once you reach your data limit (or get close) you'll be notified not to keep streaming 1080p YouTube clips or watching Netflix, as you may incur charges. This would be a good time to switch to the WiFi at home to save data, and not get overage charges. Or simply tone back on your usage until the month starts over.
Get Rid of Bloatware
Unless you bought an unlocked model right from Samsung, your new Galaxy Note 5 will likely have well over 15-20 absolutely worthless apps taking up space, and making your application tray convoluted. These apps take up space and rarely ever get used. Like T-Mobile TV, Sprint ID, Nascar, Verizon Apps or Navigator, and a slew of ridiculous AT&T apps, Amazon apps, Lookout Security and more. I disabled everything humanly possible on my Note, 33 apps to be exact. Which is a bit ridiculous.
Head into settings, and the easiest way is just hit search and type "Applications" and go to the application manager. Scroll over to the "All Tab" and disable anything that starts with AT&T, T-Mobile, Verizon, etc. I also disabled the Dictionary app, Yellow Pages, Skype, Uber, Galaxy Apps, the Milk Music app and more. Disable what you want, but make sure you don't go overboard or some apps and features won't work properly.
Improve Battery Life
One of the biggest impacts to battery life besides the big 5.7-inch display and having too many apps syncing 24/7, is Google location services. Whether your phone is always tracking you location to deliver weather updates, or you use Google Maps for directions or navigation, this is a big drain on battery life. In Android 4.4 KitKat Google added a new location option which allows for more control here, and the battery saving option is your best route. It's hidden on the Note 5, but here's where to find it.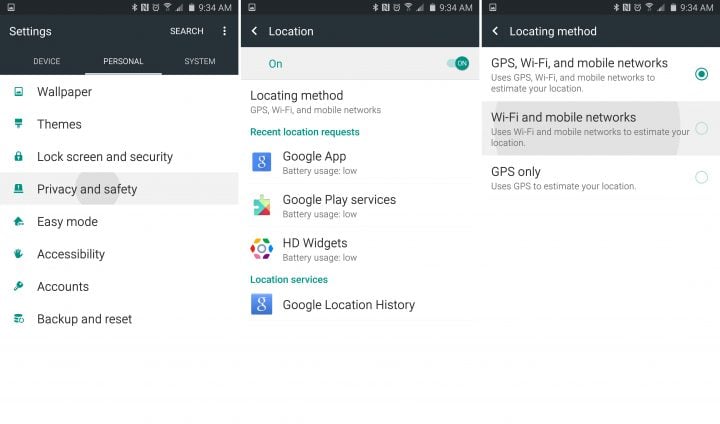 Settings > Personal > Privacy Location > Mode > Battery Saving
Battery saving mode turns off GPS, so turn by turn navigation may not be as accurate or need to be re-enabled, but for those who rarely use navigation, Battery saving mode is your best bet. This uses WiFi and your cellular network for location services, rather than the phone draining your battery with GPS turned on.
Users can also head into settings > display > and lower the brightness to 40% or so, rather than automatic, which can also improve battery life and extend the phone usage into the next day without a charge. It's another good idea to see how often Facebook, Twitter, Gmail and other apps are syncing, and if too often, it'll keep waking up your device and lower battery life.
The Note 5 has a large 3,000 mAh battery, fast charging if you do need to recharge it, and a more efficient 8-core processor than the Note 4, so this shouldn't be an issue. That said, there are always a few ways to get a couple more hours of usage out of any smartphone.
Quick Settings
One thing I do like about the new TouchWiz found with the Galaxy S6 and Note 5 is the first column in the settings menu is called "Quick Settings". This area can be customized with nine of your most often used settings. The Note 5 has a big screen and I wish we could add more than nine, but that's how it is.
Settings > Tap the Three Dots > Edit Quick Settings
Head into settings and that first column of quick settings will have things you don't need. Tap the three dots near the top right, hit edit quick settings, and check the box on nine settings you'd like to see the most. I have mine tailored around what I use the most, so choose whatever works best for you.
This is also different from the quick settings widgets in the notification pulldown bar, which we'll explain next.
Notification Bar Quick Settings
When a user pulls down the notification shade from the top you'll see the time and date, and five circles with access to quickly enable or disable certain options or settings, along with a brightness slider and other things that vary by carriers. This is another favorite feature of mine. Simply pull down the bar, and tap edit.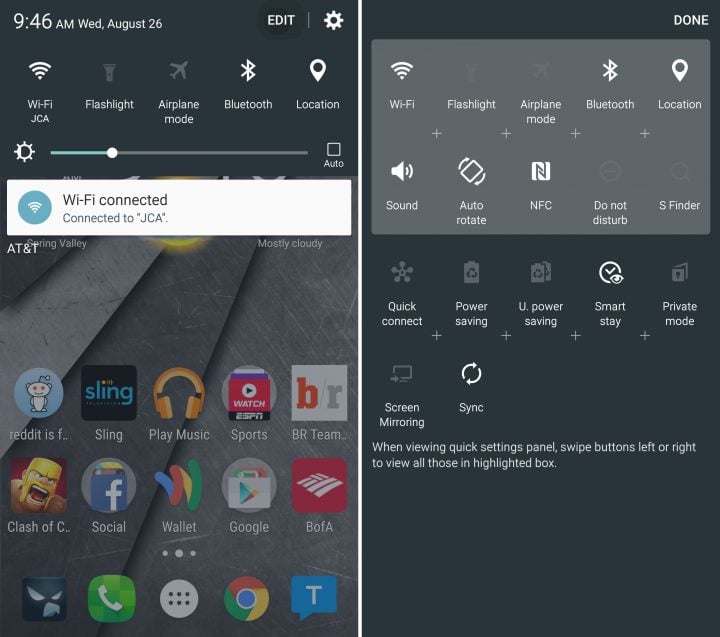 Pull Down > Tap Edit > Drag Icons
There are only 17 options on my AT&T Galaxy Note 5, and a toggle to quickly turn on the WiFi Hotspot feature isn't one of them, which is the only one I want. However, I keep WiFi, Flashlight, Airplane mode and a few others first, and you can even swipe sideways (after pulling down the bar) to access more quick settings.
This makes it easy to quickly pull down and tap the Flashlight setting to instantly use the Note 5 camera flash as a flashlight. To be honest, I probably use this feature 5-6 times a week.
Customize it with Themes
You may have noticed my settings and notification pulldown bar looks different than your Note 5, as does my homescreen. That's because I'm using a theme from the Samsung Theme Store that is called "Material" to give my device a closer to stock Android look and feel.
Read: How to Make the Galaxy S6 Look Like Stock Android
Head into settings and go to Themes, or just find the paintbrush looking "Themes" app in the app tray. In here Samsung has a wide array of themes that will change the entire look, feel, colors, and even icons on the Note 5 to make your device unique. Find what you want, hit download, then apple, and enjoy an entirely different looking phone.
I use Material by Samer, so my phone looks more like a Nexus device, and not a Samsung phone. Give some of them a try, although a lot of the themes are very cartoonish and cheesy looking. Remember to just apply the "Default" theme in "My Themes" if you don't like some of the changes.
Final Steps
Of course you'll want to sign into your Google account and get all your contacts, information, and apps, but there are tons of other options you may want to consider. Google Now is an excellent option worth enabling. As it gives you information you may need, before you ask, as well as driving directions, hands-free voice controls, and much more. Google Now can be activated by long-pressing the home button, or just download the Google Now Home Launcher.
Briefing is also something users will want to know about. A swipe to the left will get you an area that's basically a new aggregator that brings news from anywhere and everywhere to one screen. It's slow, laggy, and like the app Flipboard, and I've disabled it. Long-press anywhere on the screen to manage your screens (or change wallpapers) and just uncheck the Briefing page and that entire homescreen will disappear.
Read: Galaxy Note 5 Fast Wireless Charging: Hands-on
Here we only went over a few important steps you'll want to do when you first get the Galaxy Note 5. After you've enjoyed it for a few days, are comfortable, head into settings and look through all the options, camera controls, master the S-Pen stylus, draw on stuff, and then buy one of the many official Samsung accessories listed below.
10 Exciting Official Galaxy Note 5 Accessories
Note 5 S-View Flip Case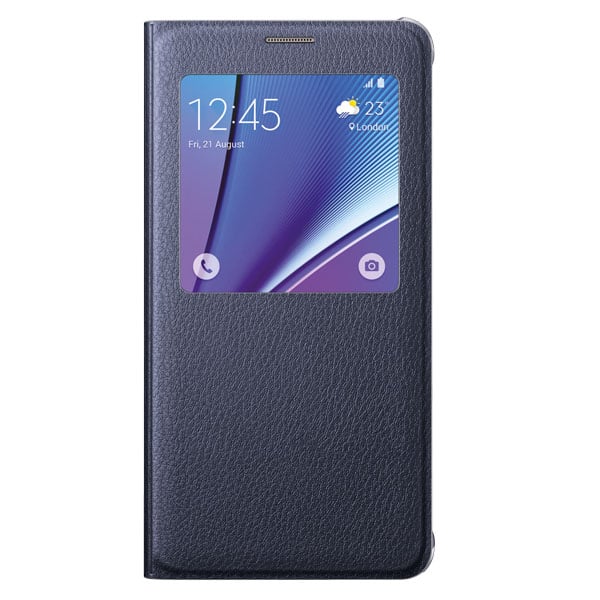 As expected, the popular S-View case is also available for the Galaxy Note 5, and currently all four colors are for sale online. Black, White, Gold & Silver. The S-View has been popular for years, and protects your device while letting you interact with it without ever opening the case. Basically offering full protection even while you answer calls, take pictures and more.
When closed, the S-View cover offers instant access to critical features through a unique window interface, thanks to the Samsung ID chip. View the home screen to check the time, weather and other status items. Accept or reject incoming calls with just a swipe, or reject calls with a preset message. Control your music playback directly on the S-View screen. If you miss anything, notifications are shown in the recent activity menu of your S-View cover.

As an Amazon Associate I earn from qualifying purchases.