Galaxy Note 5 vs Nexus 6: What You Need to Know
The Samsung Galaxy Note 5 is finally official and will be available around the globe starting August 21st. This new phone improves on almost every aspect over the original, delivers a beautiful 5.7-inch screen and premium design similar to the Galaxy S6, and just looks good. With so many options available, buyers have a tough choice as 2015 continues. Here's how the new Note 5 compares to the bigger Nexus 6 by Google.
On August 13th at the annual Samsung Unpacked event in New York City, Samsung actually announced the new Note 5 and a big curved Galaxy S6 Edge Plus. For those who'd just like to have a big phone, one worth considering over the Note 5 is the Nexus 6, and they both have a few pros and cons we'll be explaining below.
Read: Galaxy Note 5 Hands on Video
The new Samsung Galaxy Note 5 is a fantastic smartphone built out of all glass and aluminum. It no longer feels like a cheap plastic Samsung phone, which is one of a few things that separates it from the Nexus 6. Prospective buyers will want to read on for all the details about both smartphones, then choose what's right for them.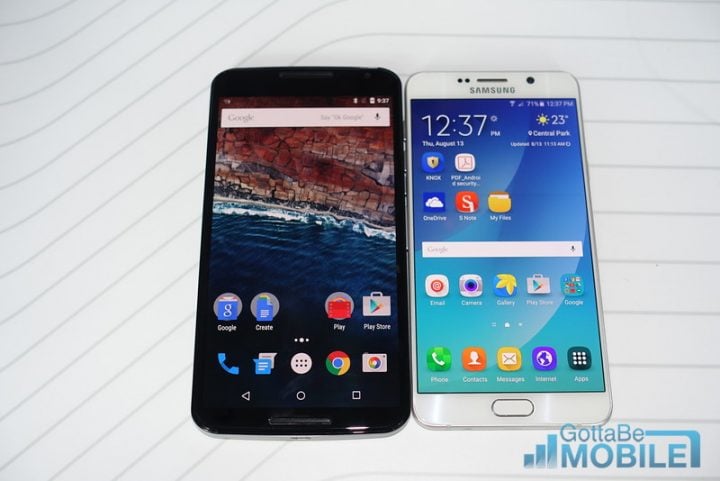 The Nexus 6 was actually announced and released around the same time as the Galaxy Note 4, so it is actually somewhat old but still has pretty good specs, the latest version of Android, and will get quick updates to Android 6.0 Marshmallow. It may not be as powerful as the new Note, but buyers who don't need a stylus may want to consider the bigger 5.96-inch Nexus 6 as an alternative.
Samsung's Note 5 has a lot more to offer, but costs quite a bit more, not to mention doesn't run stock Android. There are a lot of things a buyer must consider before signing a 2-year contract or setting up monthly payments on a $700-$800 smartphone.
Read: Nexus 6 Review: Google's Big Flagship Smartphone
Before heading into a T-Mobile or Verizon store, buyers will want to look through all the details below and figure out if the Note 5 is right for them, they just want a big 6-inch screen like the Nexus 6, or if a cheaper option like the Moto X Pure Edition with the same size 5.7-inch screen is a better choice. Read on for everything you need to know, and a few things that separates Samsung's Note 5 from Google's Nexus 6.
Display
Each year smartphones get bigger and bigger, and Google took that to heart last year with the Nexus 6 and its 5.96-inch (ok 6) display. Samsung started it though, and they've continued to make each phone better with each release, and the Galaxy Note 5 is the best yet. Users will get a large 5.7-inch 2560 x 1440 Quad-HD display. That high 2k resolution is also offered on the Nexus 6, but it's on a a bigger screen that isn't Samsung's S-AMOLED technology. This means the Note 5 has a higher pixel density, and will be clearer. That said, anything at 2k resolution looks great, but the Note 5 is certainly slightly better than Google's Nexus 6.
Samsung's AMOLED displays just can't be beat. The Nexus 6 does have an AMOLED display and it looks better than most, better than the LG G4 even, but it doesn't compete with the accurate blacks or vibrant colors of the Note 5.
The Samsung Galaxy Note 5 is actually slightly smaller than the Nexus 6, but then it does have a slightly smaller screen so that makes sense. The colors and viewing angles are also exceptional, and better than any phone I've used.
Either phone will make buyers happy, especially if they just want a big screen. That said, the Galaxy Note 5 is the better visual experience, even if the Nexus 6 is bigger.