Galaxy Note 7 vs Galaxy Note 4: What We Know Right Now
Samsung is busy preparing for the launch and release of their next big phablet smartphone, and it could be the perfect replacement for the aging Galaxy Note 4. With the Galaxy Note 7 release date quickly approaching, here we want to go over everything we know so far and how it compares to the older Galaxy Note 4.
In 2015 Samsung released some great smartphones with a few flaws. The Galaxy S6, S6 Edge and Galaxy Note 5 all had smaller battery options, no micro-SD slot for storage expansion but great designs. It upset a lot of users and caused many to keep the Galaxy Note 4 a little longer, rather than upgrade to a phone that (in some users eyes) had less to offer.
Read: Galaxy Note 7 Release Details Firm Up
However, in 2016 Samsung really stepped things up. The new Galaxy S7 is better in every way and has the same stunning premium design, yet also has a better camera, bigger battery, micro-SD slot and more. Countless leaks and rumors suggest the same move will complete the Galaxy Note 7, making it potentially one of the best phones of 2016. Read on for more details.
Last year the Galaxy Note 5 was pretty great. It had an all metal design, big 5.7-inch Quad-HD display and some decent specs. However, the battery was smaller than the Galaxy Note 4 the year before, and it lost the removable battery and micro-SD slot. It wasn't a good move, but that's all about to change in early August.
For months on end we've been hearing about the new Galaxy Note 7. Yes Samsung will skip the "6" and move right to Galaxy Note 7, purely for marketing reasons. That aside, here's everything we know about the upcoming Galaxy Note 7 and why it will be a great replacement for older Note users.
Read: Samsung Galaxy Note 5 Review
Before we begin comparing these two phones we need to confirm that nothing here is official. This is all based on leaks and rumors, although we're pretty confident with most of it. Samsung hasn't revealed anything, and rumors are still light. That said, many of them come from reliable sources, not to mention make sense given what we saw from the S7 Edge, and the natural progression of the Note and Galaxy S series.
For 2016 the Galaxy Note 7 will be better in every way, more powerful, water-resistant, have a brand new technology for better security and more. Lets get started.
Note 7 vs Note 4: Design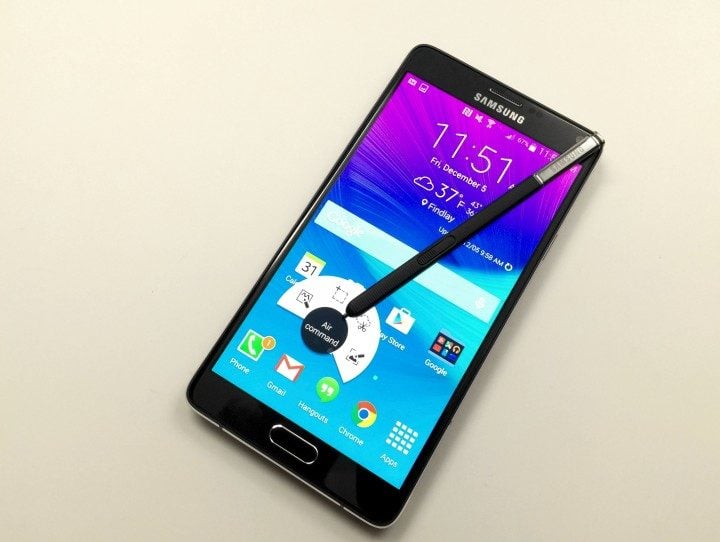 The Galaxy Note 7 will be better than the Note 4 in every way, including the design. Just like the Galaxy Note 5 from 2015 it will have an all aluminum and glass design, rather than the plastic back users saw with the Note 4. Yes that means the battery won't be removable, but it should be big enough and charge super quick, making that a non-issue.
It should feature an all glass and metal design, rounded edges on back, then a flat or curved screen on the front. Basically similar to the Galaxy S7 Edge in every way, shape and form but slightly bigger. That's a good thing too, as the S7 Edge is an excellent smartphone.
Of course the new Note will have an S-Pen stylus, along with a new USB Type-C port for charging and syncing, and reportedly an Iris Eye scanner for improved security on top of the fingerprint scanner. This has been rumored time and time again, and "confirmed" by @evleaks, a very reliable leakster.
Those coming from the Galaxy Note 4 will enjoy the improved premium design, thin design with rounded metal edges on back, better camera, improved performance and battery life, and be happy to see the micro-SD slot return. Allowing owners to add an SD card to the already 64GB of internal storage. At least according to reports.
One big addition is an IP68 dust and water resistant rating. The Galaxy Note 7 even with a slot inside for the stylus will be water resistant up to 5ft for over 30 minutes. That's impressive, and certainly a selling point for many.
Any user that debated getting the Galaxy Note 5 but ultimately passed it up, know exactly what to expect. The phones should look nearly identical, only the Note 7 is better. One big change is the display, but more on that in our next slide.

As an Amazon Associate I earn from qualifying purchases.