Galaxy Note 7 vs Galaxy S6 Edge Plus: 5 Key Differences
Samsung's impressive Galaxy Note 7 was released back in August and has a lot to offer buyers. However, due to a global recall it has temporarily been removed from shelves, and all owners must return theirs over fire hazards and exploding battery problems.  Those with a Galaxy S6 Edge Plus looking to upgrade, or Note 7 owners seeking a replacement device, here's how the two compare.
In August of 2015 the Galaxy Note 5 and a big 5.7-inch Galaxy S6 Edge Plus were announced, and were two great phones. The Galaxy S6 Edge Plus is essentially the Note 5 without an S-Pen stylus, or similar to the current Note 7 and its curved display.
Read: Galaxy Note 7 Explosions May End After Upcoming Update
Comparing the two phones current Note 7 owners or potential buyers will notice they are very similar. Both phones have a curved display, a similar design, decent specs under the hood and much more. There are a few key differences like the S-Pen stylus, Iris scanner or more storage on the Note 7, but those aren't deal-breakers for most. Read on for a full breakdown.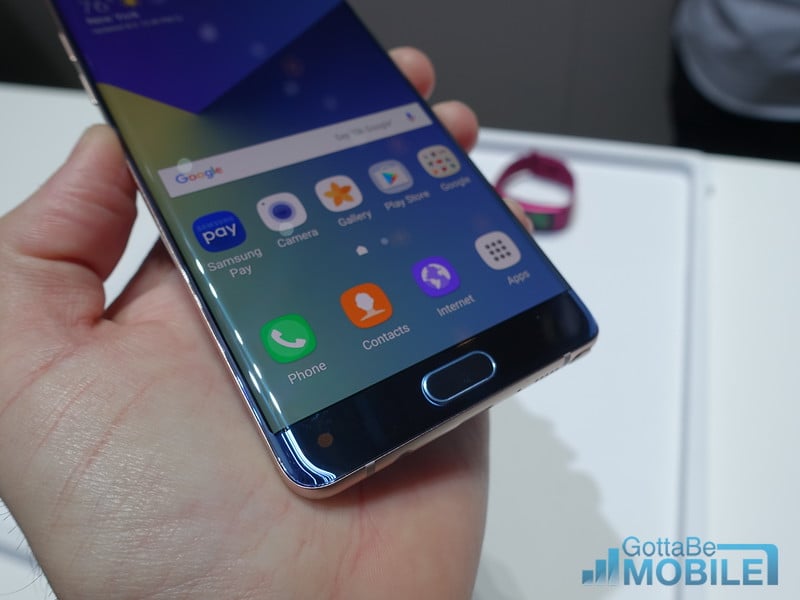 The Galaxy S6 Edge Plus had plenty of buyers extremely excited. However, it didn't have a micro-SD slot, enough storage, a removable battery or even a big battery for that matter. The Galaxy S6 had the same problem, which was immediately fixed in early 2016 with the Galaxy S7. Meaning that while it had a lot to offer, it was missing some key features that many smartphone owners want. All of those problems have been fixed on the Note 7, which is what makes it so appealing to millions of users.
Upgrading to the Note 7 (once it's re-released) would be a good move for a variety of reasons, and at the same time the Galaxy S6 Edge Plus may be the best Note 7 alternative at the moment. Keep on reading to find out why.
Read: 5 Great Galaxy Note 7 Alternatives
The Galaxy Note 7 is the most feature packed and complete phone to date. It was receiving great reviews before the recall, and will still be an excellent phone later this year. This is the Galaxy Note 7, what it has to offer, what makes it special, and how it compares to the Galaxy S6 Edge Plus. The slideshow below goes over all the details for potential buyers or those seeking an upgrade. Not to mention explains the two for those who need something else while the Note 7 recall completes.
Note 7 vs Galaxy S6 Edge Plus: Design
One thing buyers will be happy to know is these phones look almost identical, but with the new Note 7 seeming a bit more polished. It's smoother on the sides, not as curved, thinner, lighter, and just as premium. Just like we saw earlier this year with the Galaxy S6 and S7, the Galaxy Note 5/S6 Edge Plus and the Galaxy Note 7 look exactly the same, aside from a few small changes like a smaller camera hump on back and refinements.
Meaning owners can expect an all glass and metal design, rounded edges on back, then a curved screen on the front too this year. Basically a combination of the Note 5 and the Galaxy S7 Edge, into one big 5.7-inch curved phone.
Of course the new Note has the S-Pen stylus which the S6 Edge Plus doesn't, along with a new USB Type-C port for charging and syncing, it's also IP68 dust and water resistant. To cap it all off its not only thinner with a bigger battery, but they even managed to add an Iris eye scanner for improved security. The Note 7 doesn't look as rounded on the corners, but it's otherwise a very similar looking and feeling phone.
Two very important additions to owners will be the micro-SD slot for storage expansion, and an IP68 dust and water resistant rating. Yes, the Galaxy Note 7 even with a slot inside for the stylus is water resistant up to 5ft for over 30 minutes. That's impressive, and certainly a selling point for many.
The Galaxy S6 Edge Plus has neither of those, but will be fine to hold you over for now.

As an Amazon Associate I earn from qualifying purchases.