Galaxy Note Edge Release Date Picks Up Steam
The Samsung Galaxy Note Edge release date continues to pick up speed as the company is now promoting the device ahead of the first Galaxy Note Edge release that's now set for October.
Last month, Samsung announced a slew of new products including two new Galaxy Note models dubbed Galaxy Note 4 and Galaxy Note Edge. The Galaxy Note 4 will be the true successor to last year's Galaxy Note 3 and it will go on sale with a number of high-powered features starting in mid-October. The Galaxy Note Edge release date had, up until yesterday, been non-existent. Now though, the Galaxy Note Edge release date is picking up steam, not just in Asia but in the United States as well.
Yesterday, after weeks of silence, Japanese carriers confirmed an October release date for the Samsung Galaxy Note Edge, becoming the first carriers to call out a specific date. Samsung confirmed the Galaxy Note Edge release date for late October though Japanese carriers took it a step further. KDDI announced that it plans to start selling the Galaxy Note Edge on October 23rd. The device will arrive in black and the company says that the white version of the Galaxy Note Edge will arrive in November. NTT DoCoMo will also stock the Galaxy Note Edge in late October though it's not clear when it plans to start selling it.
https://www.youtube.com/watch?feature=player_embedded&v=0mW75Spg-58
In the buildup to those Galaxy Note Edge release dates, Samsung is now promoting the Galaxy Note Edge with a new ad campaign in Japan that highlights some of its key features including its curved display. The curved display is one of the unique features found on the Galaxy Note Edge and it figures to play a big role in Samsung's marketing blitz ahead of the holidays.
Samsung's new Galaxy Note Edge ad is aimed at the Japanese market though it will give U.S. consumers and others another glimpse at Samsung's Next Big Thing ahead of its arrival in select regions around the world. One of those regions is the United States and as we now know, the U.S. Galaxy Note Edge release date is also drawing closer.  In fact, it looks like it could be just weeks away.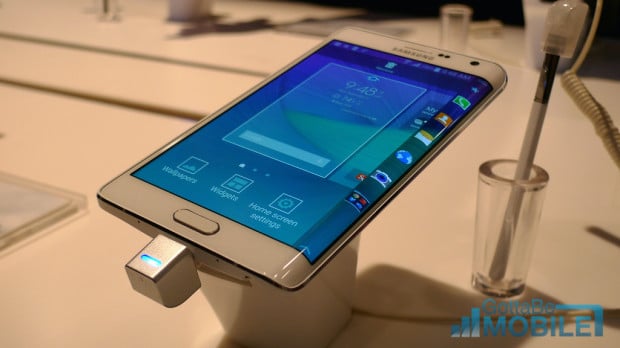 Yesterday, we spotted the AT&T Galaxy Note Edge, also known as the SM-N915A, crossing through the FCC on its way to shelves. While the filing didn't confirm a release date, it's a sign that the U.S. Galaxy Note Edge release is getting closer. One thing that we didn't notice yesterday that we should point out today is that the AT&T Galaxy Note Edge appears to come with support for LTE bands 5 and 12, the same bands used by U.S. Cellular.
U.S. Cellular is the only one of the big five that hasn't confirmed a Galaxy Note Edge release though it looks like the chances of an arrival are slim to none at this point. While the inclusion of these bands is exciting, U.S. Cellular currently has no plans to offer this phone.
The U.S. and Japan, along with China and Korea, are expected to be a few of the initial Galaxy Note Edge release regions. Other regions like the UK and Canada will not get the Galaxy Note Edge at launch.
The new Galaxy Note Edge is a concept phone but one that should be intriguing to those that are looking to upgrade to a high-end smartphone. Galaxy Note Edge specs include a Quad HD resolution, a 2.7 GHz Quad-core Snapdragon 805 with 3GB of RAM, Android 4.4.4 KitKat with Samsung TouchWiz, 16MP camera with Optical Image Stabilization, massive battery, and a thin 8.3mm frame. It also comes with an S Pen stylus.
It's still not clear how much the Galaxy Note Edge price will be though we expect those details to arrive once Samsung and its carrier partners have a clear grasp on the release date in the U.S.

This article may contain affiliate links. Click here for more details.