Samsung Galaxy Note Edge Release Date Pushes Ahead
While its yet to be confirmed, the Samsung Galaxy Note Edge release date continues to push forward behind the scenes ahead of Samsung's official Galaxy Note Edge release date announcements.
In September, Samsung announced a slew of new products including a brand new Galaxy Note 4 and a new product called the Samsung Galaxy Note Edge. The Galaxy Note 4 will be the true successor to last year's Galaxy Note 3 and it will go on sale with a number of high-powered features starting in mid-October. The Galaxy Note Edge, a device that shares a lot in common with the Galaxy Note 4, will deliver those some explosive specs with a unique curved display.
Samsung's Galaxy Note Edge features a Quad HD resolution, a 2.7 GHz Quad-core Snapdragon 805 with 3GB of RAM, Android 4.4.4 KitKat with Samsung TouchWiz, 16MP camera with Optical Image Stabilization, massive battery, and a thin 8.3mm frame. It also comes with an S Pen stylus though the display, seen in the video below, is unlike anything Galaxy users have ever seen.
At its Unpacked launch event, Samsung announced many of the key Galaxy Note Edge features including hardware, software, and carriers. It even announced a Galaxy Note Edge release date for later this year. However, Samsung did not announce any specific Galaxy Note Edge release dates or the Galaxy Note Edge price leaving it up to us to fill in the blanks for consumers ahead of its official announcements.
Thankfully, we've seen pertinent information emerge in the past three weeks as we work to paint a broad picture for those interested in the Samsung Galaxy Edge and its unique display.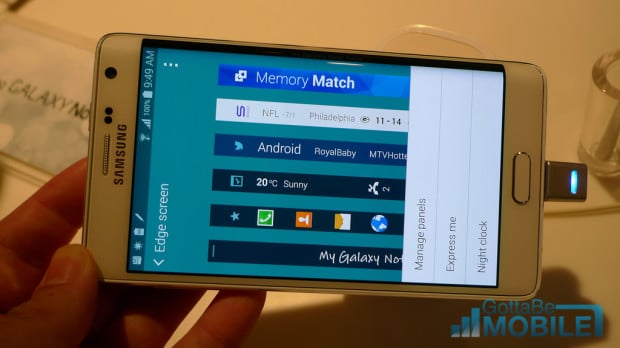 Today, the Chinese Galaxy Note Edge variant has passed through the FCC on its way to shelves. We've heard rumors about a Chinese Galaxy Note Edge release though today's clearance all but confirms it for arrival. Blog of Mobile also points to an authentication listing for the same model on the Chinese Industry and Information Technology website. The website confirms a number of the Galaxy Note Edge's features for the Chinese market. Unsurprisingly, it's the same device.
This filing is just another step in the right direction for the Galaxy Note Edge release and it means that we're getting closer to the arrival of one of the year's most interesting smartphones.
These details come just a few days after the SC-01G, a variant for Japanese carrier NTT DoCoMo, passed through the Global Certification Forum. The GCF is a necessary certification and this clearance means that the Galaxy Note Edge release date in Japan is getting closer. A specific date is not yet known though NTT DoCoMo says that it will start selling the Galaxy Note Edge by the end of October.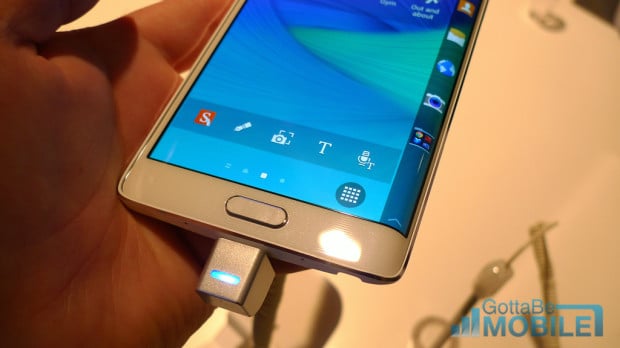 In Korea, the Galaxy Note Edge release date could also land in late October, or, a month after the Galaxy Note 4 release date. A specific date still isn't confirmed but given all of the progress we've seen behind the scenes, it could very well be accurate. Unfortunately, we still haven't seen the U.S. models pass through the FCC and the Galaxy Note Edge release date in the United States is still not confirmed for AT&T, Sprint, T-Mobile, or Verizon.
Galaxy Note Edge release date details suggest that there will be a delay in the United Kingdom. It's not clear when the device will arrive and Samsung UK says that it will confirm details when it's ready. The Canadian market though will see a massive delay as Samsung Canada recently confirmed a Galaxy Note Edge release for 2015.
At this point, Korea, Japan, China, and the United States are strong candidates for early Galaxy Note Edge release dates though it will take specific announcements to confirm those suspicions. Look for Galaxy Note Edge details to continue ahead of Samsung's official announcement.

This article may contain affiliate links. Click here for more details.