Galaxy Note Edge U.S. Release Details
It was only moments ago that Samsung revealed the surprise Galaxy Note Edge alongside the Galaxy Note 4. Already, wireless carriers are rushing to provide Galaxy Note Edge U.S. release details and more.
T-Mobile, the United States' fourth-largest wireless carrier, was quick to reveal that'd it will have the Galaxy Note Edge available to users on or switching to its network sometime soon. The company revealed the T-Mobile Galaxy Note 4 and the T-Mobile Galaxy Note Edge in an information page on its website.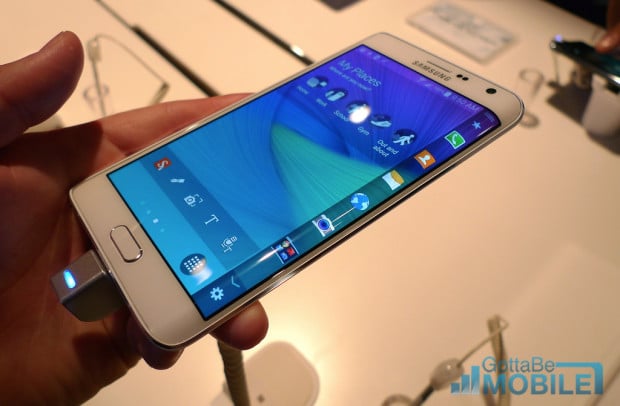 Unfortunately, the page doesn't share any new Galaxy Note Edge release details other than the device is coming and that users can enter a daily drawing for a Samsung wearable like the Gear 2 or Gear 2 Neo from today until September 11th. We don't yet know how much the T-Mobile Galaxy Note Edge will cost users in monthly payments, however, historically the company has eliminated down-payments on flagship smartphones. As such, users shouldn't need to put down any money when the T-Mobile Galaxy Note Edge actually arrives.
Galaxy Note Edge U.S. release details for AT&T are just as hard to come by. AT&T has confirmed that it'll carry nearly all of what Samsung announced at its Unpacked event earlier today. For example, the Gear Circle Bluetooth headphones, Gear VR virtual reality headset and base-level Galaxy Note 4 will make their debuts sometime soon. Joining them will be an AT&T Galaxy Note Edge, but for now the company isn't talking about pricing or availability.
Read: The Samsung Gear VR is a TV for the Galaxy Note 4
Finally, Sprint, the United States' third-largest carrier isn't confirming much in the way of Galaxy Note Edge U.S. release details, but it is saying that users on its network will get the opportunity to pick up the device. Users who purchase the Galaxy Note Edge on Sprint will be able to use the device with the company's Sprint Spark high-speed data network. Pricing on the Sprint Galaxy Note Edge remains a mystery.
With Galaxy Note Edge U.S. release details confirmed for these carriers, that only leaves Verizon. Multiple checks on the company's website and Twitter account haven't yielded any details about a Verizon Galaxy Note Edge. As such, were left to conclude that the company doesn't have any plans to release a Galaxy Note Edge for its users in the interim. To be clear, it's pretty likely that Verizon will get the Galaxy Note Edge – just not as soon as its U.S. competitors. The Verge is confirming that a Verizon Galaxy Note Edge is on the way, but Verizon itself isn't publicly.
The stage is set for the Galaxy Note Edge to turn heads when it arrives on store shelves. Inside the phone is a high-definition 5.6-inch display, a 16 megapixel camera and a quad-core processor. It'll attract attention thanks to the unorthodox display that wraps around its right edge. The Galaxy Note Edge, is the first mainstream smartphone to use Samsung's curved display technology. Showed off last year, curved displays allow for devices that don't always look like a flat blank slab.
The curved edge on the Galaxy Note Edge will be used for tons of things. Users who purchase a case will find notifications surface on the right area of the Galaxy Note Edge. This makes them easy to see since that part of display is always on.
An app launcher will live here too, making it pretty easy to switch between multiple apps with just a thumb – provided the user is right handed. The customized version of Android on-board the Galaxy Note Edge effectively treats the single-piece curved display as two separate displays. The larger uncurved portion is for looking at apps, while the curved edge is strictly for notifications and navigation.
All told, the Galaxy Note Edge is a pretty bold step for Samsung. All at once the company is moving to test out bold changes for the Galaxy Note 4 and possibly kick off a new trend in smartphone design.

This article may contain affiliate links. Click here for more details.