Galaxy S6 Edge vs Galaxy S6 Edge Plus: 5 Key Differences
Last week Samsung announced two impressive new flagship Android smartphones with big and bright 5.7-inch Quad-HD displays, wrapped in a beautiful aluminum and glass design. Those being the new Galaxy Note 5 and Samsung's Galaxy S6 Edge Plus to replace the original. Is this just a bigger version of the Galaxy S6 Edge, or does it bring more to users pockets? Here we'll go over everything that's new and different.
The Samsung Galaxy S6 Edge was a surprise device earlier this year when it arrived along with the regular Galaxy S6 in April. It had the same beautiful design with a curved edge on both sides of the display and some fancy features to go with it. However, Samsung's now released a bigger, more powerful model that buyers should be aware of. There is more to this phone than just a bigger screen.
Read: Galaxy S6 Edge Plus Hands-on
Essentially buyers are getting a massive smartphone that has a fancy curved screen. The display and glass actually bends downwards towards the back that turns heads when people see it, adds some additional functionality, and can be customized as well. Read on for five or so key things that separates the original Galaxy S6 Edge from the bigger, new Galaxy S6 Edge Plus that will be released Friday, August 21st.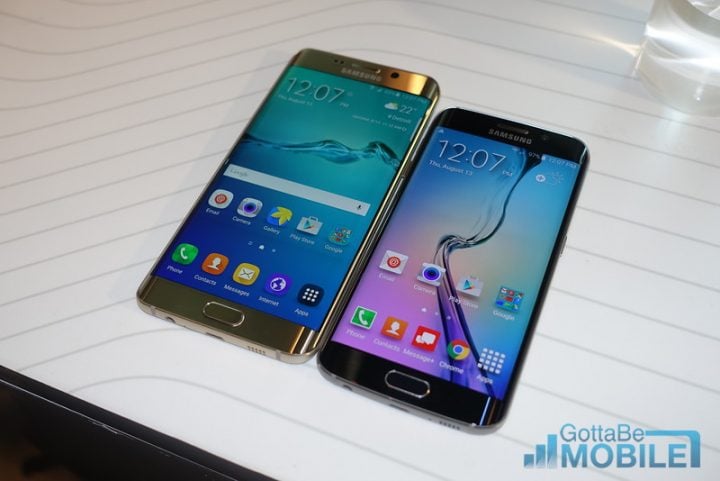 Looking at both phones users and buyers won't notice anything different. They are literally identical in every aspect, aside from the size. That's a big factor that you'll instantly recognize. A 5.1-inch device vs a 5.7-inch device is a big difference. Everything else though, remains exactly the same in terms of the look, placement of buttons or the camera, and how that aluminum design material feels.
Read: Samsung Galaxy S6 Edge Review
However, just like the Samsung Galaxy Note 5 that was also announced last week and now available to pre-order and buy from all carriers in the United States, the Edge Plus is more than just a pretty curved screen that has been supersized. Samsung improved the camera, internals, battery and more. Lets break it all down for potential buyers.
Galaxy S6 Edge vs S6 Edge Plus: Design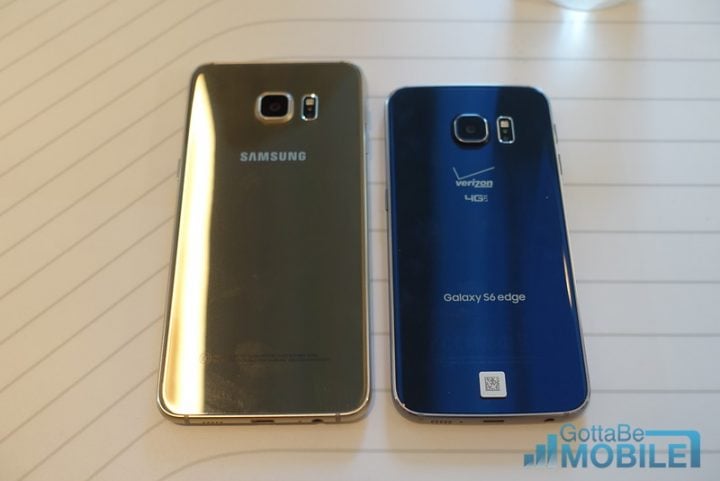 When it comes to the design, both devices sport identical design languages, aside from the obvious which is the much bigger screen. If you've used or seen the Galaxy S6 Edge that was released in April, you know exactly what you're getting. That being a beautifully made smartphone with glass and aluminum in Black, White, or Gold. The Titanium Silver color likely won't come to the United States.
The bigger sibling retains the same excellent build quality, the excellent camera on the back with a flash and heart rate scanner and other sensors. The buttons are similarly located on the side, and there's a dedicated home button with a built-in fingerprint scanner for security.
Just like the original we have the 3.5 mm headphone jack, micro-USB charging port, and the speakers on bottom. One day Samsung might move to front facing speakers, maybe next year, but not yet.
Of course the biggest aspect of the design is the glass and screen are curved on both edges right down to the metal sides of the phone. This doesn't distort or make photos, video, or webpages look funny, or anything. Somehow Samsung's managed to make everything look normal. It actually makes swiping through photos and pictures easier, as your finger isn't hitting the edge of the device. It just slides right off, and feels nice.
Yes the Edge is sort of a gimmick, or something to show friends and family, but the bigger Galaxy S6 Edge Plus has some new features and functionality, which we'll talk about below.

As an Amazon Associate I earn from qualifying purchases.