Galaxy S7 Edge: 5 Things I Learned on the First Day
The new Samsung Galaxy S7 and Galaxy S7 Edge are officially available in the United States. It looks very similar to the Galaxy S6 from last year, but is faster, better, more durable, water resistant, has a micro-SD slot and a huge battery. It's better in every way, and here are a few things we noticed or learned after 24 hours of using the Galaxy S7 Edge.
A full review will be coming soon, but in the meantime we want to share some initial thoughts, impressions, things we did and didn't like and more after using the phone for a day or so. It's clearly Samsung's best smartphone to date, and built to do it all.
Read: 13 Exciting Galaxy S7 Edge Cases
The Galaxy S7 Edge changed a lot and now has a bigger 5.5-inch Quad-HD display, a huge battery, and Samsung returned the micro-SD card so owners can expand storage. All things buyers will absolutely love. Add in the fact that it has a better camera, a sleek premium metal design and a fast fingerprint scanner, and you'll know why users are heading to a retail store to buy one today.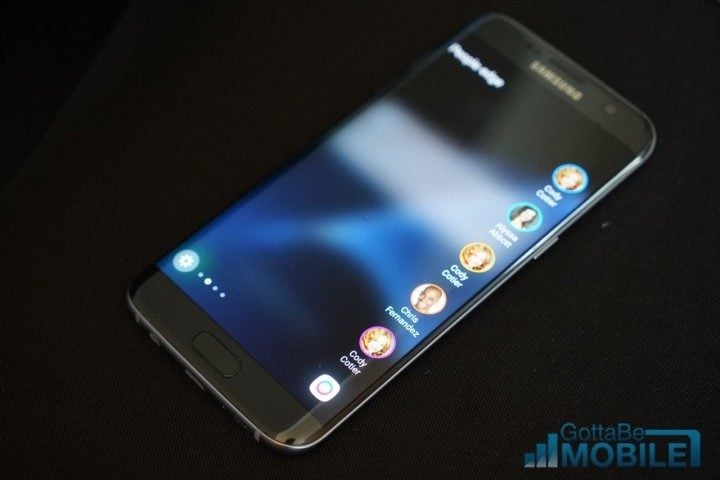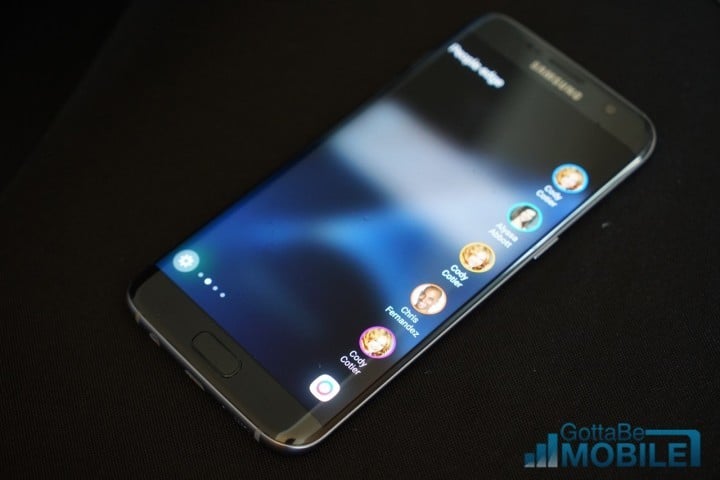 Last year the Galaxy S6 and S6 Edge saw a complete redesign with an all metal frame, glass on the front and back and more. It was an award-winning change, so Samsung stuck with it again this year. At first glance the Galaxy S7 looks identical to last year, but there are noteworthy new additions. Then, with the Galaxy S7 Edge, the bigger screen will instantly be noticeable.
As a quick recap before we get into what we learned and liked, the Galaxy S7 Edge has a 5.5-inch Quad-HD display, a powerful Quad-core Snapdragon 820 processor with 4GB of RAM, 32GB of storage, a micro-SD slot, a new 12 Dual Pixel camera setup that's thinner than last year (no camera bulge) and a big fat battery that will last plenty long.
We still have the premium metal and glass design, a similar fingerprint scanner in the home button, fast charging, wireless charging and fast wireless charging. Not to mention Samsung Pay, Android 6.0 Marshmallow and more. It has it all.
Excellent Refined Design
One of the best parts of the Galaxy S7 and Galaxy S7 Edge is the design. Simply because Samsung stuck to the same design as last year, but improved it. Owners will love the all aluminum design with glass on the front and back. There is no plastic anywhere on this high-end premium phone. However, it's a fingerprint magnet, slippery, and we'd recommend a case from our link above.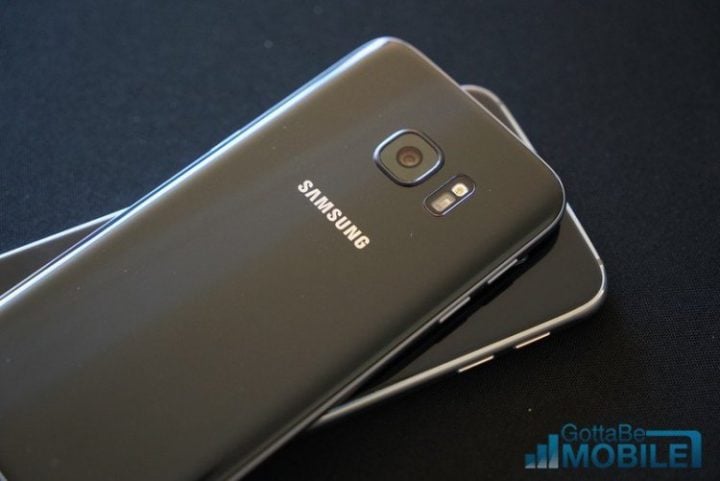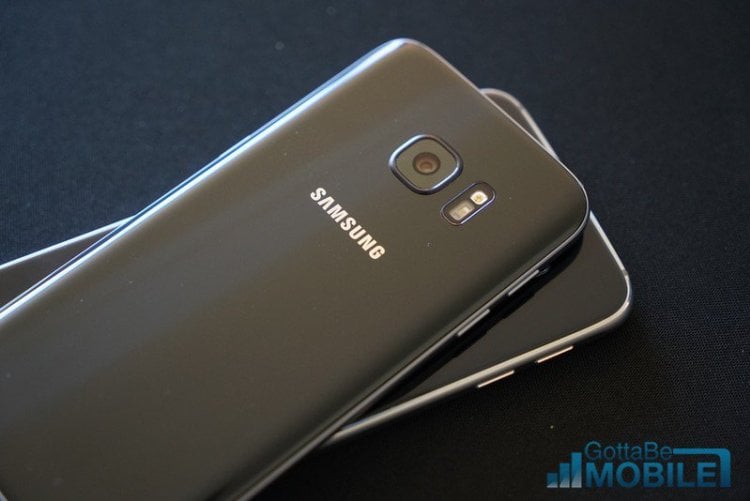 What Samsung managed to do with the design is quite the task. It's nearly identical to last year, only rounded on the back. This makes it easier to hold, easier to pickup off a table, and it feels thinner in your hand, making it more ergonomic. Similar to the back of the Galaxy Note 5, but more rounded on all sides, not just the left or right.
While keeping everything almost the same they managed to make it IP68 dust and water-resistant. Which means it can sit in over 5ft of water for over 30 minutes and come out just fine. The Galaxy S7 also has a better camera that's thinner and more flush with the back, rather than a huge bulge. It keeps all the same features from last year, but now has a massive 3,600 mAh battery. The Galaxy S6 was only 2,550, and even the bigger 5.7-inch Galaxy Note 5 was only 3,000 mAh. Meaning the Galaxy S7 Edge will be a battery champ, but more on that below.
Above is a demonstration of the IP68 rating, which is one of many aspects we love about the design of the Galaxy S7 and S7 Edge. The fact that Samsung managed to keep everything the same, while improving the durability, return the micro-SD card, and increase the battery is very impressive. Users are going to love this phone.
Stunning Galaxy S7 Edge Display
The Galaxy S7 Edge is the perfect phone. It's not too big, and not too small. Coming in at 5.5-inches, but feels much smaller. In fact, it's substantially smaller and thinner than the Galaxy Note 5. If the Note 5 was too big for you, but you wanted a bigger screen than the Galaxy S6, the Galaxy S7 Edge is the perfect happy medium. Samsung nailed it.
It has an award-winning 5.5-inch 2560 x 1440 Quad-HD AMOLED screen that looks gorgeous. It's covered in Gorilla Glass 4, so should be very durable, and of course water won't phase it either.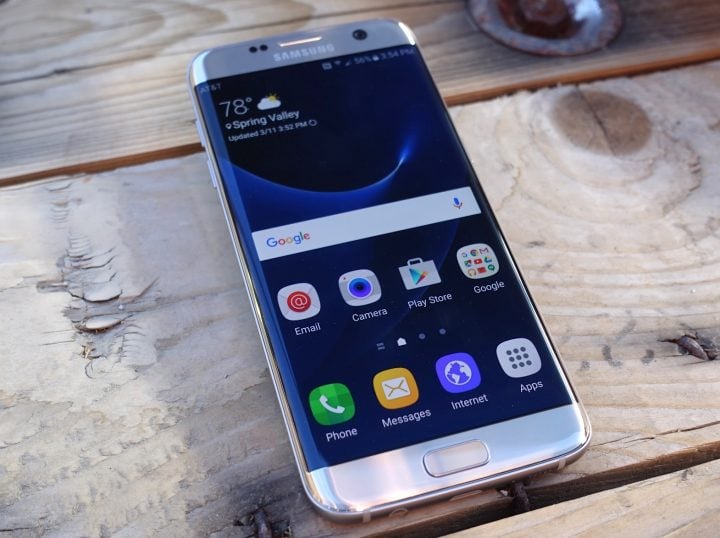 After using the Galaxy S7 Edge for a little more than a day I've come to love the screen. It's more crisp than the Galaxy Note 5, gets brighter, has amazing colors, and doesn't drain the battery life. At first I didn't like the new "always-on display" function, but it's growing on me. I turned it off at first, but now have it back on. Samsung claims the always-on screen can show important information for an entire 8-hour work day, and only drain a few % of battery. So there's no reason to turn it off. It's really impressive.
I have noticed something odd with the screen brightness though. For whatever reason whenever I launch a game the display dims to a lower brightness level, then returns when I hit home. It's nothing too be concerned with, but doesn't happen on other Galaxy devices, and means I have to crank up the brightness for a similar gaming experience as older phones like the Galaxy Note 5.
Micro-SD Slot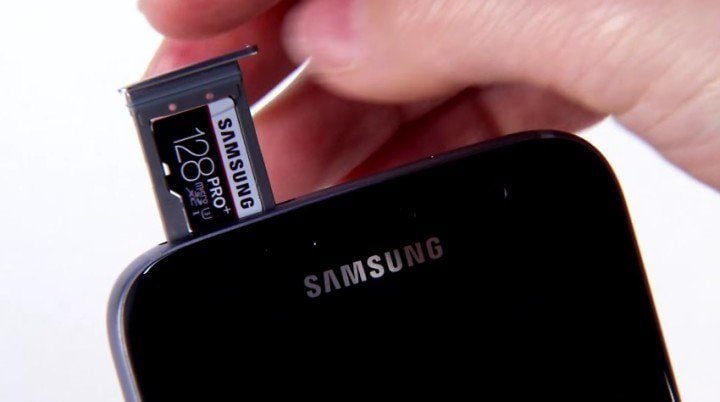 Samsung learned their lesson last year by removing the micro-SD card in the Galaxy S6, but returned it this year. Meaning the phone only has 32GB of storage, but owners can add a 128GB or 200GB micro-SD card for relatively cheap. It's a welcomed feature, something we're glad is back, and I've added a 128GB micro-SD card with about 5,000 songs, 4-5 movies, and moved all my apps and games to the micro-SD slot to free up space.
Read: How to Move apps to the Galaxy S7 MicroSD Card
Having a micro-SD card slot is a feature all smartphones should keep, as the versatility and options it brings can't be matched by storing everything in the cloud. Not everyone has unlimited data to stream Google Music, Spotify, or Pandora radio all day. Instead, load up the SD card and take full advantage of this important feature.
Mediocre Software
With the Galaxy S7 and S7 Edge Samsung finally made a big effort to improve the user interface. They still cover stock Android 6.0.1 Marshmallow with their own overlay, but it's much better than previous years. Everything is flat, the icons are rounded, and the cartoonish bright green colors from the notification bar are gone. Now there's a clean white and blue color, and everything looks much cleaner.
That being said, the custom interface over stock Android is still average at best. The application tray is completely out of order, not alphabetical, and installing an app puts it on the last page. Owners can go into the app tray, hit settings, and alphabetize the app drawer so everything is in order, but if you download an app it goes to the back again, not where it should in the alphabet. Nothing major, but something that is frustrating and just doesn't make any sense.
Samsung also has a lot of bloatware on these phones. There's multiple messaging apps, Google messaging apps, Verizon has another, Amazon, AT&T stuff and more. It ends up taking over 8GB of the 32GB. So out of the box users have more like 22GB of space available. Between TouchWiz, bloatware, and Samsung apps, there isn't a lot of space left for photos, videos, music, apps and games. It's not a big deal, but the bloatware could really use a little cut back.
Great Battery Life
So far I'm very impressed with overall performance, the new 12 megapixel camera is pretty amazing and focuses insanely fast, but it's the battery life I've been most impressed with. The Galaxy S6 had a tiny 2,550 mAh battery, and even the huge Galaxy Note 5 was only 3,000 mAh.
This year the Galaxy S7 Edge has an even bigger 3,600 mAh battery with fast charging, and fast wireless charging. Even the regular Galaxy S7 is 3,000 mAh. This is more than enough to last even the biggest power user 24 hours on a single charge, and nearly 2-3 days for light users. Below is a screenshot after an entire day of heavy heavy usage. From transferring photos, playing games, making calls, watching YouTube, sending emails all day and more.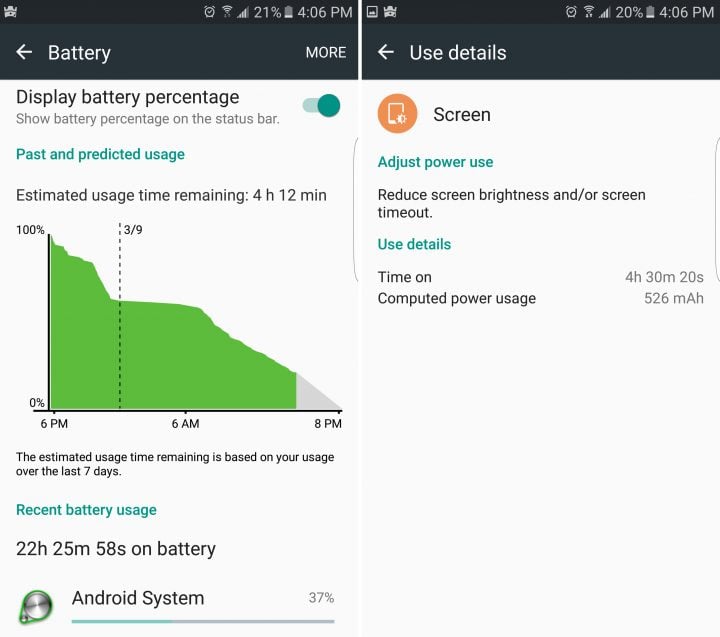 The important thing to notice is the Galaxy S7 Edge has 21% battery after 22 hours of usage. That's from 4pm and I used it all evening playing games, sending emails, watching videos, left it unplugged all night, then made it through another entire 8-4PM work day all on a single charge. Over 4 hours and 30 minutes of important "screen-on" time, and I still had 21% remaining. Impressive to say the least.
Average users will have no problem making it well over 30-40 hours on a single charge, if not longer.
Final Thoughts
So far the Galaxy S7 Edge looks like a strong contender for best smartphone of the year, and it's only March. It has an amazing design, a beautiful and perfectly sized display, it's water resistant, has a micro-SD slot, takes stunning photos, and lasts for more than an entire day with absolutely no problem. Then, if it does die, 20 minutes gets you to 50-60% thanks to Quick Charging technology built in.
It's hard to say anything bad about the Galaxy S7 so far after a day or so of usage. It does just about everything, and does it fast, fluid, and with ease. It's available starting today, March 11th, so grab one and enjoy it. Check out some of Samsung's official accessories below.
14 Official Galaxy S7 Accessories Worth Buying
Galaxy S7 S-View Flip Cover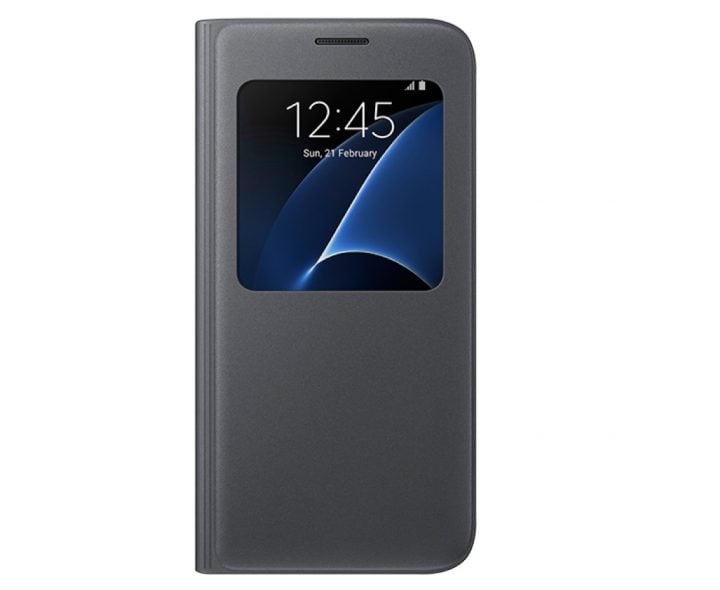 As expected, the popular S-View case is also available for the Galaxy S7 and S7 Edge, and comes in multiple different colors. For the Galaxy S7 there's Black and Gold, the two colors being offered, then for the Galaxy S7 Edge it comes in Black, Gold & Silver. The S-View has been popular for years, and protects your device while letting you interact with it without ever opening the case. Basically offering full protection even while you answer calls, take pictures and more.
When closed, the S-View cover offers instant access to critical features through a unique window interface, thanks to the Samsung ID chip. View the home screen to check the time, weather and other status items. Accept or reject incoming calls with just a swipe, or reject calls with a preset message. Control your music playback directly on the S-View screen. If you miss anything, notifications are shown in the recent activity menu of your S-View cover. It works even better with the new always-on display feature.

As an Amazon Associate I earn from qualifying purchases.