Samsung Galaxy S7 Problems Fixed in New Update
The impressive and powerful Samsung Galaxy S7 and Galaxy S7 Edge are two of the best smartphones on the market, but they still have their share of problems. Today though, a huge update is rolling out with loads of fixes. Starting first with T-Mobile, and owners can expect it to arrive on other carriers soon. Read on for all the details and bug fixes.
After the Galaxy S7 release date millions of users started enjoying it, which lead to more and more issues being mentioned in forums and on social media. From laggy performance at times, choppy slow-motion recording on the Snapdragon model, battery life, and general stability like freezing or reboots.
Read: How to Fix Bad Galaxy S7 Battery Life
Our own Galaxy S7 Edge appears to perform quite excellent, but there are still countless issues being reported. Above are a few details regarding how to improve battery life, and that's just one of many big fixes that all Galaxy S7 and Galaxy S7 Edge owners can expect starting today, and in the coming weeks.
The biggest complaints we've seen have been regarding battery life, devices freezing or becoming unresponsive, as well as a few big issues with slow motion regarding being janky and stuttering, rather than a slow and smooth video. That said, Samsung took it a step further and added tons of changes, improved multiple aspects, and quickly released the latest April security patches right from Google.
Meaning the Galaxy S7 and Galaxy S7 Edge on T-Mobile will be performing at its best once this update arrives, and the same can be expected for owners on AT&T, Sprint, Verizon and others in the near future.
Read: 10 Common Galaxy S7 Problems and How to Fix Them
So what's new and improved or what has Samsung changed? A lot. The changelog below comes from T-Mobile, and will be similar with slight changes for other carriers once those arrive later this week.
Galaxy S7/S7 Edge Software Update
Enhanced voice services
Samsung Pay updates
Various system improvements
The stability of Recording video has been improved
Overall device performance has been improved
Battery life has been optimized
The security of your device has been improved
Device stability improvements, bug fixes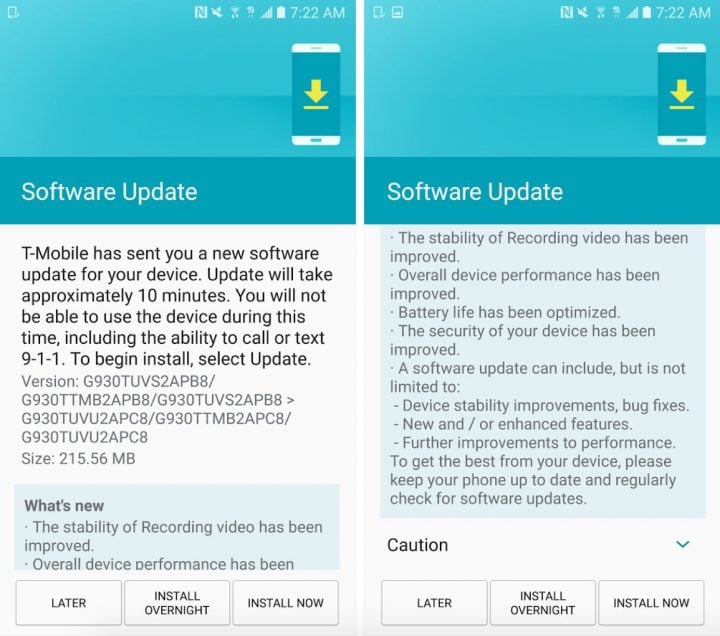 Going over all the details it looks like Samsung's made changed to improve S-Voice, although most owners probably use Google voice or Google Now. Samsung Pay has been improved and updated. The company and T-Mobile made significant system improvements, and the big one, stability of recording video has been improved.
We can also expect overall device performance to be better across the board, battery life has been optimized, which should hopefully deliver better performance and longer lasting battery life. Then as mentioned above Samsung is already pushing out the latest April security patch for Android. Google released April patches today as well, so Samsung is on the ball when it comes to device security.
Then last but not least we have the usual "device stability improvements and bug fixes". This is something we see on every changelog, but it's an important step during the first major software update after launch. Samsung has fined tuned all the hardware, software, camera, and overall system for an improved experience.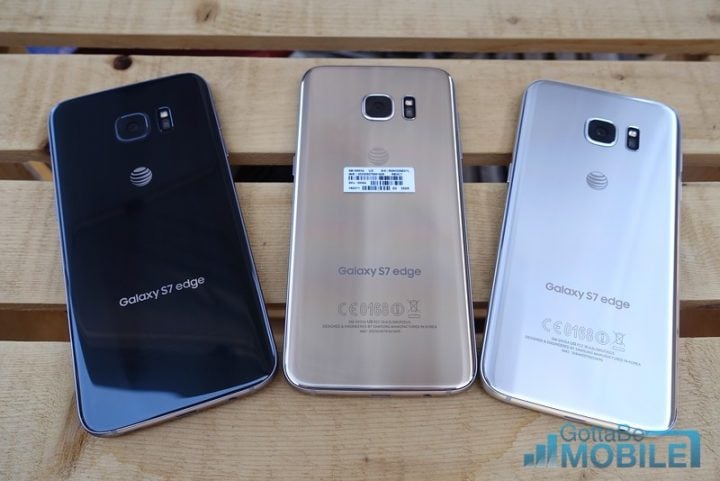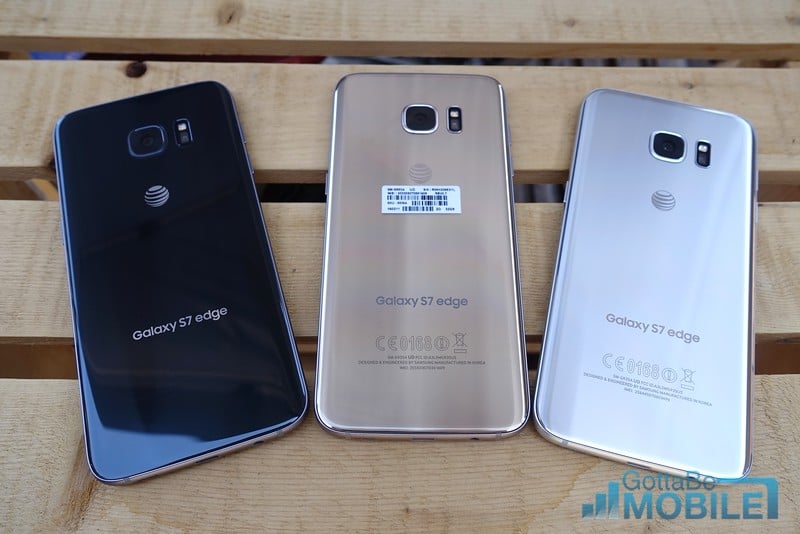 Looking at the T-Mobile support pages these updates are both rather large. Coming in at over 200MB for the Galaxy S7, and around 150MB for the Galaxy S7 Edge. Meaning these are rather big with lots of changes and improvements across the board.
Owners with a T-Mobile Galaxy S7 or Galaxy S7 Edge can head into Settings > Device > scroll down to About Phone > and check for updates manually. Otherwise, an over the air update notification should appear soon for all users.
T-Mobile is the only carrier to make an announcement, but with the April security patch and all these bugs being squashed, expect similar announcements from all major carriers in the coming days or weeks. If you received the update drop us a comment below with any notable changes, or improvements.
14 Official Galaxy S7 Accessories Worth Buying
Galaxy S7 S-View Flip Cover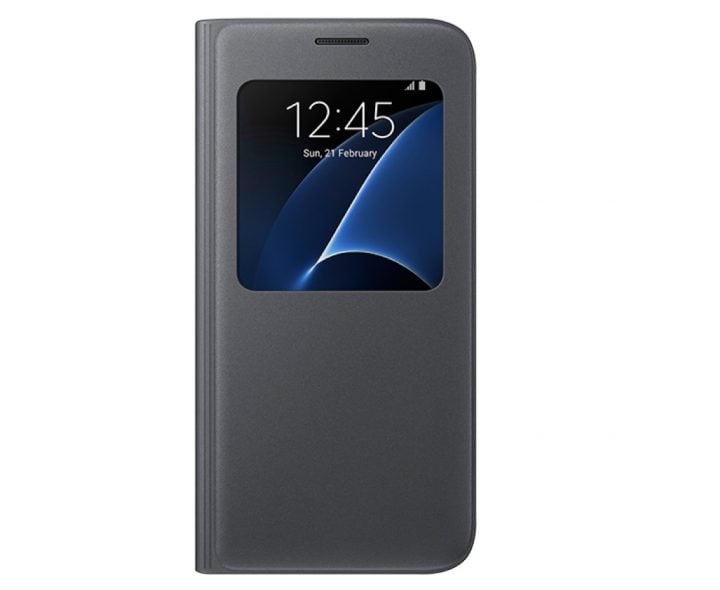 As expected, the popular S-View case is also available for the Galaxy S7 and S7 Edge, and comes in multiple different colors. For the Galaxy S7 there's Black and Gold, the two colors being offered, then for the Galaxy S7 Edge it comes in Black, Gold & Silver. The S-View has been popular for years, and protects your device while letting you interact with it without ever opening the case. Basically offering full protection even while you answer calls, take pictures and more.
When closed, the S-View cover offers instant access to critical features through a unique window interface, thanks to the Samsung ID chip. View the home screen to check the time, weather and other status items. Accept or reject incoming calls with just a swipe, or reject calls with a preset message. Control your music playback directly on the S-View screen. If you miss anything, notifications are shown in the recent activity menu of your S-View cover. It works even better with the new always-on display feature.

As an Amazon Associate I earn from qualifying purchases.