Galaxy S8 Active Release: 5 Things to Know
Samsung and AT&T released the rugged Galaxy S8 Active back in August, and now for the first time in years, it's finally coming to other carriers. Samsung just announced availability for two more US carriers. This durable phone once exclusive to AT&T will soon be available on both T-Mobile and Sprint. Here's what you need to know and when you can get one.
While the Galaxy S8 is a popular and noteworthy device, the Active model is exciting thanks to the extremely durable design and longer battery life.
Basically, the Galaxy S8 Active is very similar to the original Galaxy S8 from earlier this year. Featuring a great design, a beautiful edge-to-edge 5.8-inch display and a powerful camera on the back. Only the phone is designed to offer extra durability, longer battery life, and a few other changes. It's Samsung's most durable smartphone ever released, and here are all the details.
For the past few years, AT&T and Samsung have partnered to offer a rugged phone. However, AT&T isn't the only carrier that has it available this year. Initially, we thought Sprint would get it, but now we know both Sprint and T-Mobile will have it in-stores starting around November 17th.
If you love the Galaxy S8 but don't want a phone with a curved screen and are afraid of it getting damaged, this is the perfect solution. It even carries a military grade MIL-STD-810G rating. The screen is shatterproof up to 5 feet, and it's water-resistant up to 5ft for over 30 minutes.
Galaxy S8 Active Release Date
In August AT&T officially announced the Galaxy S8 Active. It hit the market in mid-August, and is still available as we speak. It's one of the best alternatives to the Galaxy S8 or Pixel 2 XL.
However, starting November 17th you can get it from T-Mobile. The company just confirmed the details, but we're still waiting for more information from Sprint. Either way, both will have it available this month.
The Galaxy S8 Active comes in Meteor Gray or Titanium Gold color options.
Galaxy S8 Active Pricing & Availability
Considering this is the same great phone as the original Galaxy S8, only stronger, the price is fairly high. Just as we expected, AT&T is asking around $850 for the Galaxy S8 Active. Now that they've had it for a few months, you can find some good deals or savings.
T-Mobile is asking $830 for the Galaxy S8 Active, or $30 per month for 24 months after a $100 down payment. We're expecting a similar $830-850 price from Sprint. That said, don't expect any pre-orders, just in-store availability starting the 17th of November.
 Galaxy S8 Active Specs & Features
As you already know, this is the same phone as the Galaxy S8 only there are a few subtle changes. It doesn't look as elegant, but that's because of the strong metal frames on both sides. Not to mention an easy-grip textured rubber on the sides and the back. Here's the full rundown for those interested.
Galaxy S8 Active Specs
5.8-inch 2560 x 1440 Quad-HD Flat AMOLED Display (Shatterproof)
Qualcomm Snapdragon 835 or Samsung Exynos Processor
4GB of RAM & 64GB of internal storage (Micro-SD slot included)
Android 7.1.1 Nougat with Samsung TouchWiz
12 Dualpixel Rear Camera – OIS, phase detection auto-focus, f/1.7 aperture
8 megapixel front camera with auto focus
Fingerprint and Iris Scanners
IP68 dust & water resistance
4,000 mAh battery vs only 3,000 mAh on the regular Galaxy S8
Always-On Display
Samsung Pay
USB Type-C, 3.5mm headphone jack, Bixby AI, more
As you can see, the design is a little more industrial than other Galaxy S8 smartphones. That's by design, as this phone can handle all of life's daily hazards. Above is a breakdown of the noteworthy differences and new features the Active offers over the regular Galaxy S8.
It's hard to tell from the photos, but there are rubberized grips on the sides for ease of use. Additionally, there's an added texture on the back for a better grip too. Our favorite part of the design is the added layer of shock absorbing rubber and TPU on the corners. It looks like it already has a case, but it doesn't. You probably won't need a case either.
Galaxy S8 Active ShatterProof Screen & Water Resistance
You still get a beautiful 5.8-inch display, but the sides aren't curved and it's made out of plastic instead of glass. This means it could be more scratch-prone, but it's shatterproof up to drops of 5ft. In fact, it carries a military-grade rating and is shock, dust, water, heat, and drop resistant. This is essentially Samsung's most durable smartphone yet. Yes, that plastic screen won't shatter if you drop your phone.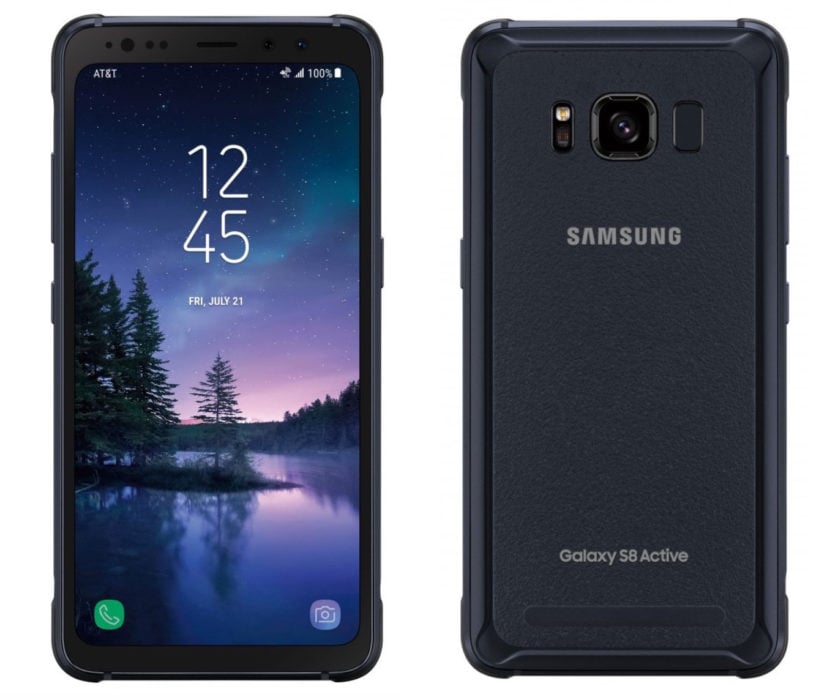 Just like the regular Galaxy S8, you'll also enjoy an IP68 dust and water-resistant rating. This means the phone can go under 5ft of water for around 30 minutes and come out working fine. Add that type of durability to a rugged phone with a shatterproof screen, and you won't have anything to worry about.
Bixby AI Button
In closing, we wanted to mention the dedicated Bixby button on the left side of the phone. Past AT&T "Active" phones had an Activity Zone button that was customizable to perform certain tasks. It's a feature many enjoyed. That's no longer an option, and now you'll notice a dedicated Bixby AI button. This is Samsung's virtual assistant similar to Amazon Alexa, Siri or the Google Assistant.
Galaxy S8 Active owners can use Bixby to do almost anything you can do on the phone, all by using your voice. One tap launches Bixby voice, reminders, or the Bixby camera. For more information on Bixby check out the link below. Or, you can turn the key off completely if you'd like, but then it does nothing and simply wastes space.
Read: 175 Neat Things Bixby Can Do
At the end of the day, the Galaxy S8 Active costs roughly the same amount as the original. You'll get the same great experience, only in a very rugged and durable package. Get it today from AT&T, or from T-Mobile on November 17th. Then, stay tuned for more launch info from Sprint in the coming days or next week.

As an Amazon Associate I earn from qualifying purchases.