Galaxy S9 vs Pixel 2 XL: Which One to Buy?
If you're looking for a high-end Android smartphone the Google Pixel 2 XL is near the top of the list. However, Samsung's impressive new Galaxy S9 and its Dual Aperture camera gives it a run for its money. With the Galaxy S9 release date near, here's how the two compare for potential buyers or those looking to upgrade.
As the March 16th release date approaching buyers have a tough choice to make. Buy Google's latest phone now, or wait for Samsung's phone. They both have great cameras, but one might be better than the other.
Read: Galaxy S9 Release Date Breakdown
Samsung's new phones have the same 5.8 and 6.2-inch screens as last year. Meaning the 6-inch Google Pixel 2 XL is a perfect middle ground between the two. However, there are plenty of other differences that might help you make up your mind. Both phones have pros and cons, and we're here to help you decide which ones are deal-breakers.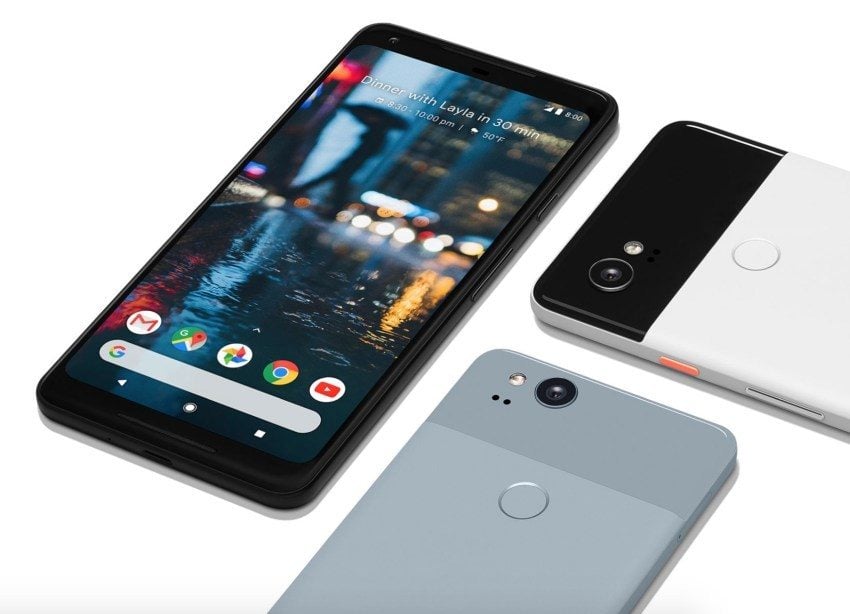 Both the Galaxy S9 and S9+ have the same overall style, design, and screen size as the Galaxy S8. Meaning not a lot changed. That said, they're still great phones that will rival Google's Pixel. In fact, for the first time ever, the Galaxy S9 topped the Pixel 2 XL on independent camera reviews. Basically, calling it the best phone camera yet.
Until now, that crown belonged to Google. So if photography is important to you, the Galaxy S9 might be the best choice. At the same time, Google's Pixel 2 XL is still one of the best phone cameras, and it has some neat AI tricks that produced amazing photos.
How great the photos look isn't the only thing potential buyers need to weigh though. There's software, software updates, battery life and more. Again, they each have a lot to offer. Like big screens, water-resistance, wireless mobile payments, and great cameras. Considering Samsung's phone is brand new, the Pixel 2 XL must prove it's still worth your money.
With that in mind, our slideshow below breaks down everything you need to know about both. We'll explain the specs, cameras, new features, software and more so you can choose what's right for you. This is the Google Pixel 2 vs Samsung's Galaxy S9.
Galaxy S9 vs Pixel 2 XL: Specs
First things first, we want to break down the specs for those interested. And while specs on a piece of paper don't tell the whole story, it's a good place to start.
Samsung's Galaxy S9 is six months newer, or technically an entire year newer when you consider how fast technology changes. The Pixel 2 XL specs match the Galaxy S8 from 2017, not the upcoming Galaxy S9. However, this race is still closer than some might think.
Galaxy S9 Specs

5.8 and 6.2-inch 2960 x 1440 Quad-HD AMOLED Curved Displays
Qualcomm Snapdragon 845 or Samsung Exynos Processor
64GB of internal storage (Micro-SD slot included) and 4GB RAM (6GB on Galaxy S9+)
Android 8.0 Oreo with Samsung Experience UI
12 Megapixel Rear Camera - OIS, phase detection auto-focus, Dual variable f/1.5-2.4 aperture camera, 960FPS slow motion
Dual 12MP cameras on the bigger Galaxy S9+ (like the Note 8) with OIS
8-megapixel front camera with autofocus, f/1.7 aperture
Fingerprint Scanner, Face & Iris Eye Intelligent Scanner
IP68 dust & water resistance
3,000 and 3,500 mAh battery with Fast & Wireless Charging
Always-On Display
Dual Stereo Speakers
Samsung Pay, Bixby Virtual Assistant, USB Type-C, 3.5mm headphone jack, more
We're seeing upgrades in some important places, even if the phone looks similar to the Galaxy S8. Google's Pixel 2 XL is pretty powerful, but the Galaxy S9+ is the clear winner here. With 6GB of RAM, a bigger screen, and dual cameras on the back. Here's what you'll get from Google's Pixel 2 XL.
Pixel 2 XL Specs

6-inch 2880 x 1440 Quad-HD OLED Display
Snapdragon 835 Processor with 4GB of RAM
64/128GB storage options, no micro-SD slot
Android Oreo
12.2 Megapixel Rear camera with f/1.8 aperture and OIS
8MP front-facing camera
Dual Front-Facing Stereo Speakers
3,520 mAh battery with Quick Charging
IP67 Dust & Water-Resistance
Google Assistant, Google Lens, more
USB Type-C port, fingerprint scanner on back
No 3.5mm headphone jack, no wireless charging
Samsung's Galaxy S9 and S9+ both have a faster and newer Snapdragon 845 processor, which should really improve performance, gaming, and battery life.
Google's Pixel line is the king of battery life, but Samsung's new phones might give them a run for the money.
Basically, if you want the latest and greatest with the best specs, the Galaxy S9 is the clear winner here. Remember though, specs aren't everything.

As an Amazon Associate I earn from qualifying purchases.