Gift Guide: Tech Toys For Toddlers
How young is too young for kids to get their first taste of technology? Two years old? Two months old? Is there an app for this?
The tech toy market for babies and toddlers is getting more sophisticated every year, but the most genius toys may be the ones that make mom and dad's expensive gadgets kid-friendly. After all, little ones love the iPad and iPhone just as much as their parents.
But worry not, you won't have to give over your gadgets to your baby completely, especially when there are cool tech toys made just for little hands that will also grow their fertile minds.
Whether you're raising a geeky kid or want to get a jumpstart on creating a tech-savvy person who'll be able to do the equivalent of setting the timer on the VCR for you when you're older, this holiday toy guide is for you.
Fisher-Price Kid-Tough See Yourself Camera
(36 months – 7 years)
A camera that doesn't mind being dropped.
Fisher-Price's latest kid-friendly digital camera takes its cue from popular smartphones by offering tots a way to take pictures of themselves as well as others. The swiveling lens rotates 180 degrees to take shots in front or behind and has a small LCD preview screen so kids can line up shots just right.
The chunky body and simple controls mean that even young kids can start taking pictures on their own. The SD card slot makes it easy for parents to transfer pictures to the computer. With free downloadable software kids can add effects and silly stamps as well.
Most importantly, the camera is built to survive some pretty rough treatment. Drop it time and time again and it will keep on ticking.
Crayola ColorStudio HD iMarker
(2 years and up)
Turn the iPad into an artist's studio for your child.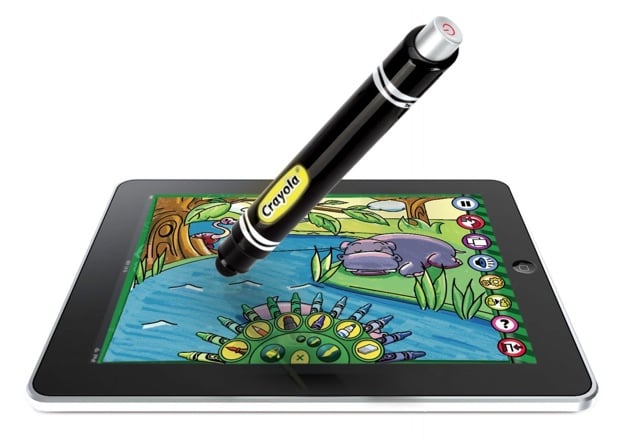 Coloring has entered the digital age, much to the pleasure of parents with white carpets. This Crayola crayon-shaped stylus combined with the accompanying app gives kids a wide range of artistic implements for drawing, painting, and generally having a good time.
In addition to straight up coloring, the app also includes music and animation. New pictures are added to the app on a regular basis via updates. And you can share your little artist's creations via email and Facebook, or print wirelessly to hang it up on the fridge.
The app can tell the difference between stylus strokes and a finger, which makes moving between play modes easy. And don't worry, the iMarker stylus has a soft tip, so it shouldn't damage the iPad's screen.
Still, you might want to invest in a good protective case to minimize other damage.
[amazon_link id="B0058CT33K" target="_blank" container="" container_class="" ]Buy it at Amazon.[/amazon_link]
Tag Junior Book Pal and Reading System
(1 – 4 Years)
It's never too early to start learning your ABCs and 101010s.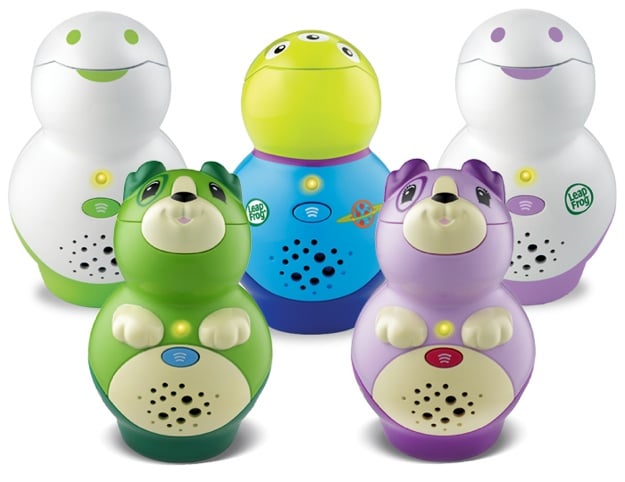 LeapFrog brings their popular Tag reading system to younger kids with Tag Junior. The concept is still the same: kids tap on words or pictures with the Book Pal to hear them spoken aloud or discover information. Kids as young as 1 years old can start building phonics and reading skills.
The chunky Book Pal is designed to work with little hands, so even the smallest toddlers can use it with minimal assistance from dad or mom.
Book titles feature favorite Disney characters for the most part and cost around $10.99. You can start off by buying a bundle of books together with the Book Pal for 10% – 30% off the bunch.
Fisher-Price Laugh & Learn Apptivity Case
(6 months – 4 years)
Protect your iPhone from your toddler.
I'll admit, this gift is actually for parents more than kids, but both will appreciate it. It's well known that toddlers are just as attracted to shiny objects as adults, so it's no surprise that the iPhone appeals to both. But once you hand over your precious smartphone to quell the begging and crying, you're almost guaranteed to get it back in less than pristine condition.
If you can't say no, the Apptivity Case from Fisher-Price will make saying yes much less painful.
Appropriate for kids as young as 6 months, the Apptivity Case places your iPhone or iPod touch at the center of a kid-safe plastic toy, protecting it from drool, peanut butter, and even minor drops. Kids won't be able to press any of the buttons, including the Home one, so you can keep them in the apps appropriate to their age. Fisher-Price even has some free apps in the Store for young kids that will keep them entertained.
Even when the iPhone isn't in the case, wee ones will still have the mirror on the back and the teething rings on the side to occupy their minds.
Though designed for the iPhone and iPod, any phone or similar device with roughly the same dimensions should fit.
Sesame Street Let's Rock Elmo
(18 months and up)
Elmo will rock your world.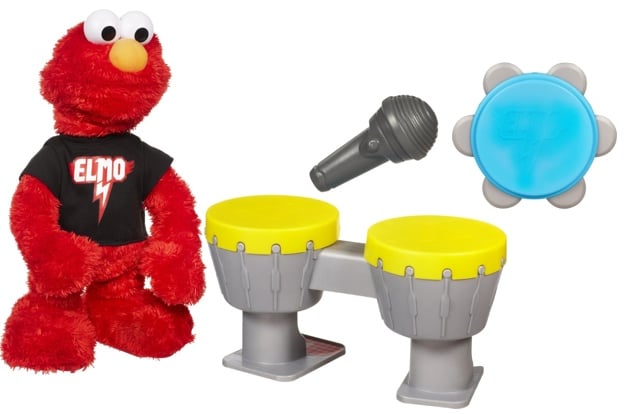 Did you know that Elmo is a rock star virtuoso? It's true. He can play the drums, tambourine, guitar and keyboard. Plus he'll sing. Just place the instrument in his hand and he'll recognize it and begin to play. Your child can play or sing along, too.
Elmo knows six rockin' songs that teach the alphabet, encourage kids to jump around and get moving, and more. He'll encourage kids to sing and play along with him, making for a fun, interactive toy.
The doll comes with a microphone, tambourine, and drums. The Let's Rock guitar and keyboard are sold separately, but worth the investment if you've got more than one young person in the house.

As an Amazon Associate I earn from qualifying purchases.