Google Boots Grooveshark from Marketplace Due to Copyright Violations
Google removed the music app Grooveshark from its Android Marketplace because it supposedly violates copyright law. That allegation and criticism comes from record industry people. Google either agreed with the industry insiders, or just doesn't want the legal battle, and took the app out of the Android Marketplace.
A Google spokesman is quoted by CNet as saying, "We remove apps from Android Market that violate our policies." No further specifics were given regarding Grooveshark's removal.
This move shows that, while the Google Android Marketplace may be more open than Apple's App Store, it is not as open as they like to claim.
Grooveshark lets users post their music on the site and share it with others. So, songs that I have shared can be downloaded by other users. They have millions of songs. As a result the company has been the target of lawsuits from EMI and Universal Music Group in the past. In a settlement with EMI, Grooveshark now licenses the songs on that label.
At least Google let the app slide for awhile. The Grooveshark app was removed from the Apple App Store last summer when Apple received complaints from record industry partners.
Google recently pulled 21 apps from their Marketplace for security reasons. The apps were not only pulled but also deleted from user's devices remotely. When it is in the user's best interest, as in the case of malware, removing the apps is laudable.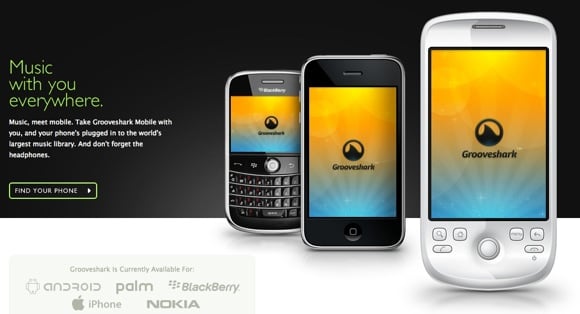 We searched in the Amazon App Store and could not find Grooveshark there either. At this point the only place you can now get Grooveshark for a mobile device is at their mobile site (m.grooveshark.com) or by using the app on a Blackberry, palm, or Nokia device. Despite the above image taken of their website, there is no iPhone compatible app and now no Android app in the two biggest Android stores.
The cost of the Grooveshark service is $9/month.