Google Home Max Release: 5 Things to Know
In early October Google announced a slew of new products, including the new Google Home Max. A larger version of its smart voice-assistant speaker designed to compete with the Apple HomePod and products from Sonos or Bose. This big speaker promising stunning yet smart sound is finally available, and here's everything you need to know.
Smart speakers like the Google Home and Amazon Echo are pretty good when it comes to playing music. However, that isn't their most important feature and sound quality is often lacking. That's why with the Home Max, Google encourages you to turn it up to 11 and enjoy the sound.
Read: Google Home Mini: 3 Things to Know
The Google Home Max is basically Google's answer to the HomePod. It's a big loudspeaker with the smarts of Google Assistant. Not to mention other smart features to enhance your listening experience. It's also pretty expensive, and here's why you'll want to consider getting one.
Google Home Max Release Date
After getting announced back in October the Google Home Max is finally available starting December 11th. You can find it on the Google Store, at Verizon Wireless retail stores, or test out the impressive sound quality at Best Buy or Walmart locations. Go get one today.
You can get your Home Max from the Google Store or Verizon, but we recommend heading to a nearby Best Buy. That's because most Best Buy retail locations have them on display, so you can test the sound quality, see the design, and see how well the LED touch controls work before you buy.
What is the Google Home Max?
For those unaware, Google Home Max is the biggest smart speaker from Google. The company claims it's 20 times louder than the original Google Home from last year. Which basically means this thing is crazy loud and gets louder than any Amazon smart speaker.
As you probably know, Google Home can do a lot of neat things for you. Play music, answer questions, make calls, complete a Google search and even control smart home products. It's the hub of your house if you let it. Additionally, Home products are getting lots of new features in the near future. From making a free phone call using your real cell number, broadcasting messages to the entire house, and you can even ask a Home speaker to play music or a video on a Chromecast device in another room.
Without explaining everything these devices do, the Home Max is a loudspeaker with the brains of Google Assistant built-in.
Google Home Max Specs & Design
This isn't just a bigger speaker with the Google Assistant either. Google added some impressive sound, fancy features, and finished it off with custom acoustic transparent fabric for the best sound experience possible.
The Home Max comes with two 4.5-inch subwoofers and two 0.7-inch tweeters that will fill even the biggest rooms in your home with sound. Not to mention WiFi, Bluetooth, auxiliary input with a 3.5mm jack, and there are no buttons anywhere. It's all touch-controlled. A big part of the announcement focused on how loud, crisp, and clear the sound is. Even when turned to 100% volume. Just say, "Ok Googe, turn it all the way up" and enjoy the tunes.
The video above gives you a good idea of what to expect. It's around 13x7x6 and weighs around 12 lbs. Google doesn't share a wattage rating, but just know that it gets incredibly loud. Volume and bass were two important points for Google.
The first thing you'll notice about the Home Max is the design. This isn't a small round speaker with a design like the competition. Instead, it's a big square that works laying flat or standing upright. The magnetic base is removable and works in any orientation, with no rubber feet getting in the way. It's not just bigger than the first Google Home either, it also gets 20x louder, according to Google.
Personally, the design gives me some nostalgia and reminds me of old Hi-Fi speakers from 1990, but in a good way. It comes in Charcoal Black or Chalk Gray color options.
Smart Sound
This is a "smart" speaker with the power of the Google Assistant built-in. Additionally, Google Cast is built-in as well, meaning you can talk to the Home Max and cast songs or video to other devices around your house. Pair it with another Google Home, control your Nest thermostat and more.
However, the most exciting smart feature is something called Smart Sound. This uses machine learning and depth sensing technology to calibrate the soundstage based on the environment it's in. At the same time, the Home Max will adjust based on the type of music you're listening to. This all happens in real-time, so if you move it while jamming to a song, it will automatically re-calibrate.
It's like Sonos TruePlay or other audio products that fine-tune the music for you. The only difference is the Max does everything for you, automatically, using the power of machine learning.
Google Home Max Price
Considering how big, loud and beautiful this speaker is, we expected a pretty high price tag. Google is asking $399, which is more than the $349 Apple HomePod that's coming out any day now. They're both expensive but will make a great Christmas gift.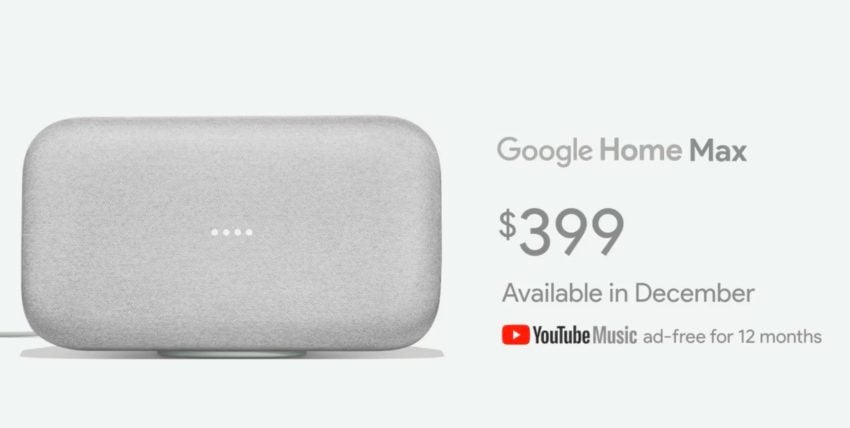 And while that's expensive, every purchase comes with 12 months of YouTube Red, YouTube Music, and Google Play Music for free. That's worth at least $120 alone, making this a pretty decent deal.
Final Thoughts
For $400 this certainly isn't for everyone. The Google Home is plenty loud, and anyone who buys the new Google Pixel 2 can get the Home Mini for free. That said, Google put a lot of effort into the Max. It's big, has a premium sealed design for improved acoustics, smart features, and two loud subwoofers offering tons of sound.
If you're considering the HomePad, Sonos Play 5, or Amazon Echo speakers, this is one more high-end option worth taking a look at.