Google Motion Stills for Android: What to Know
The Google Motion Stills app is finally available for Android after being released over a year ago on the iPhone. Allowing users to capture beautiful video using advanced stabilization technology, and turn it into a looping video, GIF, or even time-lapse clips.
A research team at Google built Motion Stills in 2016 for the iPhone 6s Live Photos feature. And now, Android users can take advantage of it along with some neat new features. This is what you need to create stunning cinemagraphs, hyper-lapse videos or GIF's on Android.
Being able to stabilize video with advanced techniques, then share it as a looping clip or GIF is pretty slick. The results are nothing short of amazing, and below is more info and video samples for those interested.
Google Motion Stills Android Release Date
Motion Stills arrived for iOS in June of 2016 and has been extremely popular ever since. Being rated one of the top apps of the year by multiple sources. After a year of hard work adding extra features, Google released it for Android on July 20th, 2017.
Any device running Android 5.1 Lollipop or newer can download Google Motion Stills today on the Google Play Store. Here's a quick preview of just how impressive this app is and what it can do. Notice how shaky and slow the video is, then the beautiful stabilized clip that follows.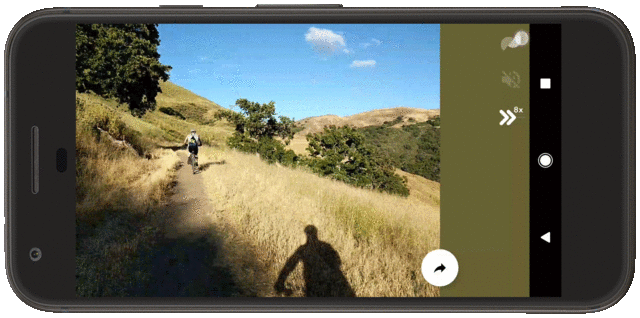 Furthermore, Google added other neat controls like fast-forwarding and streamlined processing with instant previews to the app.
How it Works
Live Photos on iOS are 3-second video clips taken before and after a photo on iOS. Turning a regular image into a memory you can playback. Motion Stills allowed users to upload those short videos and stabilize them, then share it as a looping video or a GIF for social media. And while other apps and services do something similar, none do it as good as Google's app.
With Motion Stills for Android, you'll get those same capabilities along with a few more. On Android, instead of turning existing videos into a Motion Still, you'll be able to capture video right inside the app. Then in real-time Motion Stills stabilizes the video and gives you a clear preview of the new video clip. From here you'll be able to edit the clip and then save or share it with the world. Here's a technical explanation from Google themselves.
"For this release, we redesigned our existing iOS video processing pipeline to use a streaming approach that processes each frame of a video as it is being recorded. By computing intermediate motion metadata, we are able to immediately stabilize the recording while still performing loop optimization over the full sequence. All this leads to instant results after recording — no waiting required to share your new GIF."
Essentially Android users can open Motion Stills, record a video, then instantly see a stabilized version and share it. Additionally, you can change the speed anywhere from 1x to 8x for a condensed and shorter clip. Then easily share it on Instagram or in an email.
You can see the video being recorded, then a stabilized preview without any waiting or post processing.
Inside the Android app, you'll be able to loop the video, turn it into a hyper-lapse, or simply share it as a high-quality GIF. Now that you know what Motion Stills is and how it works, give it a try today with the link above.
What's Next?
The research team at Google developed this app to experiment with short-form video technology, and quickly realized its potential and released it as an app. We're expecting the development to continue, and that means updates will deliver more features and impressive video tools in the future.
Google then goes on to state that this powerful tool may get integrated into Google Photos, and potentially the stock camera application on the Google Play Store. If so, popular phones like the Pixel or upcoming Pixel XL 2 will get these features and controls out of the box. We'll update once we know more about the future of Motion Stills.

This article may contain affiliate links. Click here for more details.