Google Nexus Twitter Says Surprise Is Coming Today
Google's Nexus Twitter account has tweeted that it has a surprise in store for Nexus owners today. Unfortunately the tweet is light on the details and heavy on the tease so right now we can only wonder what they have in store for us.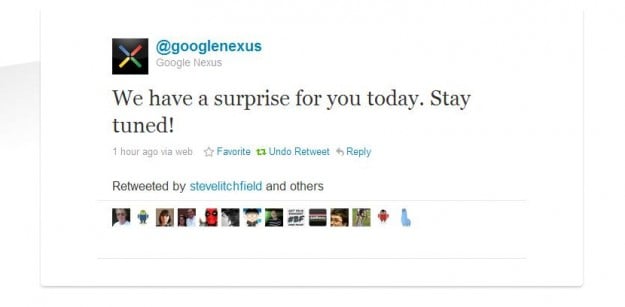 An easy guess would be something to do with the Sprint Nexus S 4G launch but that's already official so we doubt it has anything to do with that. Might it be a Nexus S for AT&T?  There is a pretty good possibility. Could it be a Nexus-branded tablet from LG that we heard about back at the end of March? Highly unlikely.
Could it be Android 2.3.4 that supposedly is going to come with video chatting? Maybe, but Google I/O is a more likely stage for that announcement.
Or will it be some sort of dream Nexus 3 announcement?
What do you guys think? We should know for sure what they have in store for us pretty soon.
Update: Google's surprise is a contest , a Twitter Puzzle Challenge.