Google No Longer Supporting the Verizon Galaxy Nexus? (Updated)
You might want to take seat before you read this because many of you who own a Samsung Galaxy Nexus on Verizon will have a problem with what you're about to read, if it is indeed true. In December, Verizon launched its first Nexus device in the Samsung Galaxy Nexus. It has its faults, but it's easily one of the best Android devices available in the United States.
One of the main attractions of the Galaxy Nexus is that it's a Nexus device. Nexus essentially translates to "developer device" which means a number of things. One, Nexus devices are the first to get major Android updates. Two, their bootloaders are easily unlocked and rooting is stress-free. That means that they are very easily customizable. And three, it means the device runs a vanilla version of Android with no manufacturer user interface over the top.
It's a Google experience all around.
Today though, it has come to light that Google may have just dropped developer device support for the Galaxy Nexus.
Not good.
Droid-Life is reporting that Google may have indeed dropped the developer device tag from the Galaxy Nexus but that the reasons as of right now are unclear. There is a theory that it might have something to do with Google Wallet, an application that Google updated for Nexus devices, but not for the Verizon Galaxy Nexus.
Might this be Google trying to close the Verizon Galaxy Nexus/Google Wallet loophole that was found yesterday?
Could be.
But as you can see in these photos, the Galaxy Nexus is referred to as 'toro.' That codename has been removed from the list of Google's supported devices. There is also a note, plain as day, that says "No CDMA devices are supported."
In addition, it appears that Google has removed special CDMA radio instructions for developers and archived references to the LTE Galaxy Nexus and titled them "for reference only."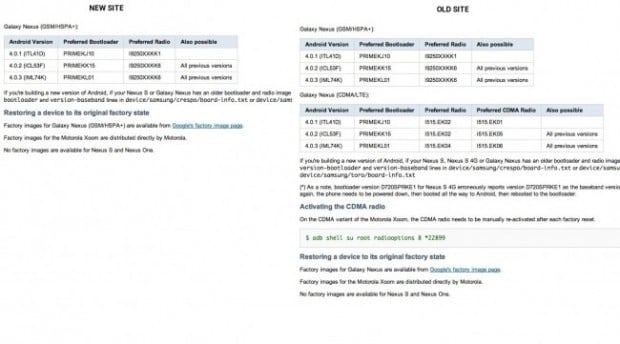 The Galaxy Nexus is one of the most popular Android phones on Verizon and one of the most popular phones on the Android market. And if this turns out to be true, Google and Verizon will have some pretty angry customers on their hands.
Why is that?
Well, if Google not longer supports the Nexus, it could mean that Verizon will have to take over support and that means that the Galaxy Nexus may not seed quick Android updates, one of the main reasons why Galaxy Nexus owners bought the device to begin with.
It could also update the phone with all sorts of bloatware aka apps that no one wants in future updates. In other words, Verizon could do a number of things to foul up the Nexus experience.
Clearly, Google and Verizon have some explaining to do and hopefully they do so sooner rather then later. This would be a pretty crazy move on Google's part so we have a feeling that we'll see a happy ending.
But if you're thinking about picking up a Samsung Galaxy Nexus on Verizon, you might want to wait until this blows over until you do.
Update: As expected, there is nothing to worry about. Google has cleared things up with the following statement:
Hello! This is a quick clarification about support for CDMA devices.

 For various technical reasons, recent CDMA Android devices implement core telephony functionality in .apk files provided in binary form by the carriers. To function correctly, these .apk files must be signed by the so-called "platform" key. However, when an individual creates a custom build from the AOSP source code, they don't use the same signing key as these CDMA flies were signed with.

The result is that these files don't work properly, and pure AOSP builds running on these devices can't place calls, access mobile data, and so on. Because we aim to make sure that we are as clear as possible about the degree of support that devices have, we updated the docs over at

source.android.com

to reflect this reality.

We will still make available as many as possible of the closed-source binaries for these devices, and Nexus devices will continue to have unlockable bootloaders. And, of course, GSM/HSPA+ devices are still supported, as are any other devices we're able to support. We've simply updated the documentation to be clearer about the current extent of CDMA support.

We are of course always working to improve support, and we'll keep everyone updated as we make improvements. Thanks as always for your interest in AOSP!
Translation: The Verizon Galaxy Nexus is still a Nexus.

This article may contain affiliate links. Click here for more details.