Google Pixel 4 Release Date, Price, Specs, & News
The Google Pixel 4 and Pixel 4 XL release is right around the corner following the October 15th announcement event, which is why exciting news and rumors are appearing more each day. This phone has leaked more than any device I can remember. So, here's all the latest Pixel 4 news, leaks, and specs into one place for those interested.
If you're asking yourself "when does the Pixel 4 come out?" or "should I wait for the Pixel 4 XL" instead of the iPhone 11 Pro or Galaxy Note 10? We have all the details and the newest photos.
Google Pixel 4 Release Date: October 15th (launch event)
What is the Pixel 4?: Google's 4th generation Pixel phone aimed at taking on the iPhone 11 Pro
What to expect?: 2-3 phones, no notch, multi-rear cameras, Face unlock tech
Pixel 4 Price?: Anywhere from $799-$999+ depending on the model
Now that you know a few of the basics and we've answered some important questions, here's some additional information to get you excited. Plus, we have an entire section on Pixel 4 concepts and renders below.
Google Pixel 4 Release Date
First things first, we want to mention the release date. We all thought Google's new phones were coming earlier than previous years after the search giant themselves posted a photo of the Pixel 4 way back in June. Yes, several months before the October launch event. But nope, it's right on time.
As usual, Google will unveil this phone in the middle of October, and release it later in the month, possibly early November. The Pixel 4 launch date is officially October 15th, and you can watch it below.
For comparison, the Pixel 3 was announced on October 9th and released around November 1st. And Google followed a similar release pattern for the Pixel 2 and Pixel 2 XL. Basically, just know that Pixel 4 is almost here, and the in-store date is likely around the end of October.
Pixel 4 Leaks or Rumors (As of October 2019)
Between Google posted images of the back of its phone way back in June, to silence the leaks, and thanks to all these videos over the last few weeks, we know everything about these phones. Again, for whatever reason, Google's Pixel device is out and in the wild. Last year some phones were stolen in Russia, which is why they leaked before the release. This year full video reviews emerged over a month before the launch event. We're seeing comedians and celebrities with the device out in the wild, too.
This is an entire video review of the Pixel 4 XL. It's in another language we don't understand, but you can see the phone, cameras, 90Hz display, and much much more. And here's another video.
Plus, earlier this summer Google posted an entire blog post and video about a few upcoming Pixel 4 features that should have buyers extremely excited. You can see some of that in the video below. These new sensors are a big selling point for Google, even if early reviews say they're a bit gimmicky.
Back in August we received a ton of news about the Pixel 4 and 4XL. Both of Google's new phones will have a 90 Hz "Smooth Display" refresh rate, like the highly-praised OnePlus 7 Pro. Those will come in at 5.7-inches for the Pixel 4, and a bigger 6.3-inch Quad-HD Smooth Display on the Pixel 4 XL. And now, we're hearing some rather bad news on pricing, too.
Here's the Pixel 4 in Black, and the Pixel 4 XL in White.
Then, new Google Camera leak from the Android Q beta confirmed the Pixel 4's secondary camera will be a 16MP Telephoto zoom lens. Some speculated that Google would offer a wide-angle shooter, but it looks like they'll offer not only a super powerful telephoto zoom lens for better close-up photos, but pair that glass with some software AI zoom technology. Potentially offering an excellent zoom camera.
Furthermore, that leaked video above showed us some neat new camera modes on top of the already great night mode. We're hearing Google's camera will have exciting features like audio zoom, Live HDR which would be amazing, a new motion-mode, and better wide-angle selfies, among other things.
As for the phone itself, and the latest Pixel 4 rumors, here's what we think we know. Google will again release a Pixel 4 and a bigger Pixel 4 XL. This year they'll match Samsung and Apple with new technology, such as an edge-to-edge display, more cameras, and unique unlock technology like fingerprint sensors in the screen or powerful facial recognition.
Google will push the bottom of the screen to very edge for a sleek look, but then return the chin at the top. Basically, they'll ditch the notch and put a tiny chin at the top to house all of the sensors, cameras, and front-facing cameras. No cutout, and no notch. The Pixel 4 and Pixel 4 XL will also pack the latest Snapdragon processors, wireless charging, water-resistance, and no 3.5mm headphone jack. Here's a look at this hot new "Coral" orange color of the Pixel 4 XL.
Basically, the Pixel 4 and 4 XL will be bigger, better, faster versions of the Pixel 3 series. Only without the big notch in the screen, hopefully.
In April leaks confirmed the codenames are "Coral" for the Pixel 4 XL, "Needlefish" for an unknown device, and apparently "Flame" for the Pixel 4. Or something similar.
This is significant for two reasons. One, we've already seen leaks for "Coral" confirming Galaxy S10-type specs and 6GB of RAM. And two, this time we're seeing three names. Every Nexus or Pixel ever released by Google had a fish-related codename. Even the old Nexus devices have fish codenames. These two do as well, but there's a third model called "Flame" which is a complete 180-degree switch from the current names. Is this the famed Pixel Ultra, or just some secret third device Google is working on? We'll have to wait and see. Then again, it could be named after the beautiful Flame Fish.
In closing, we also wanted to mention that leaks suggest the Pixel 4 will be available from AT&T this year. Giving Google's phone finally the wide retail availability it needed. Potentially being in stores from Verizon, T-Mobile, AT&T and maybe even Sprint.
Google Pixel 4 Specs & Features
Obviously, it's too early to know exactly what's coming but we do have a pretty good idea. Simply because technology only improves so much each year, and Google follows a similar upgrade system and path as most other manufacturers. Plus, a leak gave us info about "Coral" which is the Pixel 4.
Pixel 4 & Pixel 4 XL Specs (Rumored)
5.7 and 6.3-inch FHD and Quad-HD 90Hz "Smooth Display" AMOLED screens
8-Core Qualcomm Snapdragon 855 Processor with 6GB of RAM (Same processor as Galaxy S10)
64 and 128GB storage configurations, no microSD expansion
Android 10 (previously known as Android Q)
Improved Dual Rear AI Cameras: Main

12.3 Megapixel f/1.7 sensor & 16MP Telephoto zoom f/2.4 or ultra-wide angle lens, and a Spectral Sensor 

Dual 8MP Front-facing cameras for Portrait selfies, emoji and more (but 5 sensors/cameras on the front in total)
Two Front-Facing Boomsound Stereo Speakers
2,800 mAh and 3,700 mAh Battery with Fast and Wireless Charging (maybe reverse wireless, too)
IP68 Dust & Water Resistant
USB Type-C, Google Assistant, Face Unlock technology, no 3.5mm headphone jack
Dual Sim and 5G Technology
Again, this is mostly speculative (aside from one leaked benchmark test) but it's very realistic given Google's past device releases, and when you consider what's currently available on the market. Plus, a new leak confirmed the screen sizes, 6GB of RAM, storage, and the weird increase and decrease in battery sizes. Either way, these should be two powerful phones capable of competing with the best of the best and matching the Galaxy S10 almost across the board.
The only other thing we don't really know is how many cameras will be on the front, and what all they'll do.
Google Pixel 4 Cameras
Perhaps the biggest and most exciting new feature aside from the bezel-free display is the fact that we are finally getting more rear cameras. Three, in fact. Not that Google needed them, but now they'll be able to gather so much information that we're expecting a stunning camera experience better than any other mobile phone.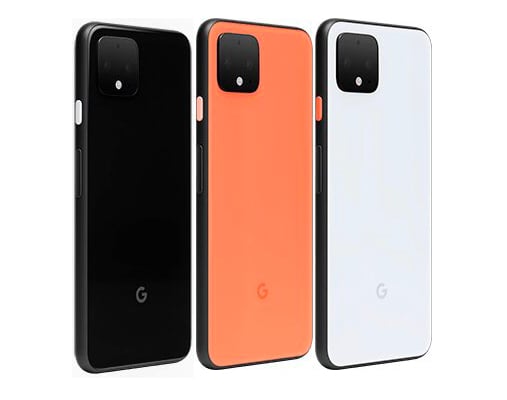 That said, Google's Pixel 3 and its single 12MP rear camera is still the best smartphone camera on the market. Outperforming devices with three sensors, even in things like night mode or Portrait style photos. The Pixel 3 and Pixel 3 XL have the best smartphone camera on the market — and it's about to get even better in 2019.
So while Google probably doesn't need to add a third camera, most reports and rumors believe they'll do exactly that. Offering 7-8 cameras total on the XL (three in the front and five in the back) and maybe something similar in the smaller phone. We're hearing the Pixel 4 cameras will have night mode, motion mode, wide-angle shots, astrophotography features, and several other exciting additions.
And while we're not sure what Google will do, expect a new and improved 12.3 Megapixel main rear camera, a secondary improved lens with a wide or telephoto angle, then some sort of third lens. We think it'll be a spectral sensor, but they could simply opt to offer another lens for 3D depth mapping, color adjustments or other things to help the main cameras (and Google's powerful camera software) crunch more information and deliver stunning photos. Either way, the camera will absolutely be a bright spot and a key selling point for Google.
Google Pixel 4 Price
Google's two newest phones of 2019 will likely match Samsung and Apple when it comes to pricing. These are premium high-end Android phones with the latest hardware, software, great cameras and all the boxes checked in the spec sheet.
Basically, this new Pixel will still be expensive, coming in around $799 or more. Unfortunately, new leaks suggest the Pixel 4 XL will be $999 which is actually $100 more than the Pixel 3 XL last year. These aren't cheap phones. And when they release a Pixel 4 (5G) later this year or in early 2020 it'll cost even more.
They won't be cheap. However, with all the success of the Pixel 3a maybe they'll try to keep the Pixel 4 price under $750. We can dream! When you consider they're only offering 6GB of RAM, 64GB of storage, smaller screens and fewer cameras, there's no way they can ask as much as Samsung does for an S10 or Note 10, right?
Pixel 4 Concepts & Renders
There's no better way to get excited about the upcoming Pixel 4 and the bigger Pixel 4 XL than to see some beautiful fan-made renders and concepts. What we have below are images from the Twitter user @PhoneDesigner. These are beautiful concept images based off of current rumors and patents. He recently updated them with a few subtle changes and a black Pixel 4 XL.
Again, these are unofficial fan-made images and in no way the final product. However, the images below are a closer representation of what will actually get released, instead of the images above. So, below is another PhoneDesigner render based on all the information available so far.
Plus, they could change drastically in the coming weeks as we get more up to date info and additional rumors emerge. A few Google employees have these phones in their hands, as do tons of YouTubers, so expect more information soon.
Other Pixel 4 News & Rumors
There is a small chance Google could release three phones this year instead of two, similar to Samsung and Apple, but that doubtful considering they'll already have the Pixel 3a (or Lite) on the market from earlier in 2019. And if they really had one coming, it likely would have leaked already, just like the main two. It's hard to know what's coming, but the fake image below should get fans excited.
The codename leak earlier this year suggests three devices, which is unusual. Additionally, Google could surprise everyone and release the Pixel Ultra, something we've heard about in rumor mills for the last two years. However, a more realistic 3rd device is a 5G phone, and potentially an even bigger 6.7-inch premium phone with 5G. Maybe we'll get a Pixel Fold. Who knows. I'd love to see Google do something radical to push innovation forward as they did in the old days. They will release a 5G Pixel, we're just not sure if it'll come out in 2019 or in early 2020. Either way, Google will beat Apple to 5G.
All said and done, we can confirm that Google's Pixel 4 will be one of the first phones released with Android 10. And that's software that the company confirmed has improvements and support specifically around innovative flexible or folding phone displays. And while that's probably to keep up with Samsung or Huawei, it could be a sign of things coming from Google, too.
In closing, just know that at least two new Pixel phones will get announced tomorrow and are coming soon to rival the best of the best. They'll be worthy of your attention. Stay tuned for more info and confirmations on pricing and carrier availability.

As an Amazon Associate I earn from qualifying purchases.