8 Reasons to Wait for the Pixel 4 & 5 Reasons Not to
The Google Pixel 4 release date is right around the corner, and it leaked enough times that we know everything about it already. So, in this post we'll share some more info and give you a few reasons you'll want to wait for the Pixel 4, and maybe why you shouldn't.
Google has a lot of competition in 2019. Other phones have tiny bezels or no bezels at all, triple rear cameras, in-display fingerprint sensors and fancy features like reverse wireless charging or 45w fast charging. Basically, the Pixel needs to deliver exciting changes if it wants to keep up, and we think it will. Specifically in the camera department.
Google Pixel 4 Rumors (October 2019)
As you probably know, Google already finishing work on a set of brand new Pixel phones for later this year. Maybe even three phones, which will all run Android 10 and pack a bunch of cameras. Now, we know these phones are codenamed "Coral" for the Pixel 4, "Needlefish" for an unknown device, and apparently "Flame" for the Pixel 4 XL.
We've already seen leaks for the Coral confirming Galaxy S10-type specs and 6GB of RAM. Plus, every Nexus or Pixel ever released by Google had a fish-related codename. These two do as well, but there's a third model called "Flame" which could be a flame fish, and some speculate it's the third device. Potentially the once-famed Google Pixel Ultra.
With the October 15th launch event tomorrow,we've already seen videos of both the black and white Pixel 4 in the wild. Not to mention leaked videos showcasing awesome camera features. Basically, there are no surprises left. We know the screen sizes, camera specs, pricing and more.
Back in August, 9to5Google and XDA Developers confirmed screen sizes and the fancy new 90 Hz display for both Pixel 4 phones. Followed by real-world photos of the front and back of the smaller Pixel 4.
Then, we've continued to get leaks from Twitter, which gives us a full look of both the Pixel 4 and the bigger Pixel 4XL from a case manufacturer. It shows the phone from almost every angle. Following that, Google posted an entire blog post and video about a few upcoming Pixel 4 features that should have buyers extremely excited.
Several concepts and renders surfaced all summer which ended up extremely accurate. This is for sure what will get announced on the 15th.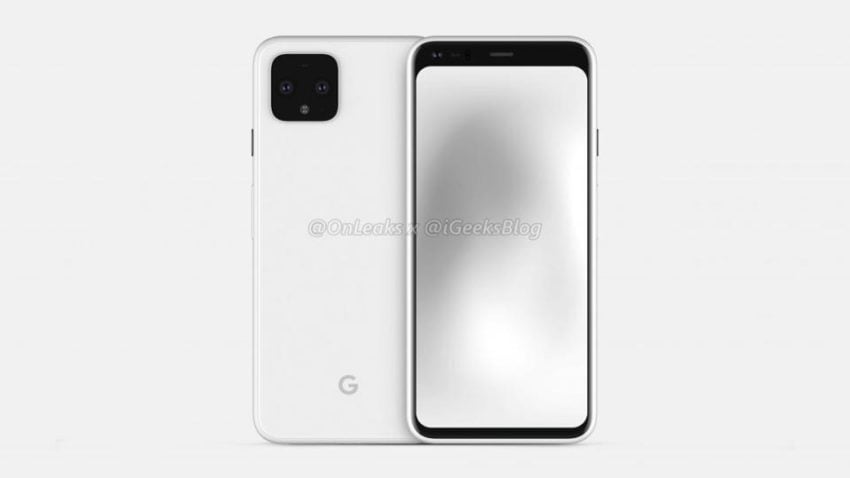 This square camera array is something we've seen from Huawei and Nokia in 2018 and 2019. We did hear Google had a few designs being tested, but apparently, this is the final product. Then, in July, Onleaks returned with a full 360-degrees view, video and more information confirming Google's Pixel 4 and its rather safe design. This is the Pixel 4 XL with two front and three rear cameras. Pixel 4 is the same, only smaller.
The last two months were filled with tons of leaks, whispers, rumors, & hints from Google employees. It's pretty crazy how much these phones leaked before even being announced by Google. I guess hiding nothing is a strategy, maybe in an attempt to keep people interested instead of buying an iPhone 11.
Google will offer multiple rear cameras and redesign the overall style a bit, plus we're expecting some neat hands-free controls this year thanks to the five front cameras. As a reminder, these new phones will showcase the best of Android 10. We're also expecting Google to debut a new smartwatch, Pixel Buds 2 and a new Google Home, to name a few.
That all said, rumors and leaks point to some big changes, more than one camera on the back to compete with Samsung and Apple, and an edge-to-edge display that can rival the best of the best. Not to mention previous years give us a pretty good idea of what to expect, the Pixel 4's release date, and a few more things.
There are some tempting phones you can buy today, but now that the Pixel 4 XL is official and coming in a few weeks, you might want to wait for it. Even with a reported $999 price tag, the Pixel 4 XL could be the phone to buy as the year winds down.
So, here are the best reasons to wait a few more weeks and buy Google's Pixel 4 or 4 XL. We'll also suggest a few reasons you might want to pass on it.
Wait For a Better Pixel 4
Google is still new to the world of making hardware and phones. We're on the 3rd Pixel, while Samsung and Apple are on 10th generation smartphones and beyond. Each year Google has made big improvements to the hardware, display, software and more. Basically, wait for a bigger, better, faster Pixel 4 or Pixel 4 XL.
The Pixel 3/3XL is the most powerful smartphone we've ever seen from Google. The device offers excellent performance, outstanding battery life, a huge vibrant display, double the storage, and a high-end camera paired with some of the best software camera and AI features around.
Google's Pixel 3 XL is good enough for almost everyone, even with that huge notch, but some of you might want to stick around for what's next. That's what I'm doing. Waiting for a device with more RAM and faster internals.
Expect the company to make significant upgrades that follow the path of Samsung, Apple, OnePlus and more.
You can expect an even bigger screen with no notch. It won't have a cutout for the front camera or anything, like earlier leaks, but it'll still be a great phone. We'll get a new processor with improved performance and gaming, better battery life, Android 10, and two great rear cameras.
And hey, maybe they'll return the headphone jack like we're seeing so far from the Pixel 3a. That's not all, so keep reading in our next slide for even more information.

As an Amazon Associate I earn from qualifying purchases.