Google Play Store Revenue Increasing, Still Behind Apple App Store
According to this Distimo report Google's revenue from the Play Store is rapidly increasing, but it still has a long way to go before it catches up to Apple's iOS App Store.
The report says that Google's daily revenue from the Play Store increased by 43 percent across 20 countries in the past four months. Apple's App Store, on the other hand, only increased daily revenue by 21 percent. The App Store still has much higher revenues, however.
Distimo estimates that in a typical day in November 2012 Apple's revenue exceeded $15 million. The Google Play Store, however, only made $3.5 million in revenue on a typical day in November 2012.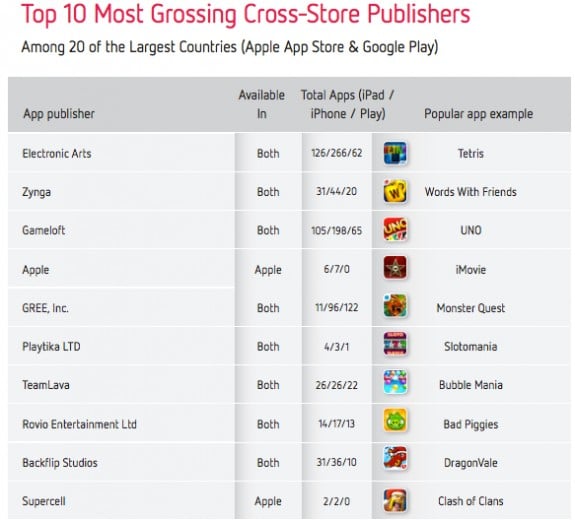 According to the study games lead in both downloads and revenue across both app stores. Of the top ten grossing apps across both services, only one app wasn't a game. That app was iMovie, which came in at number four on the list. The top grossing app, according to Distimo, was EA's Tetris, followed by Words With Friends from Zynga and Uno from Gameloft.
Other games in the top ten were, in order from number five to ten: Monster Quest, Slotomania, Bubble Mania, Bad Piggies, DragonVale and Clash of Clans. All games except Clash of Clans were available on both Android and iOS. Clash of Clans only on iOS.
Distimo also broke down top downloaded apps in each store, and the results were relatively surprising. The top downloaded app on iOS was Instagram, which doesn't appear in the top ten list for Google Play.
The only two apps to appear in both lists were Facebook and YouTube. Facebook was number four in the App Store, and number two on the Google Play list. YouTube, which only recently came to iOS, was number eight in the App Store and number six in the Play Store.
Unsurprisingly, Apple held four of the top ten spots in the App Store, and Google held five of the top ten spots in the Play Store.

As an Amazon Associate I earn from qualifying purchases.