Google Stadia Gaming: 5 Things You Need to Know
Earlier this year Google announced an all-new gaming platform called Stadia and we have all the latest details, including the release date. Stadia is a cloud-based gaming system that will bring together gamers, developers, streamers, YouTube and more into one place, playable on any screen. Here's when you can try it, how much Stadia costs, what games are available and the release date.
Imagine being able to play all the latest games without a big expensive PC or the latest Xbox console. Instead, just open the Chrome Browser and find the game you want to play to get started. All without having to download or update anything. It just works, instantly, even on your phone.
You can even go from watching your favorite streamer on YouTube to playing alongside them in a matter of seconds. Google servers do the heavy lifting and the game simply gets streamed to whatever device you're playing on. A phone, Chromecast, laptop, and more. Here's a quick video and more info.
Stadia is Google's New Cloud-Gaming Platform 
Google Stadia Release Date is November 19th
Stadia Pro Base Subscription is $10 per month (Plus add-ons, or extra games)
What is Google Stadia?
Stadia is basically Netflix for gaming. It's Google's all-new cloud gaming system previously known as Project Stream. The idea is simple: Stadia will let you play AAA games (from any platform) on any device with a Chrome Browser. You don't have to download, install, patch, or upgrade your games — ever. Instead, it's always up-to-date and ready to go.
Play Any Game on Any Device with a Chrome Browser (As in Desktop, Laptop, TV, Phones, Tablets, Chromecast, and the Stadia Controller) 
Stadia is for Gamers, Developers & Streamers
You simply sign-in and stream games over the internet to any device you'd like to play on. Stadia is capable of delivering smooth, stable, lag-free gaming in up to 4K resolution at 60 FPS with HDR and surround sound. Essentially, games will run just like they're being played on a $2,000 PC, the Xbox or a Playstation yet they're being streamed to your device over the internet. Stadia is similar to NVIDIA's GeForce Now, PlayStation Now, or even Microsoft XCloud, only with the power of Google, the Google Assistant and YouTube all combined.
In fact, Google claims that its Stadia cloud computing power is more powerful than a PS4 Pro and Xbox One X combined, which will result in an amazing and simple gaming experience for everyone. That's a bold statement and something that will be immensely popular if they can deliver on all these promises.
And if all of that sounds impressive, this is only just the beginning. Google further went on to state they plan to offer 8K gaming eventually, stable 120 fps framerates for any title, and much more. Well, as long as you have an internet connection fast enough to pipe all the information from Google's servers back to your device of choice.
What Games Are Coming to Stadia?
Technically almost any game is capable of running on Stadia, and Google even outlined a few during the announcement. Specifically mentioning Assassin's Creed Odyssey running at 1080p and 60 fps, or even the newer Doom Eternal in 4k. Delivering 4K at 60 FPS is a big deal, and very exciting.
If Stadia is capable of playing those games at such a high level, the cloud gaming system should be able to handle and stream almost every major title available across several different consoles or platforms. People love the new Call of Duty Mobile, but imagine being able to play the full console version of the new COD on your phone — now that's cool.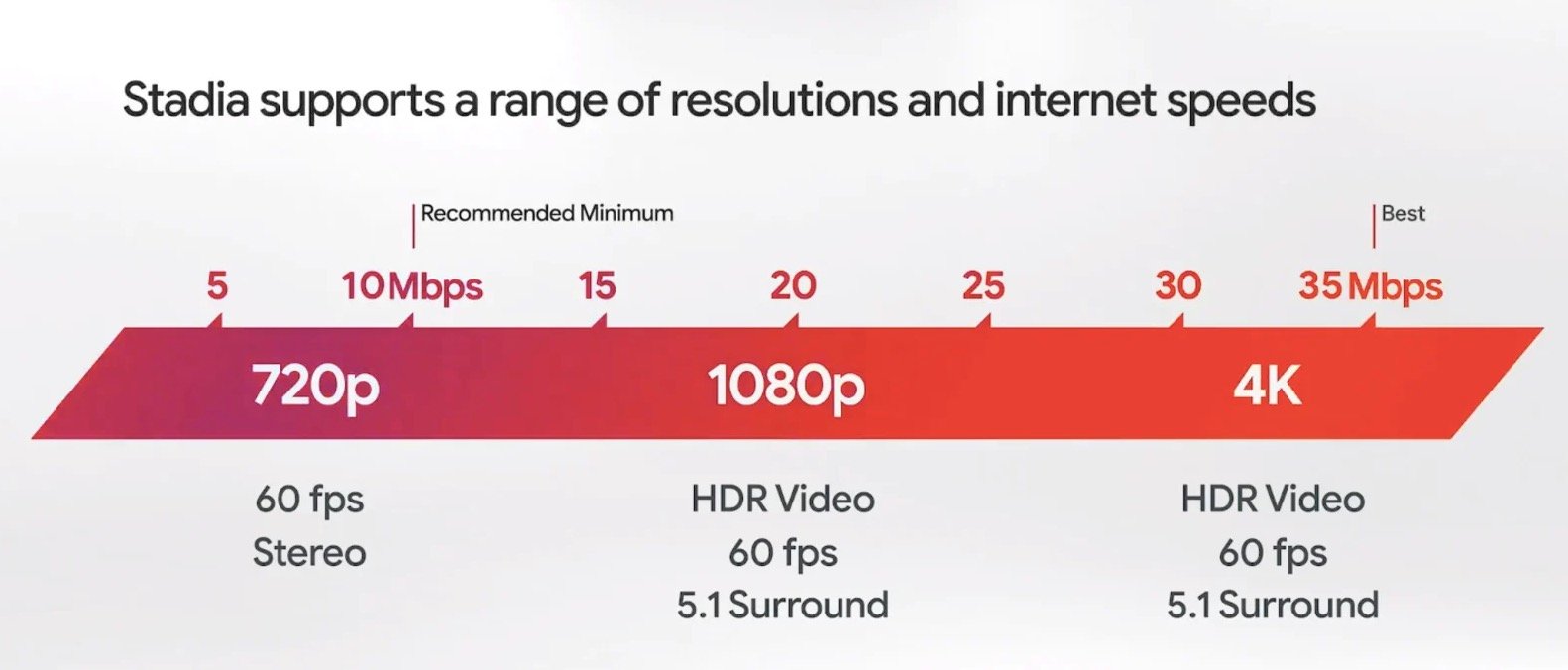 And while Google's June announcement had more details about pricing, Destiny 2, and other things, we still don't have a full list of supported games. However, here is a short list: Baldur's Gate 3, Ghost Recon: Breakout, Gylt, Get Packed, The Division 2, Destiny 2, Assassin's Creed Odyssey, Doom, Doom Eternal, Tomb Raider Trilogy (the new one), Samurai Shodown, Final Fantasy XV, Darksiders Genesis, Metro Exodus, and several others.
That said, they did confirm an all-new "Stadia Games & Intertainment" company that will start developing and releasing games for the service. The only potential downside to Stadia is when it comes to competitive shooters or online games like PUBG, Fortnite, or CS GO. Simply because latency, speed, and instant reactions are so important. We'll have to wait and see. That said, Google recently said they're working to add AI to Stadia, where the game can predict button taps or movements (in certain scenarios) before you do it, potentially reducing lately. We're not sure how that'll work with competitive FPS games, but it's an exciting future feature.
Google Stadia Release Date
As expected, Google Stadia will be available starting November 19th, 2019, with a free version and a broader release in early 2020. Furthermore, only select devices will have access to the service this year. According to Google, the 2019 release will only work with a Stadia controller and a Chromecast device, or the new Pixel 4 smartphone.
Then, in early 2020 they'll add more options, devices, and you'll be able to use the Chrome Browser and smartphones or tablets.
While the service is only $10 a month, those that want early access must buy Google's fancy new $130 "Founders Edition Bundle" that comes with Stadia PRO, a limited edition controller and Chromecast, first dibs on usernames, friend invites and a few other things. You'll have to buy the Founder Edition to play in 2019, but early next year anyone and everyone can try Stadia on multiple devices, as you see above.
So far, Stadia is coming to the United States, Canada, the UK, and Europe first, with other regions at a later date.
Built for Gamers, Developers & Streamers Alike
Here's where things take a turn that could help Stadia have an edge over the competition. Google designed Stadia to work for everyone. It's not just a game streaming service for consumers. It's also a platform full of tools for game developers, and tons of options and tools for streamers.
Considering Google owns YouTube, and billions of games get watched or streamed on YouTube, Stadia is in a good position to combine the two — and they'll do exactly that. You can instantly tap the Google Assistant button on Google's Stadia controller and look up tutorials to beat a level, cheats, tips, or tricks. Or, even pause the game to check a video on how to complete a specific task.
Additionally, Stadia is also designed to help YouTube creators connect and engage with fans. Google confirmed features like "Crowd Play" which will let you go from watching your favorite streamer on YouTube to jumping into the game, at the same place, with your favorite streamer if they allow it.
Then, State Share will let friends or streamers share a specific place in the game like a big boss, or even create their own challenge, then share it with friends or followers watching the stream. 
Basically, Stadia isn't just a game streaming platform. It's a way to play, interact, develop, create and enjoy games like never before. Most of these additions will not arrive until early next year, though, so keep that in mind. The 2019 version of Stadia will be watered down.
How Much is Stadia?
In closing, the price of Stadia and the overall service model will determine whether Stadia is successful. Everyone expected a Netflix pricing structure and that's all. Unfortunately, it looks like Google will charge a monthly subscription fee, plus let (or make) people buy select big-name titles.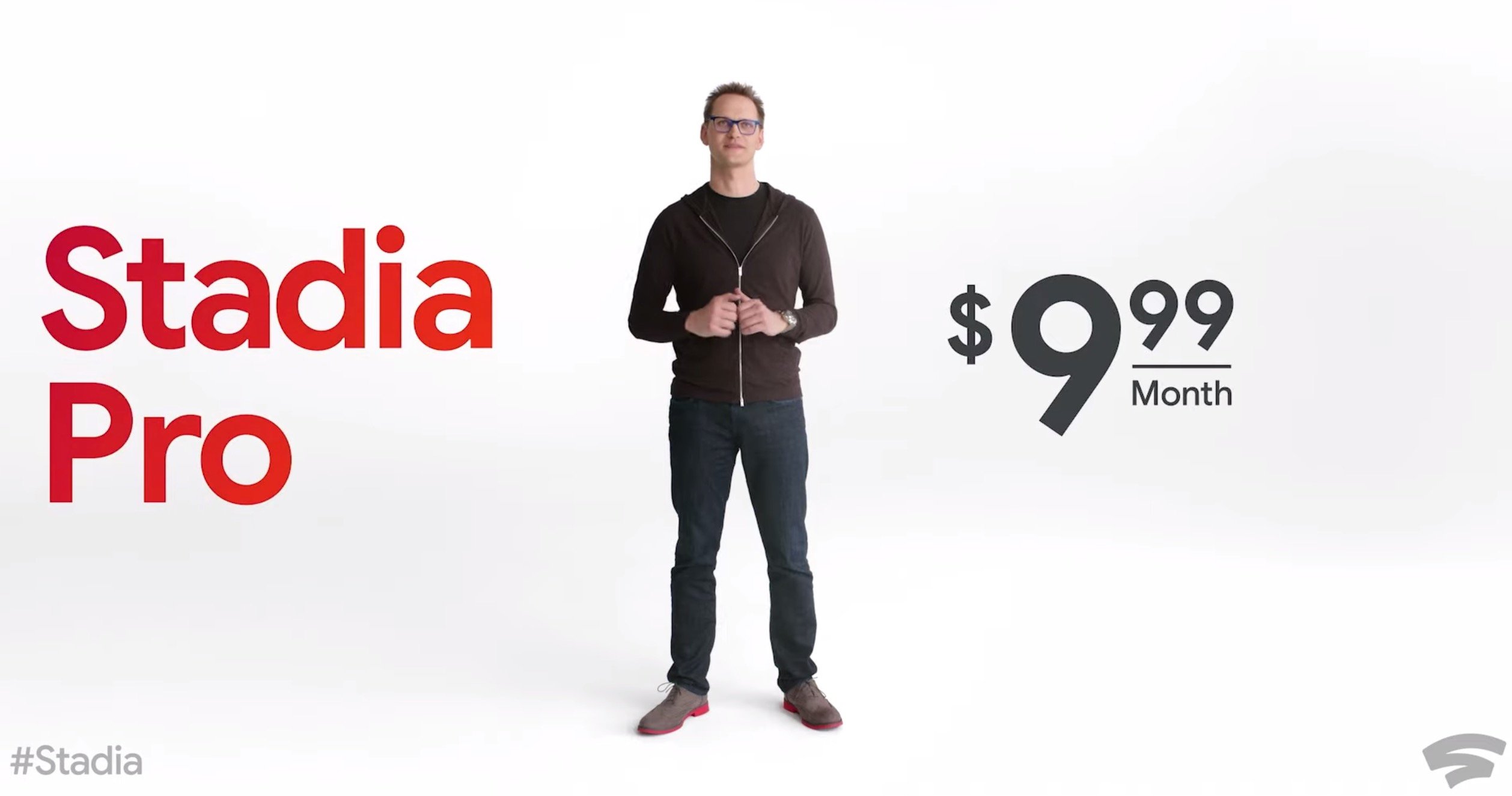 Stadia PRO is $10 a month and gives you plenty of excellent options, but there will be a free variant available in 2020, likely with fewer games. We're not sure if the monthly subscription gets you any and all games, while free users have to buy the ones they want to play, but we'll know more soon enough.
From what we understood, even those paying $10 a month may still have to pay for select newer games and titles, which is a letdown. Keep in mind that a lot of the pricing and structure could change as they test and evolve the platform next year.
If you'd like to get started you can pre-order the Stadia Pro Founders Edition right now for $129 and be the first to try it come November.
Otherwise, stay tuned for more information from Google, reviews in November, and more news about games as the service arrives and evolves.

As an Amazon Associate I earn from qualifying purchases.