Hatchimals Stock Arrives on EBay & More at Prices You Won't Believe
With just weeks left to go until the holiday season arrives, parents are beginning to make their shopping lists and plot out where they'll make their purchases. A new, tech-laden toy created by Spin Master is probably about to throw all that pre-holiday shopping and planning into a tailspin though. With Hatchimals stock seemingly at an all-time low, people are getting desperate. They're now turning to auction websites and online bulletin boards to get their hands on a Hatchimal, even if that means paying double what the toy originally cost the person selling it.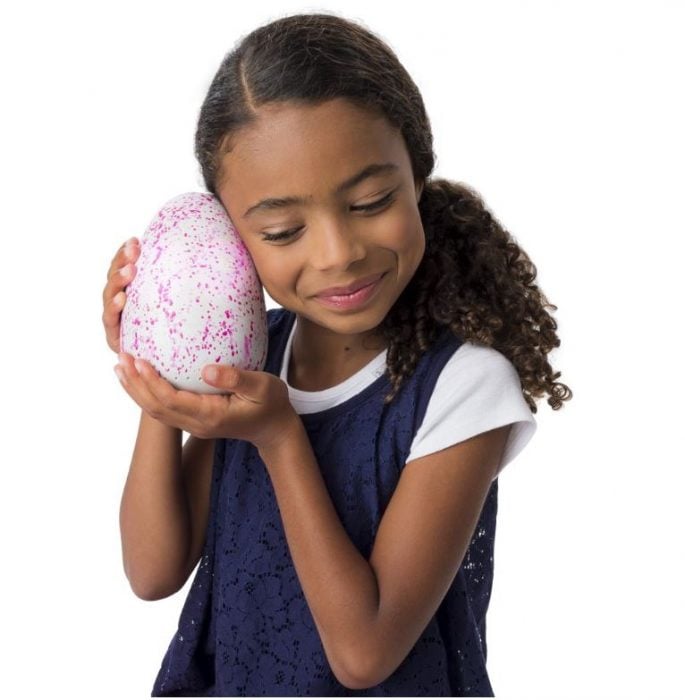 Reports of high-selling Hatchimal stock reached an all-time high this week. Launched earlier this year, Hatchimals are eggs that have animatronic creatures inside of them. Each Hatchimal contains one of two different creatures pictured on its box. By playing with them, kids are effectively incubating them until they're ready to come out of their egg. Once out, they begin their lifecycle, learning and evolving slowly over time. All told, the toy-turned phenomenon is very similar to another craze that swept across America in the 1990s and early 2000s, the Furby.
Read: Hatchimals: What Are They & How to Find Them In Stock
Spin Master first showed off Hatchimals at the beginning of the year. They sell for $59.99. That's not what they're going for on any of the auction sites that parents usually turn to though.
EBay is the biggest offender. As is always the case with rare items, auctioneers at the site have tons of Hatchimals stock on-hand. Thousands are listed there at this moment. Problem is, sellers aren't asking for anything remotely close to their retail price.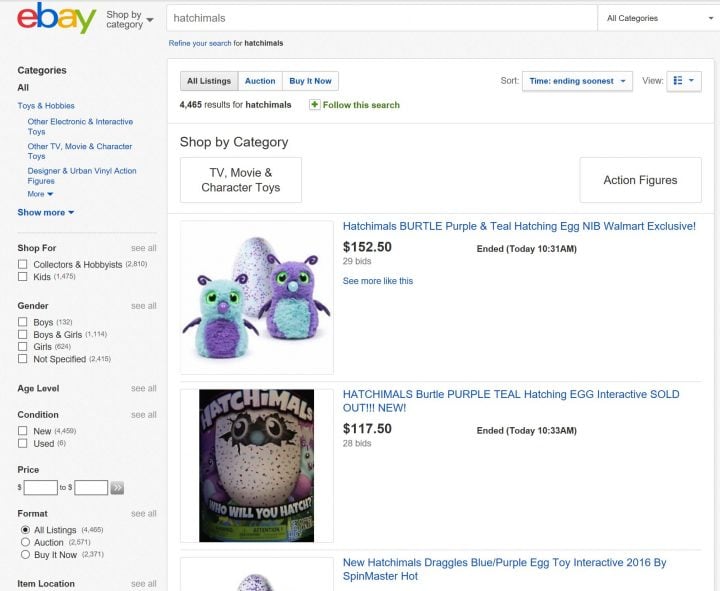 One seller with stock asks for a $250 payment to take advantage of Buy It Now. That's the optional flat payment system that EBay makes available to sellers in case someone that's interested in purchasing something is willing to spend more instead of having the item auctioned and getting even more expensive. Another seller offering Buy It Now has priced their Hatchimals stock at a whopping $315. Auctions set to conclude soon on the site show average selling prices of around $150 to $170 for just one of the toys.
Normally, online retailer Amazon would serve as a check for online auctions, but retailers have found themselves overwhelmed by demand for Hatchimals stock. It's one of many companies that don't have any left to sell and keep prices down. Some of its third-party sellers do have the toy, but they're offering them for around the same $150 price.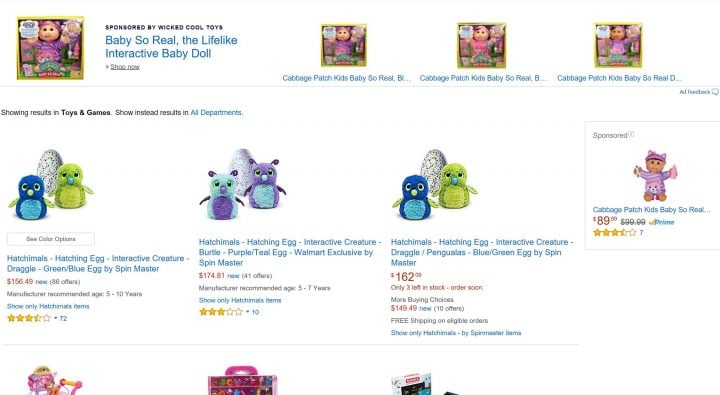 When getting Hatchimals stock by any other means fails, some holiday shoppers will likely turn to Craigslist. After all, the website allows for users to purchase things without shipping and the potential for deception that auction websites come with. It too has been swamped by those looking to cash in on low Hatchimals stock and those willing to pay whatever they have to for the toy.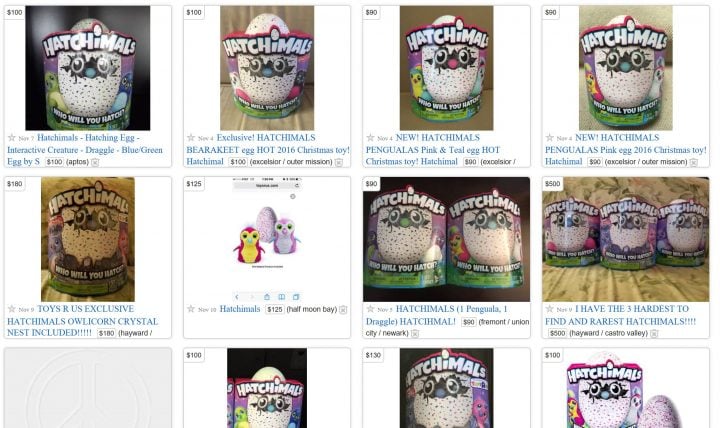 A Craigslist seller in the San Francisco area is asking $500 for three of the toys. Another is hoping to make $199 off theirs. That being said, both listings seem to be on the fringes of what's out there. Most sellers are asking around a $100 for their Hatchimal on Craigslist, which is a great deal lower than what EBay sellers are asking for.
Unless Spin Master steps up production and gets more Hatchimals stock out before the holiday season officially kicks off in just a few weeks' time, shoppers can expect the stunning prices we're seeing for Hatchimals to continue to rise.
On top of the low Hatchimals stock, some retailers are planning to offer discounts on the toy to lure in shoppers. Toys R Us, for example, is offering $10 discounts on the toy.
Hatchimals Types: The 47 Different Species You Can Buy
Pengualas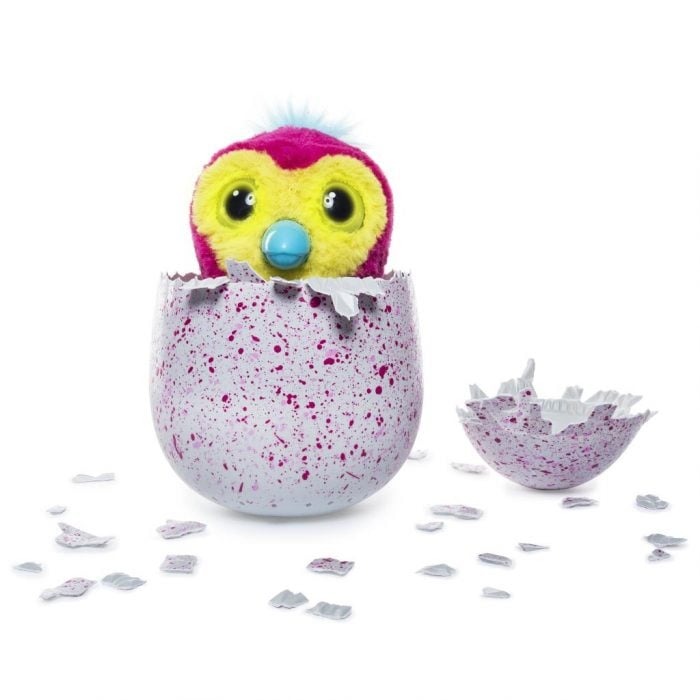 A mix between a penguin and an iguana, these Hatchimals have both pink and green fur on their head and around their eyes.
They're described as always happy, but also clumsy by the Hatchimals website. Their eggs come in two colors, purple with pink specks and purple with green specs. Any store that sells Hatchimals sells Pengualas.
Pengualas are not specific to any retailer. That means that you can purchase a Penguala for your child wherever Hatchimals are sold. Just be sure to check for the correct egg markings when you make your purchase. They cost $59.99, but you may see a premium during the holidays.