How to Reset Your Galaxy S8 Before You Sell It
This guide goes over what you need to know and do before you sell your Galaxy S8 or Galaxy S8+. We'll show you how to backup your data, save photos, then reset or wipe your phone before you get rid of it. Basically, we're returning the Galaxy S8 back to factory settings.
With a stunning new Galaxy S10 or powerful devices like the Galaxy Note 9 available, a lot of Galaxy S8 owners are upgrading. Whether you sell it or trade it in, you'll want to delete everything.
Our phones have a lot of important info we don't want in the wrong hands. Personal or not. Don't accidentally sell your Galaxy S8 to a stranger without removing your Google account and all your stuff. Resetting your phone is easier than you think. It only takes a few minutes by following our steps below.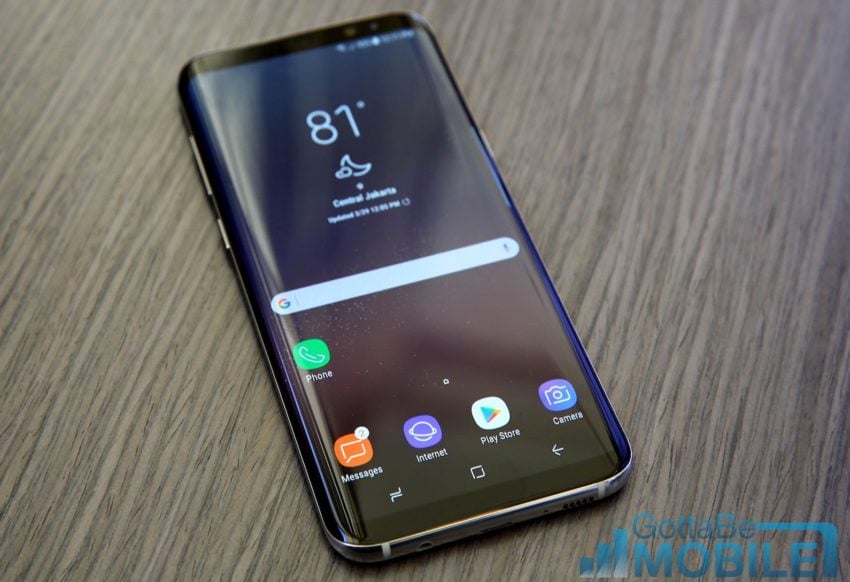 How to Prepare Your Galaxy S8 For Sale
Backup your messages, photos, videos and more
Sign out of your Samsung account (if applicable)
Remove the microSD card (if you have one)
Factory data reset your Galaxy S8 (erase everything)
Backup your Galaxy S8 and Data
The first thing you'll want to do is backup all of your information. If you already have your new phone this process is extremely easy. Especially if you have a new Galaxy, as Samsung's SmartSwitch app does everything for you. It literally transfers everything from the old phone to the new one.
Open Samsung's app on both phones, connect the two with a USB cable as shown in the on-screen instructions, and hit go. It does everything for you and only takes a few minutes.
If you don't have a new phone yet you can use the PC or Mac version to back up your entire phone to a computer. That way you have everything ready for later. Even if you use Samsung Cloud Backup, I still recommend having a physical copy on a PC.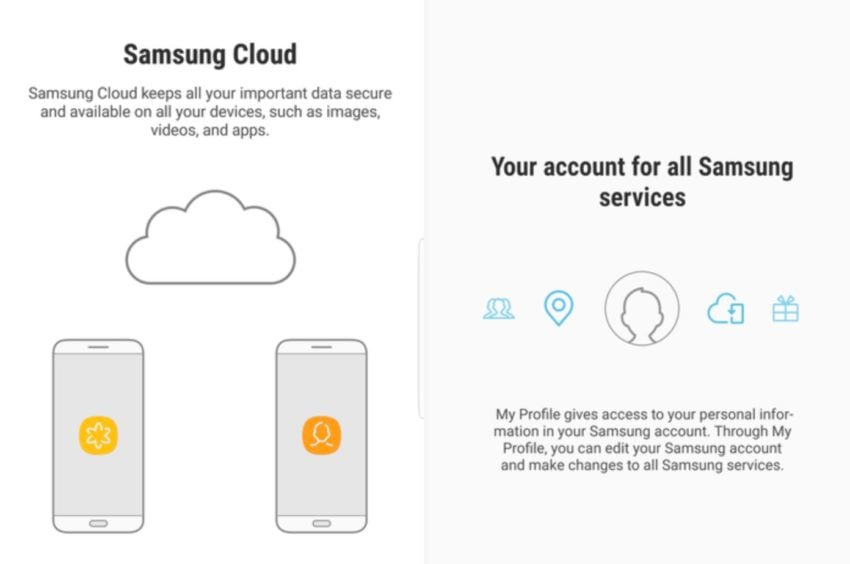 You can also use the company's Samsung Cloud solution to back up your data. To access this go to your device's Settings > Cloud and Accounts. Choose Samsung, not Google. If you don't have a Samsung account you'll need to create one. The cloud is the easiest way, but maybe not the safest.
Factory Data Reset Your Galaxy S8 (Erase Everything)
After you've saved all your stuff go ahead and remove your microSD card, sign out of your Samsung account, then erase your phone so it's ready for the next person. Similar to reformatting a hard drive on a computer, you can do a "Factory Data Reset" on Android phones, and it's really easy.
This next step erases everything and puts it back to a factory out-of-the-box state. Basically, the way it was the day you got it.
Head to Settings in the app tray, or by hitting the gear-shaped settings button in the notification bar
Scroll down to General Management
Tap on Reset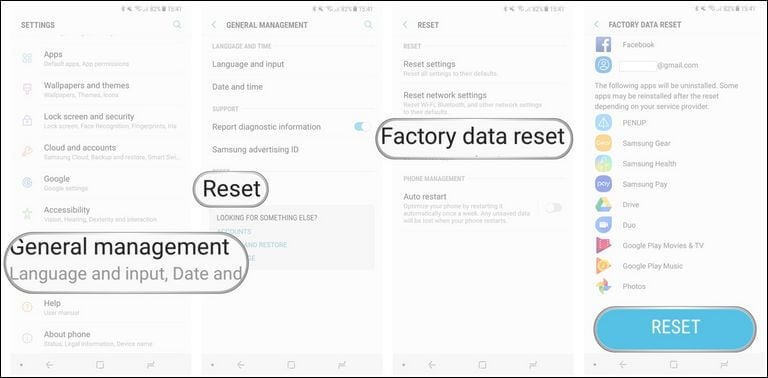 Now, select Factory data reset
Scroll down to the bottom and tap on Reset (again)
Enter your PIN, password or pattern to continue
As you probably noticed, this screen gives you a list of every account, app, or service connected to your Galaxy S8. You don't need to sign out of each one, as the reset does all the work for you. Once you tap the final blue "Reset" button you'll have to verify it's you with a pin or password, and we're all done.
The phone will reboot, go into maintenance mode and erase everything, then restart within a matter of minutes. Don't worry about anything you see on the screen during this process. When it boots up it'll look the way it was the day you bought it. Asking you to add a Gmail account and setup everything.
You've successfully backed up your info and safely erased your Galaxy S8. It's now ready for the new owner. You don't need to do anything else.
Go ahead and trade it in, or sell it to save up for the fancy Galaxy S10.