How to Block Donald Trump on Twitter
It's probably not news to you that the 2016 Election Cycle in the United States was brutal. Election years are always pretty hard, but this one was grueling. Attack ads online, on television and in print were vicious. It also seemed that you couldn't get away from the candidates, even when you were using social media websites like Twitter & Facebook. Now with the election over, you're probably ready to put the fight for power behind you. You'd be forgiven if the first step on your list of things to help you ease into the new presidency is to block Donald Trump on Twitter.
Since claiming victory in the election, President-Elect Donald Trump has been a constant presence on Twitter. He's there every day sharing photos and responding to the day's news. Sometimes, he uses Twitter account to spawn news headlines himself. Other Twitter users quote and share those messages in your timeline, even though you don't follow him.
Here's how to block Donald Trump on Twitter, using a web browser or your iPhone.
How to Block Donald Trump on Twitter: What You Need to Know
Before you block Donald Trump on Twitter, you need to understand how blocking on Twitter works.
Read: How to Block Political Posts on Facebook
Blocking on Twitter is your best option when you wish to get away from another Twitter user. When a block is in effect, the blocked user can't see what you Tweet. You can't see what they tweet in your timeline either. When someone quotes or shares someone you have blocked, that message doesn't surface. Twitter keeps blocked users from following each other's profile too.
People know that you've blocked their account if they navigate to your profile page while logged in. Normally, that'd be something to keep in mind, but the chances of the President-Elect of the United States browsing your particular profile page is slim.
Note that blocking isn't the same thing as muting. When you mute someone, their Tweets no longer surface in your timeline, but they won't know you've muted them.
How to Block Donald Trump on Twitter: On the Web
Most people spend their time interacting on Twitter through a desktop, notebook or tablet PC.  If that's the case for you, the easiest way to block Donald Trump on Twitter is through the Twitter website.
Go to your PC or Mac and open your web browser. Navigate to Twitter.
Login to your Twitter account using the username and password that you would normally use. You should be taken to your Twitter profile after you successfully log in.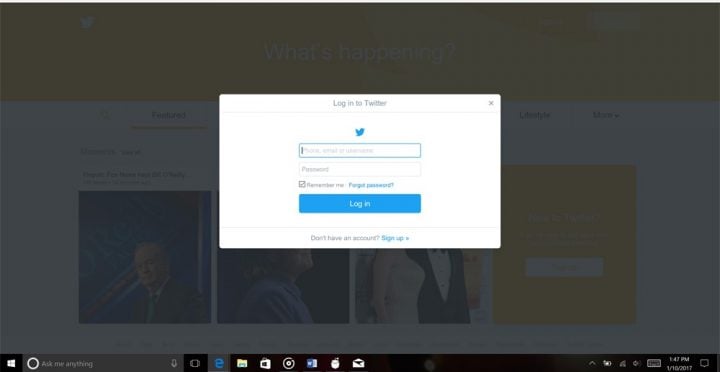 Now that you've successfully logged into your account. Navigate to Donald Trump's Twitter profile. It's available at Twitter.com/realdonaldtrump.
Tap or click on the cog on the right side of your screen. It is just beside the Follow button.
Select Block from the drop-down menu.
Tap or click on the Block button again to confirm your decision.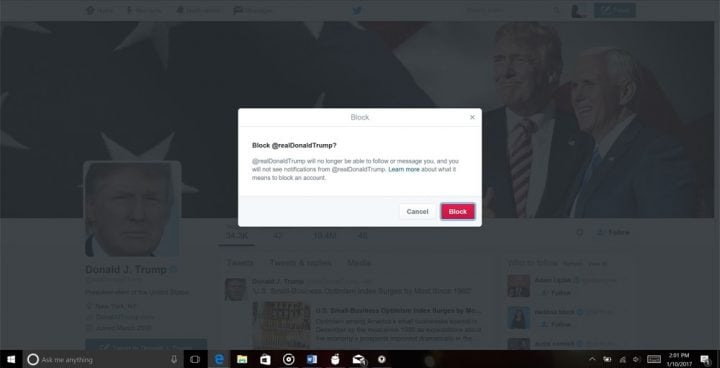 How to Block Donald Trump on Twitter: iPhone
Blocking Donald Trump on Twitter through an iPhone is just as easy as it is on the web. To be clear, you don't have to block a profile on every version of Twitter that you have. These settings do sync. These instructions are more for those that interact with Twitter on their iPhone more often than they do the web.
Open the Twitter app on your iPhone.
Tap the search icon in the top-right corner of your screen.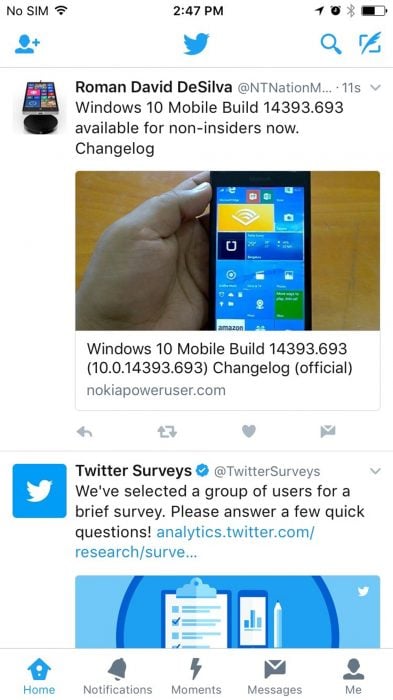 Search for Donald Trump. Select his profile from the pop-up menu. Be sure to select the verified account with a blue check next to his name. There are lots of fake accounts out there. You don't want to go blocking the wrong one.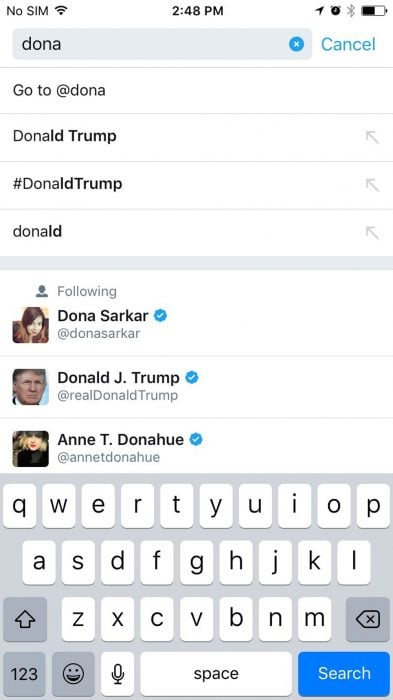 Tap the cog next to the Follow button.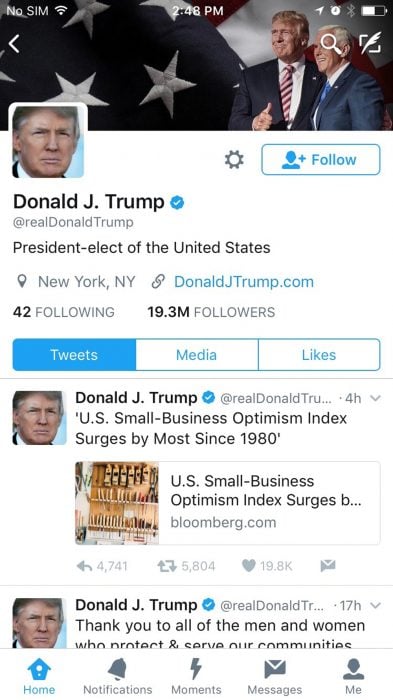 Select Block from the menu.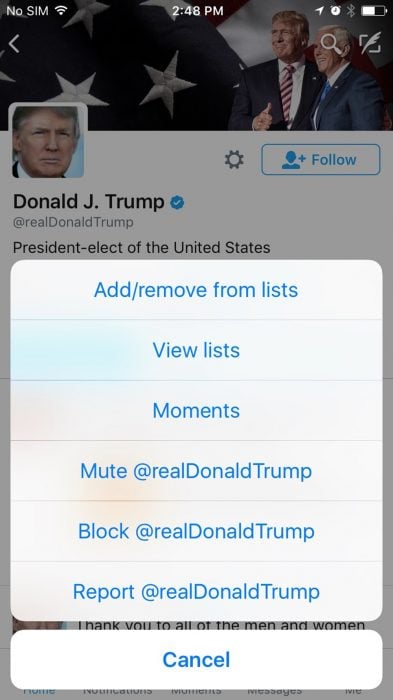 That's all you need to do. From this point on, Donald Trump's tweets will no longer surface in your timeline. Remember that you can undo this at any time by going back to his profile and removing the block you've placed on his profile.

As an Amazon Associate I earn from qualifying purchases.