How to Boot the Galaxy S9 into Recovery Mode & Safe Mode
In this guide we'll show you how to put the Galaxy S9 into recovery mode or safe mode, and why you'd want to. These modes are useful for troubleshooting or fixing problems. We'll talk about what these modes are for, what they do, and how to use them when you need to.
Samsung's Galaxy S9 and Galaxy S9+ are two impressive phones, but they're not perfect. Whether you're experiencing problems or are trying to restore files with SmartSwitch, you'll use these modes. Here's a quick hands-on video followed by the step-by-step instructions.
As you can see, to use these modes you simply have to press a few buttons down in the right order or combination. Recovery mode allows you to factory reset the phone if it's unresponsive or acting up. In recovery, you can also boot into safe mode, or clear the cache which solves a lot of small problems. Then, with download mode, you can flash files or new firmware with Samsung's Odin or Smart Switch tools. Here are the step-by-step instructions.
How to Boot into Recovery Mode on the Galaxy S9
To boot the S9 or S9+ into recovery mode you must turn it off first. Then, hold down a certain button combination. Read the entire process before you start, to avoid mistakes and having to start over.
Press and hold the power button and turn off your Galaxy S9
Once it's off, press and hold down the Bixby button, volume UP, then the power button
When the screen comes on release the power button, but keep holding down Bixby and volume up
Once you see the Blue Android screen you can let go of the rest of the buttons
After it boots up just wait a minute. When the phone doesn't receive any commands or files, it will boot into recovery mode. Or, press the Bixby button to go right to Recovery. Now, you'll see an odd screen with a few commands at the top right of the display similar to what's shown above.
From here, you can navigate up or down with the volume keys. The power button will select any option you highlight with the volume buttons. Be careful not to accidentally select factory data reset, as this will erase your entire phone. 
Once in Recovery, you can apply update files from ADB or an SD card using instructions from popular sites like XDA developers. If you don't know what ADB means, don't mess with any of these controls.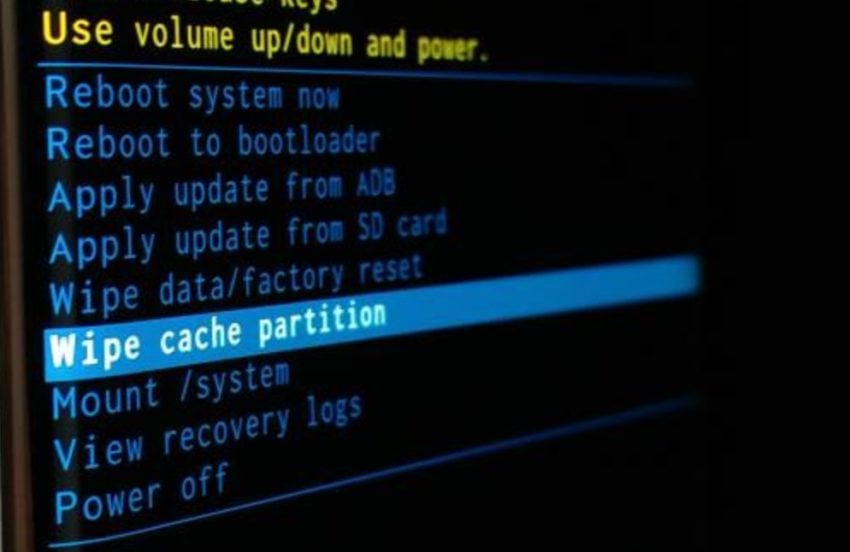 The most popular reason for booting to recovery is to wipe the cache partition. This clears out temporary files (like big downloads for recent updates) and will erase old Android 8.0 Oreo or Android P update files. Clearing the cache in recovery is a great way to free up space and fix small problems.
Read: 15 Common Galaxy S9 Problems & How to Fix Them
You can also reboot the bootloader, reboot normal, or power off the phone from this menu.
How to Boot the Galaxy S9 into Download Mode
Next, we'll explain download mode, which uses a similar method but for different reasons. The only difference is you use volume DOWN, instead of up, and you let go of everything all at once. Here's how to boot into download mode on the S9 or S9 Plus.
Press and hold the power button then turn off your Galaxy S9
Once it's off, press and hold down the Bixby button, volume DOWN, then the power button
Once the phone quickly boots you can let go of all the buttons
Press volume up to continue into download mode, then flash files with Odin or SmartSwitch
This process uses a different button combination, but for a good reason. Download mode is different from recovery, as it's what you use to download, flash, and install new software to the Galaxy S9. Keep in mind that updates are automatic, so you'll rarely (if ever) need to use download mode.
Download mode is what you use to flash the latest software or fix a broken phone using Samsung's Odin tool. Users also flash files with Samsung Smartswitch, or use DL mode for hacks, mods, and custom software from the internet.
How to Boot the Galaxy S9 to Safe Mode
And finally, here's how to boot your Galaxy S9 or S9+ into safe mode. With safe mode, your device will turn on with all 3rd party apps disabled. This is an easy way to diagnose problems, find an app that's misbehaving, or see if there's something else causing problems on your phone.
Press and hold the power button and turn off your Galaxy S9
Once it's off, Press and hold the Power button until you see the model name appear (S9)
When SAMSUNG appears on the screen, release the power button
Immediately press and hold the Volume down button
Keep holding volume down until the Galaxy S9 restarts completely 
Now, you'll see Safe Mode in the bottom left corner of the screen
Release the Volume down button when you see Safe Mode
This process is slightly different from everything else. While booting into safe mode you must hold down the volume button the entire time, until the phone reboots and completely restarts. Wait until you see safe mode, then you can finally let go.
To exit safe mode just long-press the power button and hit restart as usual.
While you're here, take a peek at these 15 common Galaxy S9 problems. If you're experiencing any of them, use this guide to boot into safe or recovery mode and fix it. Drop us a comment below with any other questions or concerns.