How to Buy the T-Mobile iPhone 7 or iPhone 7 Plus 
Like clock work, Apple has delivered another upgrade to its best-selling iPhone line-up. The iPhone 7 offers some worthwhile upgrades for most people. Combine that with T-Mobile's ever popular Un-Carrier moves and you have a recipe for success. The T-Mobile iPhone 7 and iPhone 7 Plus are expected to be big sellers when pre-orders kick off on September 9th.
T-Mobile customers are accustomed to high-profile launches of the iPhone by now. Since getting access to the handset for its customers, the carrier has revamped its purchase plans and pricing to make it easier for customers to afford upgrades. Jump-On Demand offers users a completely free way to get Apple's latest devices. There's flat-rate pricing that doesn't involve contracts and a T-Mobile iPhone 7 purchasing option that lets users get their device on launch day and pay for it in monthly, interest-free payments over the next 24 months.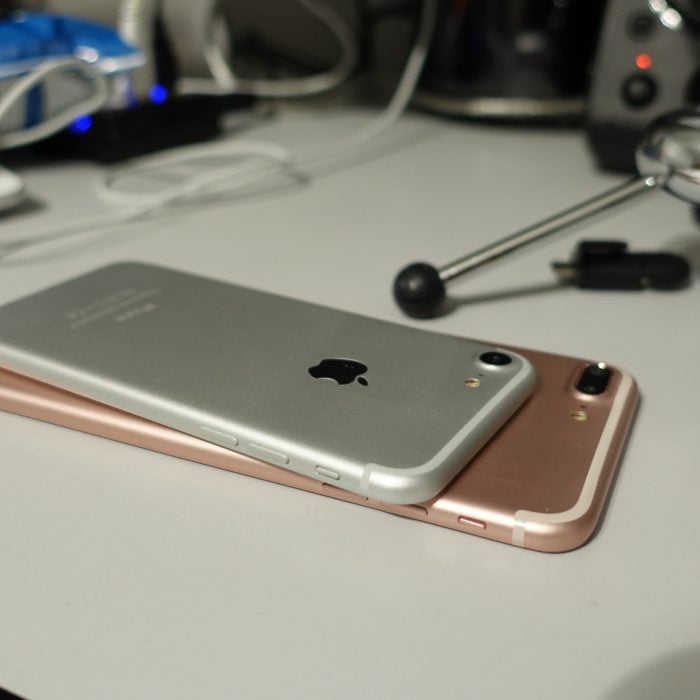 Read: iPhone 7 Release Date, Specs, Price & Camera Rumors
How you choose to buy the T-Mobile iPhone 7 and iPhone 7 Plus is up to you, but you should definitely base your decision on how much you're willing to pay up front, what you're willing to trade-in to get the new device and the amount you're comfortable spending on the device every month.
Check T-Mobile iPhone 7 Upgrade Eligibility
You're T-Mobile iPhone 7 journey begins with making sure that your line – or any line on your account is eligible for an upgrade. Without eligibility, you'll be asked to pay full price for your device, which isn't remotely cheap.
Users can check whether they're able to upgrade their device through My T-Mobile. My T-Mobile is the account area that anyone can access directly from T-Mobile's website here or from the account app available in the iTunes Store. Through the app, details on your hardware are in the Usage and Plans area. On the web, look for your phone status under the Phone area.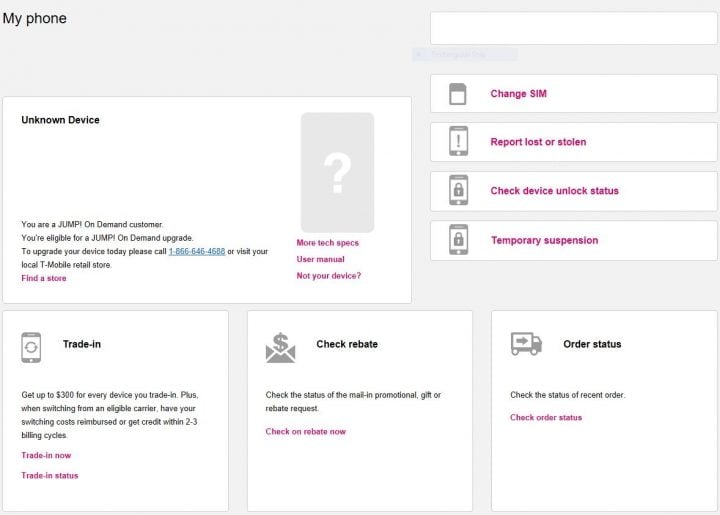 Whether you are eligible depends on what type of plan you have. If you paid for your last phone in installments and have since finished, you're eligible for an upgrade. If you used Jump On-Demand, you could also be eligible for an upgrade Jump-On Demand users have to visit a retail store to do there upgrades or call 1-866-646-4688.
Where to Buy the T-Mobile iPhone 7
If you are eligible and want the T-Mobile iPhone 7 you'll need to decide where to buy. Both the Apple Store and T-Mobile will offer the iPhone 7 to T-Mobile users. Unfortunately, some other bastions of consumer electronics, like Target and Best Buy, won't let you take advantage of T-Mobile's purchase plans.
| Buying Options | EIP | Jump On-Demand | Full Price | iPhone Upgrade Program |
| --- | --- | --- | --- | --- |
| T-Mobile | YES | YES | YES | NO |
| AT&T | NO | NO | YES | YES |
T-Mobile says that new and exiting users can begin pre-ordering the T-Mobile iPhone 7 at midnight Pacific Standard Time.
T-Mobile Jump-On Demand vs Equipment Installation Plans
Cost breakdowns for the T-Mobile iPhone 7 are relatively straight forward. Jump-On Demand is the company's leasing program. Get the T-Mobile iPhone 7 this way and all you pay are monthly installments for the device. When you're ready to upgrade to whatever comes after the iPhone 7, you can – provided you're ready to start all over with your monthly payments. When you do a Jump-On Demand upgrade, you have to turn in the phone you're currently using.
Read: T-Mobile Jump On-Demand: What You Need to Know
Equipment Installation Plans are more straight forward than Jump On-Demand but they usually have a higher initial price. Based on your credit score, T-Mobile simply breaks down your payments for the phone over 24 months.
| iPhone 7 with EIP for 24 Months | 32GB | 128GB | 256GB |
| --- | --- | --- | --- |
| iPhone 7 | $27.04 | $31.20 | $35.37 |
| iPhone 7 Plus | $32.04 | $36.20 | $40.37 |
T-Mobile Trade-In Deal
T-Mobile's John Legere revealed a huge promotion for new and existing T-Mobile customers earlier today. Shoppers can trade in their iPhone 6, iPhone 6s, iPhone 6 Plus or iPhone 6s Plus and save up to $650 in charges over the next year. Instead of saving immediately, T-Mobile credits accounts each month with the trade-in value, bringing down the cost of the new device. You're basically giving up your old iPhone now, and ensuring that you'll get more affordable monthly payments on your new device.
Anyone that takes advantage of the trade-in deal gets their iPhone 7 with 32GB of storage free. Users that want the T-Mobile iPhone 7 Plus with 32GB of storage only need to pay $120 up front.
T-Mobile iPhone 7 Full Price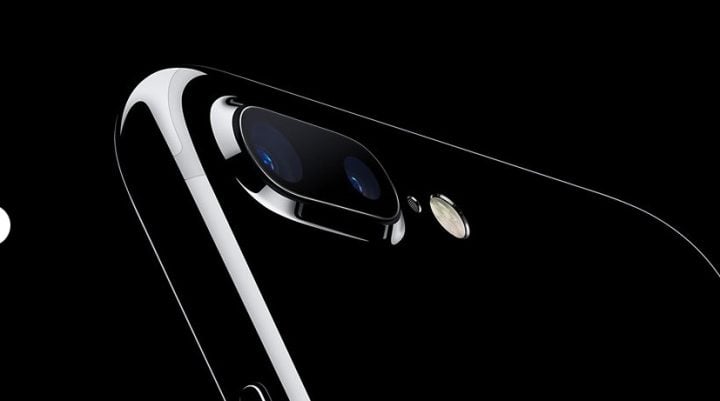 The iPhone 7 with 32GB of storage will cost $649.99 at full price. The iPhone 7 Plus with 32GB of storage will cost $769.99. Getting a model with more storage increases the cost.
| New iPhone | 32GB | 128GB | 256GB |
| --- | --- | --- | --- |
| iPhone 7 | $649 | $749 | $849 |
| iPhone 7 Plus | $769 | $869 | $969 |
T-Mobile iPhone 7 on Apple Upgrade Plan
| New iPhone | 32GB | 128GB | 256GB |
| --- | --- | --- | --- |
| iPhone 7 | $32.41 | $36.58 | $40.75 |
| iPhone 7 Plus | $36.58 | $40.75 | $44.91 |
With qualifying credit, the absolute best way to get the T-Mobile iPhone 7s is through the iPhone Upgrade Program. Apple offers the program in partnership with Citizens One financing. Through the program, the T-Mobile iPhone 7 costs $32.41 over 14 months. The T-Mobile iPhone 7 Plus costs $40.37 over 24 months. Users also have the option to sign up for 12 month payments.
Like Jump-On Demand, Apple Upgrade Plans require that you trade-in your current iPhone. When the next iPhone arrives, users can upgrade to it, having only paid $388 for the entry-level iPhone 7 until then. Apple's Upgrade Plan does require a credit card, you can't use it with a debit or checking account.
Read: iPhone Upgrade Plan Offers New Way to Buy iPhone 6s
Best T-Mobile iPhone 7 Plan and Payment Option
Because there's so many options, choosing which way to buy the T-Mobile iPhone 7 can be difficult. The best experience is going to be with the Apple Upgrade Plan, especially if you're someone that upgrades to each year's phone like clockwork.
If you're less comfortable with that the best option is to buy the T-Mobile iPhone 7 and T-Mobile iPhone 7 Plus through an Equipment Installation Plan. You can pay the entire amount slowly and you own the phone at the end of those payments.
11 iPhone 7 Release Date Tips
Track Your iPhone 7 Order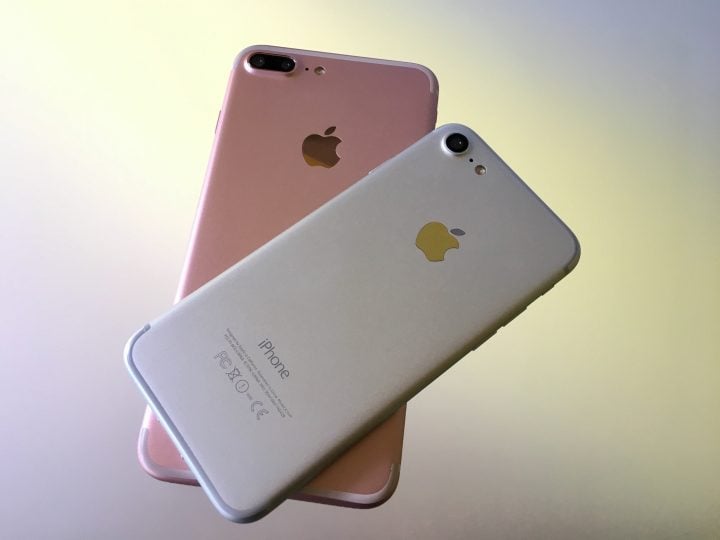 If you've already put in an iPhone 7 order you'll want to track your order ahead of tomorrow's iPhone 7 release date.
Some iPhone 7 orders are preparing to ship which means some credit cards are being charged right now. Others are shipping out on their way to their final destination tomorrow.
If you haven't done so already, now would be a good idea to check on your order right now, especially if your account is running low on funds or if your credit card is almost maxed out.
Once your iPhone 7 ships, you'll be able to track it to your doorstep. You'll want to do this if you plan on being out of the house on the day it's supposed to arrive because it will require a signature.
We've put together a guide that will help you track your iPhone 7. Take a look at it if you need help.

As an Amazon Associate I earn from qualifying purchases.