How to Change the Galaxy Note 9 Lockscreen Wallpaper & Theme
This guide will show you how to change the Galaxy Note 9 lock screen and wallpaper. We'll quickly explain all the customization options, what you can change, then show you how. Whether that's using your own images or taking advantage of the Samsung theme store. Follow these steps and make your phone unique.
The Galaxy Note 9 has a big and beautiful 6.4-inch Quad-HD display. Meaning you'll want to get a nice wallpaper in a high-resolution for the best experience. Then, do something similar for the lock screen.
Read: How to Turn Off the Note 9 Always On Display
We really like that Samsung allows a different image for both the lock screen and your home screen, instead of sharing the same one. Additionally, you can customize how things look, the lock screen app shortcuts, or apply a theme and completely change the entire look and feel of the phone.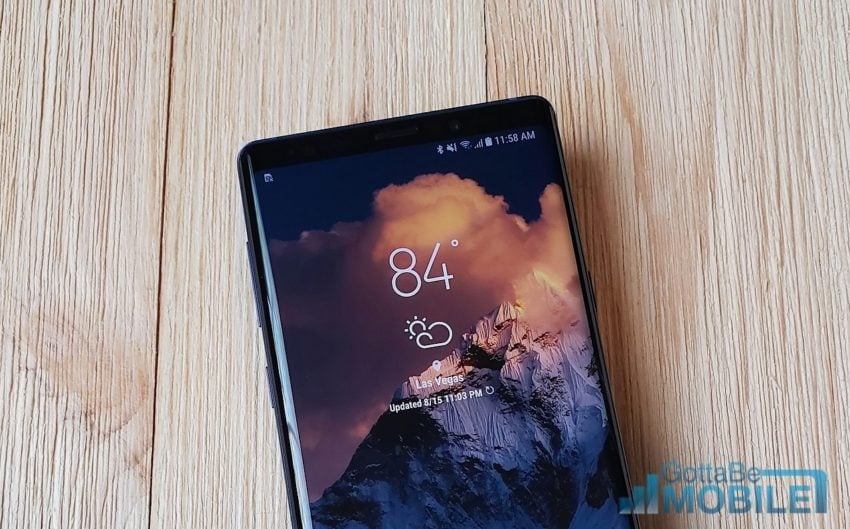 How to Change the Galaxy Note 9 Wallpaper
There are a few different ways to change the wallpaper on your phone. However, when you head to Settings > Wallpapers and Themes it goes to the Samsung theme engine, not somewhere to change the wallpaper. It's somewhat confusing, so here's how to proceed.
We'll start by showing you how to change the wallpaper without using the theme store. That way you can apply your own image you've downloaded or even a photo you just took. Then, keep reading for the other methods.
Instructions
Push and hold your finger on a blank area of the screen
It will zoom out to a customization menu. Select Wallpaper
Scroll through Samsung's options, or tap on My Photos
Now select the image you want, crop to fit, and hit Apply Wallpaper
Choose home screen, lock screen or both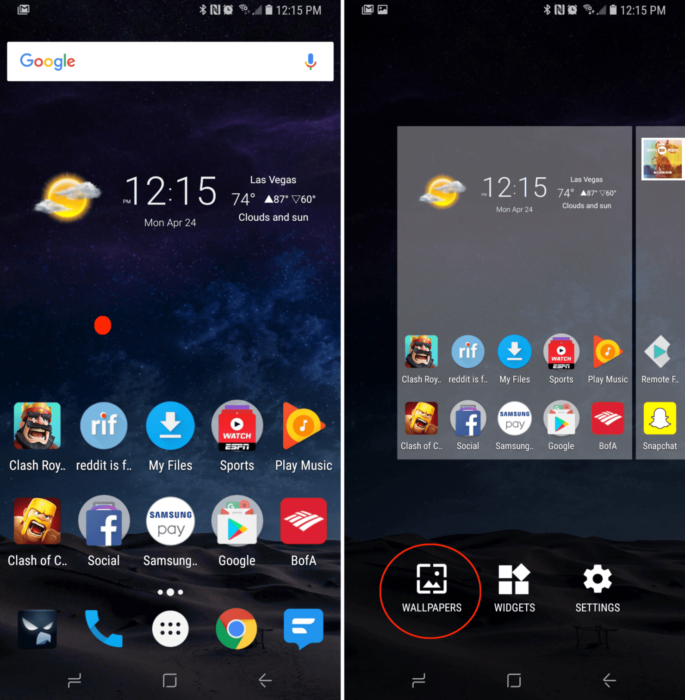 This is the easiest and quickest way to change the wallpaper on the Galaxy Note 9. You can quickly browse their pre-installed images or select one of your own. Find what you want and hit Apply.
You can even use a slow-motion video you took on the Note 9 and turn it into a GIF for your wallpaper or the lock screen. Pretty neat, right? Additionally, get beautiful wallpapers like the one above in the Samsung theme store or download Zedge. A popular app for smartphone customization. Make sure your image is at least 1080p Full HD for the best experience.
How to Change the Galaxy Note 9 Lock screen
Follow the same steps as above to change your lock screen. Press on a blank area, tap wallpapers, find what you want to use and hit Apply. Now, the phone will ask: Do you want to apply this to the home screen, the lock screen, or both? Select both if you only want one photo, or add a different image for each area on the device. I have a Packers logo on my lock screen and a darker wallpaper everywhere else.
Additionally, in Settings > Lock screen & security, you'll find options to change a few things. These include the quick-launch app icons on your lock screen, control how much information notifications display, and other customization options. Check out this video for more information.
Samsung Theme Store
Next, you'll want to take advantage of Samsung's ever-growing theme store. This is another way to change the wallpaper or totally customize your phone. Go to Settings > Wallpaper & Themes to get started. Choose from wallpapers, themes, icons, and the always-on display. Samsung doesn't explain the theme store, or how to use it, but it's easy. All you do is find what you want, tap download, then select Apply. The phone will instantly change anything from the look of your icons to the entire feel of your phone.
When you first open the Samsung Theme store it defaults to wallpapers. There are tons of recommendations and popular options to choose from. At the top of the page, the first square is "Your Gallery" which you can select to use your own photos, instead of the ones listed. At the bottom, are columns for each category of customization. I'll be changing my wallpaper, theme, and adding a different icon pack.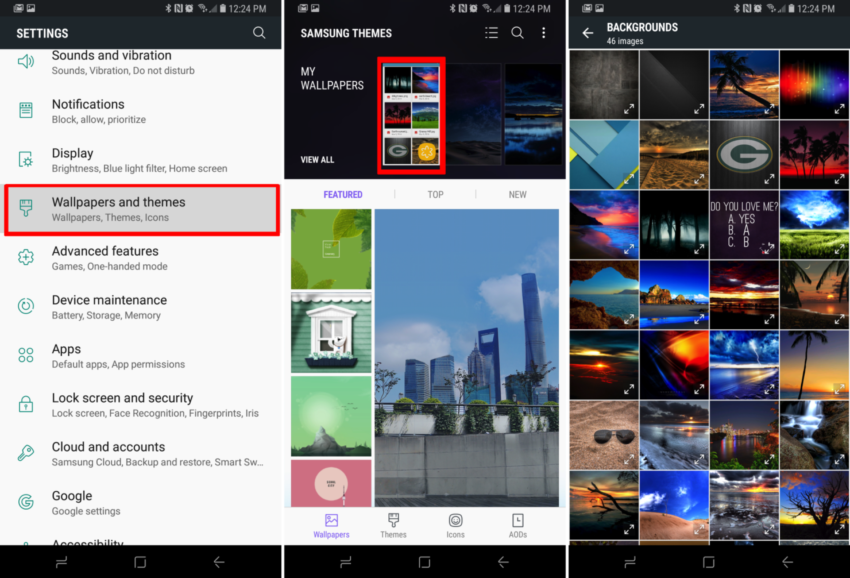 At any point, if you change your wallpaper, theme, icons, or always-on screen but want to go back to the way it was before, this is where you do that. Tap any category from the column on the bottom of the page. Now, choose the first panel, which is the default wallpaper, theme, or icon pack. The second one is whatever you download.
Now, simply browse through all the options available and find something you love. When you've found the perfect icon pack or a sweet theme tap download, then hit apply. Keep in mind that when you apply a theme it will overwrite your wallpaper or icons.
Apply the theme first, then your wallpaper, then some icons if you want to customize everything. There are dozens of neat themes that will change the entire look and feel of your phone, so enjoy. You can even use this old guide to make the Note 9 look like stock Android, like a Pixel.
While you're here, check out these 10 cool things the Galaxy Note 9 can do, and keep your phone safe with one of these 15 best cases.