How to Change the OnePlus 6 Lockscreen & Wallpaper
In this guide we'll show you how to change the OnePlus 6 lock screen and wallpaper. Including adding your own images and photos, instead of just what comes on the phone.
The OnePlus 6 has a big 6.28-inch 1080p HD display that looks great. Getting good wallpapers in a high-resolution will look better and give you the best experience. We'll show you all the customization options, then recommend the best places to get a wallpaper.
Read: 10 Common OnePlus 6 Problems & How to Fix Them
One of the benefits of changing the lock screen and wallpaper is customization. Making your new phone more personal. We like that OnePlus offers so many options, including setting a different image for the lock screen and the background wallpaper. You can use the same image or two different ones.
How to Change the OnePlus 6 Lock Screen & Wallpaper
There are a few different ways to change the lock screen image or background wallpaper. The easiest way is to simply press and hold on a blank area, then tap on wallpapers. Simply follow our instructions below. You can even set your own image for the lockscreen, then a moving live wallpaper or slow-motion GIF as your regular background.
Push and hold on a blank area on the screen
It will zoom out to a customization menu, select Wallpaper
Tap on My Photos or scroll through the image gallery
Now select the image you want, crop to fit, and hit Apply Wallpaper
Choose home screen, lock screen or both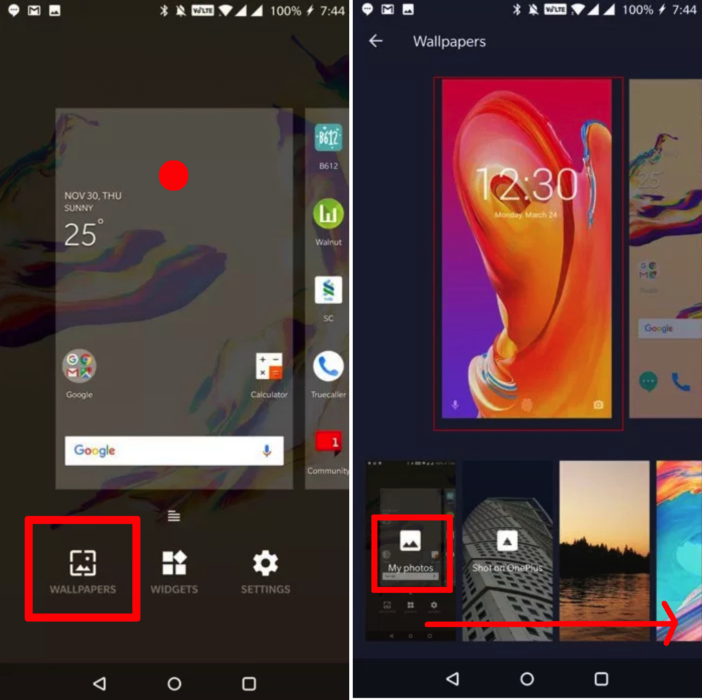 As you can see, OnePlus bundled some pretty beautiful landscape photography shots and other images with the phone. Essentially giving you a bunch of options right out of the box. And while some of them look great, there aren't too many to choose from. Tap My Photos (or Shot on OnePlus) to select from your own gallery or a gallery of the best photos from the OnePlus forums. This is how people use a photo they took of their family, kids, or pets with the phone camera.
To find some beautiful wallpapers like you see online download the app called Zedge and browse their collection. Make sure you get at least a 1080p HD image for the best results or bigger so you can crop it without losing any quality.
Lock screen Wallpaper
In case you didn't notice during our instructions above, adding a wallpaper to the lock screen is just as easy. Follow the same steps as above for the lock screen. When you find the image you'd like to use and hit apply the phone will ask, "Do you want to apply this to the home screen, the lock screen, or both?"
Select both if you only want one image, or which area you want to apply it to. I have a Packers logo on my lock screen and a beach wallpaper everywhere else. Do what you want.
Other Details and Lock Screen Customization
Sadly that's all you can change on the OnePlus 6 lock screen. The company puts a microphone and camera shortcut icon in the bottom corners, but you can't change these for something else, like a text message app.
If you'd like to fully change and customize the lock screen you'll need to replace your homescreen launcher. The most popular app for this is NOVA Launcher, which is highly customizable. Give it a try today or enjoy the stock experience and a new wallpaper on your OnePlus 6.
While you're here, check out these 5 best OnePlus 6 screen protectors.

As an Amazon Associate I earn from qualifying purchases.