How to Change the Galaxy Note 8 Text Message App
In this guide we'll explain how to change the Galaxy Note 8 text message app. Samsung's built-in Messages app is nice, but there are dozens of alternatives on the Google Play Store with more to offer. Whether you don't like it, or just want something else, this is how.
Third party text apps usually have more options and features. Some of these include themes, customizable notification bubbles or font, or are just easier to use.
Read: 5 Best Android Text Message Apps
Our link above has a few that we recommend. The instructions below explain how to change the app to something else without getting duplicates text message notifications.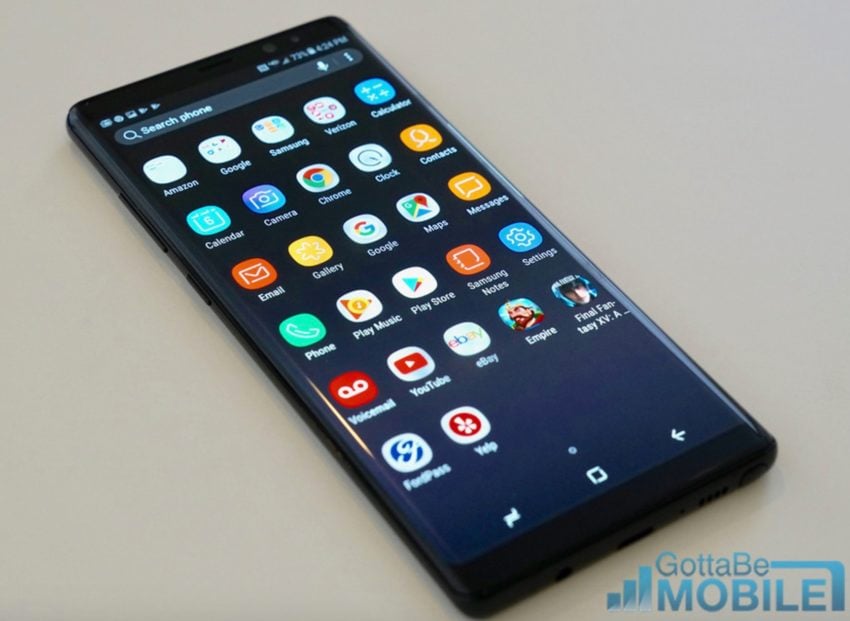 Samsung users will feel right at home with the pre-installed "Messages" app. And while Samsung's added a lot of new features over the years, it still isn't as good as what else is available.
How to Change the Galaxy Note 8 Text App
The first step is downloading a new text message program from the Google Play Store. Simply search for SMS or text message, and Google lists them all. Textra is my favorite, although Chomp or GoSMS are two other popular options. Here are the full instructions. 
Instructions
Download a new Text Messaging App
Go to Settings by hitting the gear-shaped button in the notification bar
Select Apps or Applications
Click the 3-Dots "menu" button at the top right and choose Default Apps
Tap on Messaging app and select which app you'd like to use
Once it installs you can open the new app and see all that it has to offer. However, you need to follow the other steps above to set it as the primary texting application. Now, you've successfully changed the Note 8 text message app.
More Information
Don't forget the last three steps, as they're very important. Older Android devices received double notifications if you downloaded a second text message app. That isn't the case anymore. Android won't let two apps be set as "default" at the same time. This way you only receive one text notification, regardless of how many apps you install. You just need to tell the phone which one to use.
Additionally, many apps like Textra will have a big Set As Default button at the bottom when you first open it. Making this process even easier instead of fumbling through the settings menu.
From here on out this is the only text app that will be able to send, receive or alert you on text messages. If you chose Textra (or many others) go in and customize it as you see fit. Change everything from the font, style, colors, bubble colors, and even the notification icon. You can change these for each contact too, to make your Note 8 more personal. This level of customization isn't available in Samsung's Messages app. While you're here learn how to use the Note 8 emoji keyboard or check out these 10 neat things the Galaxy Note 8 can do.

As an Amazon Associate I earn from qualifying purchases.