How to Change the Galaxy S7 Text Message App
This guide explains how to change the Galaxy S7 text message app for users enjoying Samsung's latest smartphone. Now that both the Galaxy S7 and Galaxy S7 Edge have been available for a few weeks, users are enjoying all they have to offer, and have lots of questions. Here's how to change the default text message application.
Samsung's new Galaxy S7 is an impressive device with an excellent display, great new camera, IP68 water resistance, SD card slot and more. It's powerful enough to do just about everything. Today we'll be showing users how to do something as simple as change the text "Messages" app to something different.
Read: How to Disable Text Message Previews on the Galaxy S7
Like most manufacturers Samsung has its own text app specifically for Galaxy phones. It's called "Messages" and is a pretty good stock option. Messages has touches of Google's Material Design and it matches Android 6.0 Marshmallow pretty close. However, most stock apps aren't very appealing, don't have too many features, and aren't customizable. Instead, download one of the many 3rd party text apps we'll detail below.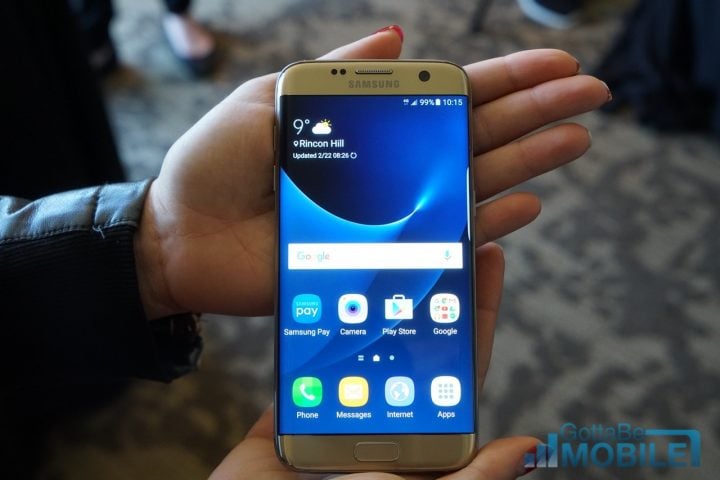 With the Galaxy S7 and S7 Edge the pre-installed "Messages" app has more to offer than most, but could still be better. It features some backup options, and a few quick controls like a swipe to call, or while in a conversation just bring the phone to your ear and it will call that contact, but that's all. It's still limited in comparison to the vast majority of third party text message apps on the Google Play Store. Below are a few of our favorite text applications.
Read: 5 Best Android Text App Alternatives
When you replace your stock app with something from the Play Store it will likely be customizable with themes or backgrounds, font, change the look of the message bubbles, colors and much more. It all depends on which app a user decides to try, and the link above details a few good options, then the guide below will help you change out the messaging app for something a bit more useful.
Instructions
In recent versions of Android we have a dedicated option in settings that turns one text app on and the other off, so users won't get double notifications like the old days. It won't let two be set as "default" at once. What we'll be doing is downloading a new text app, setting it as default, and making sure its all setup how it needs to be.
First things first is you'll want to navigate to the Google Play Store and download one of the many different third party text apps. Textra is my favorite, GoSMS or Chomp are popular, and a few others made our list linked to above. Download it, and proceed with the instructions below. Most change the default app settings for you. Textra will have a big "Set as Default" button on bottom when you first open it and set things up. Click that and you're all set. If the text app you tried doesn't chance it by default, here's how to make the changes.

Owners can start by heading into settings and under the "Device" column navigate to Applications > Default Applications > and tap Messaging App. This will take us to another screen (as shown above) to select which app you downloaded. If none are installed, only Samsung's stock option will be displayed, as well as Google Hangouts. Tap which app you'd like to use (we chose Textra) and you're all done.
This now sets that app to be the only one that will send, receive, and notify the Galaxy S7 and S7 Edge of incoming text messages. Apps like Textra allow owners to change the font, style, colors, bubble colors, and even the notification icon. Get creative, and set it up as you see fit. Some are more friendly and customizable than others, so try a few.
There are countless excellent text messaging applications available on the Google Play Store, and a few of our favorites were linked to above. Give them all a try and see what works best. While we're here, check out some great accessories for the Galaxy S7 below.
14 Official Galaxy S7 Accessories Worth Buying
Galaxy S7 S-View Flip Cover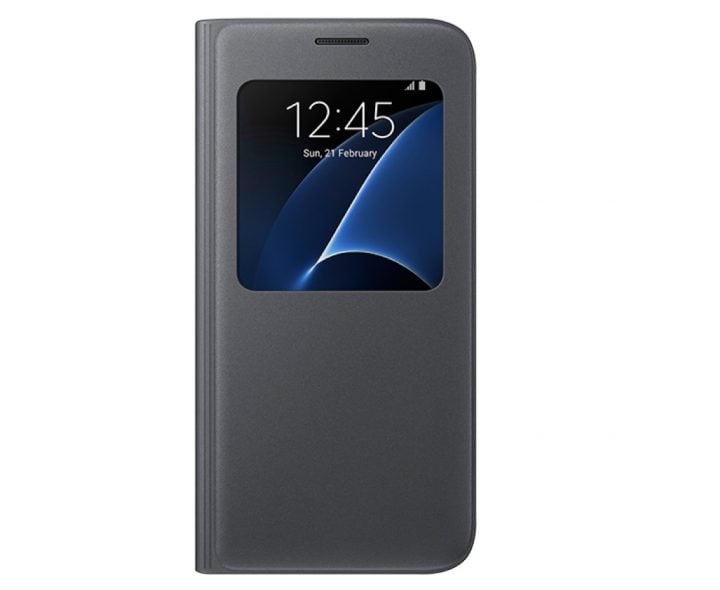 As expected, the popular S-View case is also available for the Galaxy S7 and S7 Edge, and comes in multiple different colors. For the Galaxy S7 there's Black and Gold, the two colors being offered, then for the Galaxy S7 Edge it comes in Black, Gold & Silver. The S-View has been popular for years, and protects your device while letting you interact with it without ever opening the case. Basically offering full protection even while you answer calls, take pictures and more.
When closed, the S-View cover offers instant access to critical features through a unique window interface, thanks to the Samsung ID chip. View the home screen to check the time, weather and other status items. Accept or reject incoming calls with just a swipe, or reject calls with a preset message. Control your music playback directly on the S-View screen. If you miss anything, notifications are shown in the recent activity menu of your S-View cover. It works even better with the new always-on display feature.

As an Amazon Associate I earn from qualifying purchases.