How to Change the LG G4 Text Message App
The new LG G4 is only just becoming available to buyers in the United States, and as it does, we're getting a lot of questions about the impressive new 5.5-inch smartphone. Those who've recently bought the LG G4 will want to read on to learn how to change the default text app.
LG's latest G4 smartphone has a lot to offer with a big and bright display, a powerful 6-core processor, one of the best cameras on any smartphone, and is running the latest Android 5.1 Lollipop. It's a loaded smartphone, but newcomers to Android or first time buyers will need to know how to change simple settings like the text app.
Read: How to Take a Screenshot on the LG G4
Like many other manufacturers LG built its own text message application and installed it on the LG G4. It's called "Messaging" and is a decent app. However, most stock apps aren't very appealing, don't have too many features, and are lacking when it comes to customization. With that, there are countless 3rd party options to download from the Google Play Store.
Unlike Samsung and many others, the LG Messaging app actually has a few nice customization options in settings, but it's still rather limited when compared to the vast majority of apps available on the Google Play Store. With Android users can quickly replace key components like the text app, camera, calendar, gallery and more with alternatives, and below are a few of our favorite text applications.
Read: 5 Best Android Text App Alternatives
When you replace your stock app with something from the Play Store it will likely be customizable with themes or backgrounds, change the look of the message bubbles and colors, customized font, and much more. It all varies on which you choose to download, and the link above details a few good options, then the guide below will help you change out the messaging app for something a bit more useful.
Instructions
New to Android 4.4 KitKat in 2013 was a change that made switching text apps to something from the Play Store much easier. There's a dedicated option in settings that turns one on and the other off, so users won't get double notifications from both the stock app, and the newly installed option. The LG G4 settings menu is a little fragmented, but it's still rather easy to do.
First things first is you'll want to navigate to the Google Play Store and download one of the many different third party text apps. Textra is our favorite, GoSMS or Chomp are nice, and a few others made our list linked to above. Download one, and you're set. Some even change the default app settings for you, or simply follow the steps outlined below.
Read: How to Delete the LG G4 Browser History
Head into settings by pulling down the notification bar and tapping the gear-shaped icon, or find the settings app in the application tray. Once you're in the LG G4 settings menu users will need to select the "General" tab and then tap on "Default message app" or scroll down until you find it.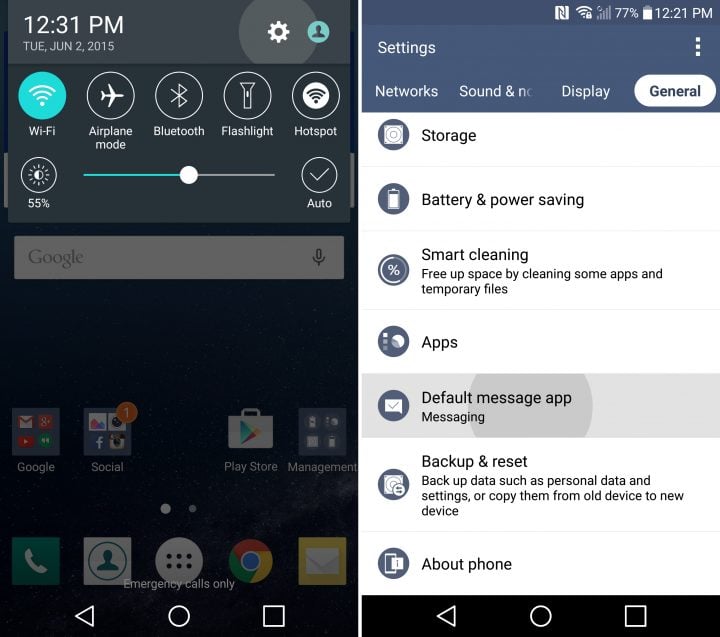 This opens a list of app the apps that are able to send and receive text messages on the LG G4. This will vary by carrier, as some like Verizon upload their own messaging app as well. Here we have LG's app, Textra which we just downloaded, Google Hangouts, and a text backup app to restore messages from an old device.
From here simply tap to select the text message application of choice for the LG G4. Here we've selected Textra, and that's it. That application will now be the default (and only) app that can send and receive messages, and the only app you'll get notifications from.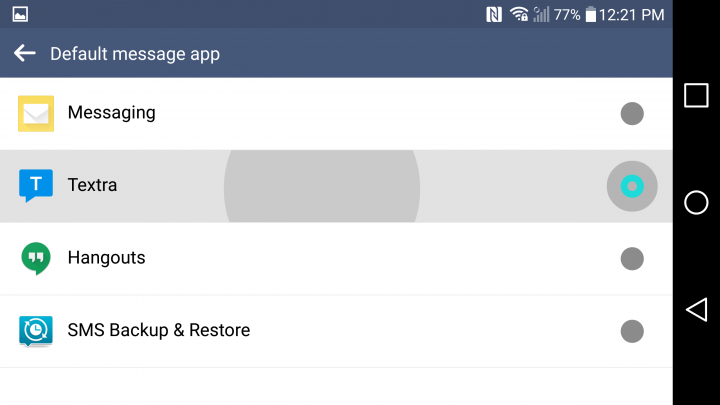 Now users can just long-press the icon and drag their new text app to the main home screen, or the bottom bar with your most popularly used apps, and you're all done. This won't affect who can send or receive your messages, and everything will be the same as it was out of the box.
Textra and most 3rd party apps offer tons of customization, font size and color, themes, bubble colors and even custom notification icons, so head into settings and customize it as you see fit. If you want to go back to the stock option, just go back to settings > general > default messaging app > and select the regular app. It's that easy.
Try out any of the hundreds of different text messaging apps on the Google Play Store and enjoy a better text message experience on your new LG G4. Then, check out our 30 LG G4 Tips & Tricks to learn even more about your new phone.
15 Best LG G4 Accessories
LG G4 Cases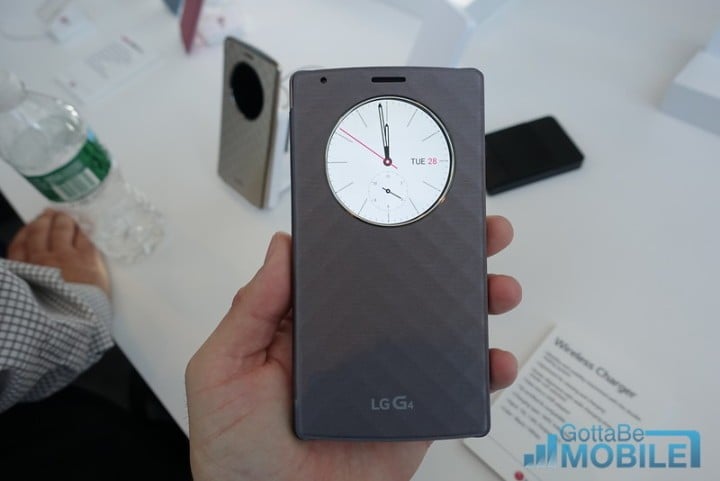 While we've already detailed tons of cases, two worth considering are the official LG Folio Circle Case, and the Spigen Air Cushion with a built-in kickstand.
The G4 Folio case protects the entire device as usual, but then has a flip cover that protects the 5.5-inch screen. The trademark circle window cutout in the flip cover shows a clock, the weather, incoming call or text message information, quick access to the camera and more all without ever opening the case.
Then opening it instantly wakes up your device. This case makes your phone durable, offers additional features, and protects the screen all in one. Last but certainly not least, there's also a second version of the Folio Case that enables wireless charging, making it more than worth the more expensive price point. They should retail for $49 and $59 for the wireless charging version.
Grab the Folio case from LG's website, or the Spigen Kickstand case from the link above.

As an Amazon Associate I earn from qualifying purchases.