How to Change Your Google Home and Assistant Voice
This guide explains how to change your Google Home's voice, also known as the Google Assistant. A few years ago Google added a male voice, and these days you now have around ten voices to choose from. If you want to get rid of the robotic female, now you can.
It only takes about 15 seconds inside the Google Home app. Originally the second male voice was very robotic, but now the 10 voices, named different colors inside the app, all sound great.
How to Change the Voice on Your Google Home
The new voice options are available on Google Home and the Assistant both simply by opening the Google Home app on your phone. Then follow our steps below.
Open the Google Home app from your app tray
Tab the Circle "Profile" picture button near the bottom right
Scroll down and select Settings
Tap the Assistant column and select Assistant Voice
Choose a voice (color) that you enjoy
Once you get to the voice screen you'll see a row of circles that are all a different color. For now, that's how Google is showing and naming the voice options. Scroll or tap each color, and listen to the voice example. Choose which one you like, and leave that color selected. It's that simple.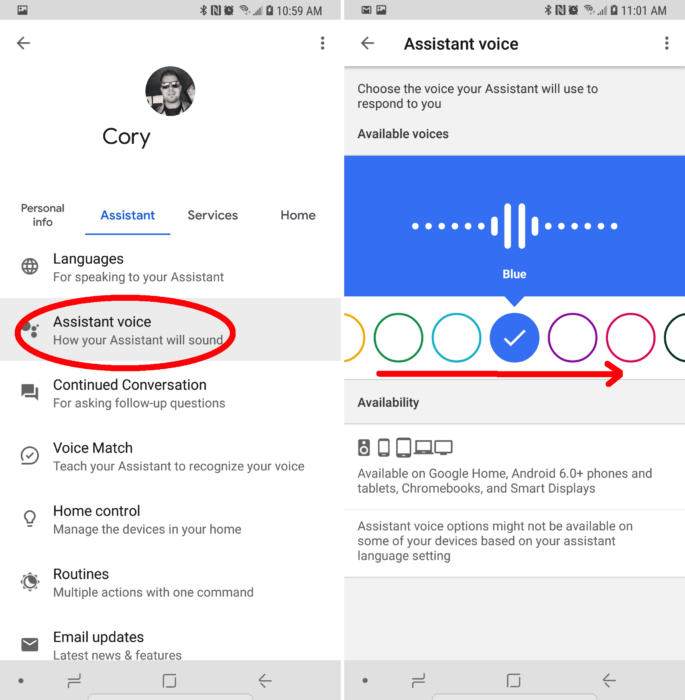 At Google I/O in May of 2018 Google confirmed multiple new voices, including singer John Legend. We're expecting more features, voices, and options throughout 2019.
Previously, there were different instructions for changing the voice on your Google Home devices, the Google Assistant, or your phone. Now, everything is under one roof in the Home app.
Other Details
Traditionally all bots and assistants have a female voice. Everyone from Siri, Alexa, Cortana, Google Maps, and the Google Assistant. Studies show men and women alike respond better to a female voice. People find it more feminine and trustworthy, vs an authoritative and manly male. Google's trying to change that.
Read: Google Assistant Routines: What to Know
Give the different voices a try today and let us know in the comments below which voice you prefer. Keep in mind that you can't have a different voice for your phone, and your home. Well, at least not yet. Whatever you choose changes across devices. While you're here, check out our Google Home Review.

As an Amazon Associate I earn from qualifying purchases.