How to Check Data Usage on Android
In this guide we'll show you how to check or monitor data usage on Android. Even if you have an unlimited data plan you can still easily burn through all your high-speed data watching HD videos, YouTube, or Netflix. We'll also explain how to set reminders and limits to keep things on track.
No one wants to go over their monthly data plan. Carriers will charge you expensive overage fees, or slow down your internet, even on an unlimited data plan. Luckily, Google built controls right into Android so you can manage everything.
Read: How to Stop Facebook Auto Play Videos on Android
Android's data monitoring tools are all typically in the same spot. Whether you have the latest Samsung Galaxy, a Google Pixel 2, or something else. We'll start with a how-to video on the Galaxy S8, then share step-by-step instructions from a Google Pixel below.
While carriers claim the data usage meter on Android devices aren't completely accurate, the numbers are usually close enough to make sure you don't go over your limit.
Instructions
There are a few different ways to track data usage on Android, and some carriers like Verizon have dedicated apps for it. However, using the tools built-in on each phone is the easiest method.
Open the Android Settings menu
Select Network & Internet (or Connections on Samsung devices)
Then tap on Data Usage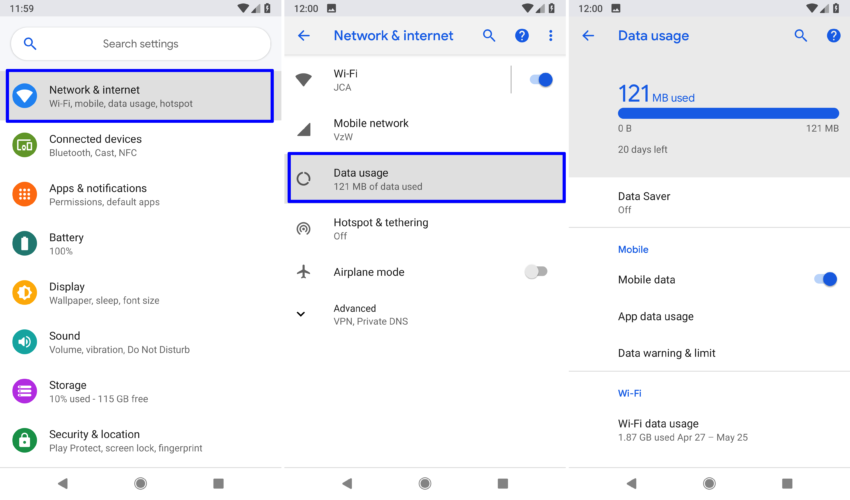 In here you'll see all types of important information. Your overall data usage is right at the top for convenience. Below that is a data saver mode, then extra mobile controls. Select App Data Usage to see a breakdown of each app and how much data it's using. This is a good way to catch any problems, or a misbehaving app. Or, you'll see you watch too much YouTube and need to slow it down.
It's worth noting that your monthly billing cycle might not start on the 1st day of the month. If not, tap on data warning & limit and set your "app data usage cycle". This lets you change the start and end dates to match your cell phone plan.
How to Set Data Warning & Limits on Android
Next, we'll show you how to set warnings and limits to prevent overage charges and fees. If you or a family member keeps going over the data plan limit, set a warning or even a data usage limit. In the same Settings > Network & Internet > Data Usage menu mentioned earlier, follow the steps and images below.
In the Data Usage menu tap on Data warning & limit
Choose the correct app data usage cycle start/end day of the month
Flip the Set Data Warning toggle ON
Then, tap on Data warning and choose your warning level (we chose 2.15GB)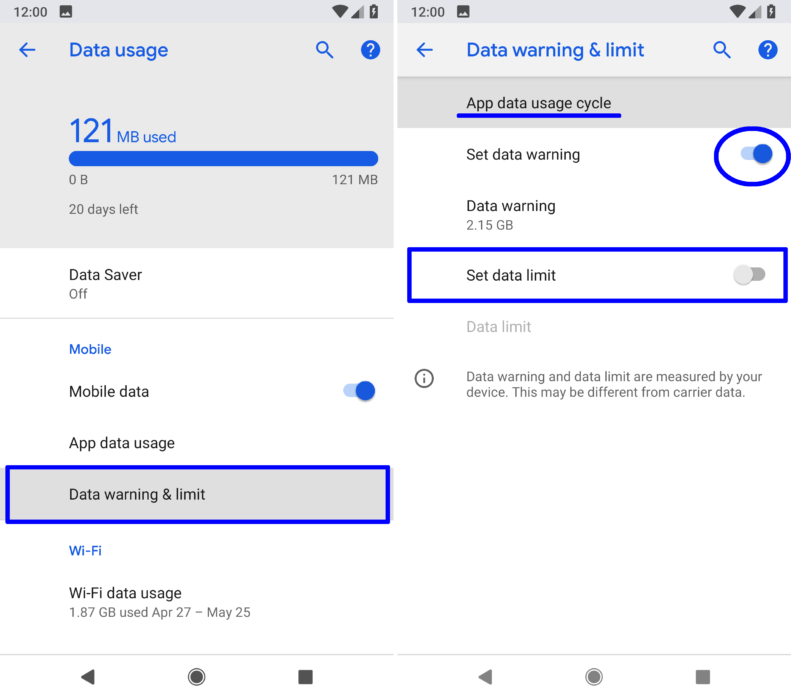 Adding a data usage warning is a good way to prevent overage charges. If you have a 5GB monthly data plan, set it for something like 2-3GB. That way you know when you've used about half of your plan in any particular month, and when to cut back. Or, tap on "Set data limit" and choose something like 4.5GB. This way the phone will automatically turn off data access to keep you from using too much.
On older versions of Android (like Android 5.0 Lollipop), you can pull down the notification bar and tap and hold on the AT&T or 4G LTE logo. This instantly takes you to the data screen for a quick-view of your data usage.
Now you know how to quickly check your overall data usage on Android. Or, set things like reminders, warnings, or limits to prevent accidental overage charges. Drop a comment below with any questions or concerns.

As an Amazon Associate I earn from qualifying purchases.