How to Clear Cache on the Galaxy S8
This guide will show you how to clear the cache on your Galaxy S8 or Galaxy S8+, and explain why you'd want to. We'll detail the steps for clearing app cache, and the system cache for your phone. Whether you're trying to free up space or you're dealing with Galaxy S8 problems, this is an important step to take.
Unlike a factory data reset, wiping the cache partition does not delete any personal data on the Galaxy S8. This simply clears temporary files from two different areas of your device's storage and memory. First, we'll quickly show you how to clear both in our video, then explain the cache and share step-by-step instructions below.
So what is the "cache" anyways? When you open or use apps they store files, data, or information to use later. That way the phone or app is faster the next time you use it. For instance, when you load Instagram it caches a lot of the app, including auto-play videos, that way the app "just works" when you scroll through your feed.
Sometimes the information saved in the cache takes up too much space or causes an app to misbehave. A similar situation happens with each software update on the Galaxy S8. That's why clearing the system cache is an important step in most guides on how to solve problems with your phone. It clears out residual leftovers from apps or updates and gives your phone a fresh start. If you didn't watch our video, here's how to do it.
How to Clear the System Cache on Galaxy S8
Turn off your Galaxy S8
Press and hold the Volume Up and Bixby key, and press and hold the Power key (Hold all three down)
When the Android logo displays (blue screen), release all keys (You'll see "Installing system update" for 30-60 seconds) Just wait for the Android recovery menu shown below to popup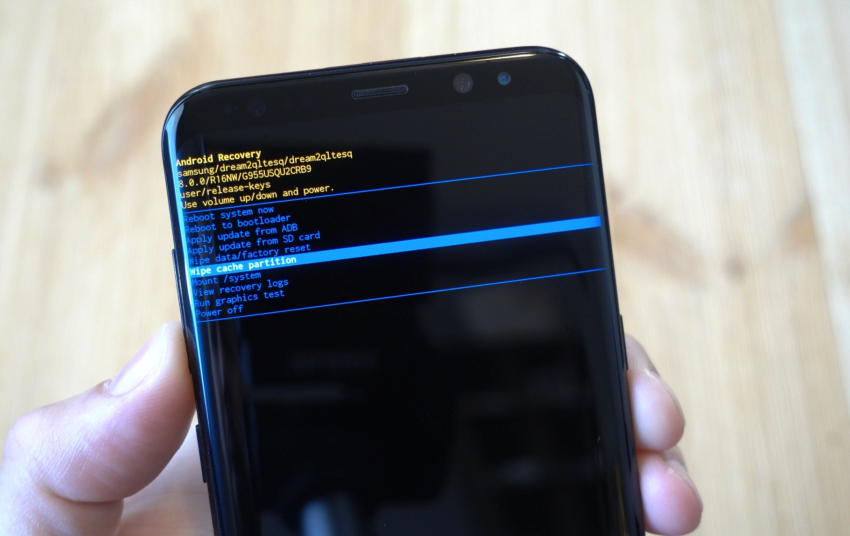 Press the Volume down key to navigate down to "wipe cache partition"
Tap the Power button to select (enter)
Press the Volume down key to "yes" to confirm this step, and press Power again to start
When the wipe cache partition is complete, "Reboot system now" is highlighted.
Tap Power key to restart the Galaxy S8
Make sure you turn off the phone, then hold all three buttons from the first step at the same time. Hold them down the entire time you see "Galaxy S8" on the screen. Once you see the blue Android, let go. Then, the rest is pretty simple. Just don't select "factory data reset" as that will erase your entire device. So be careful. Reboot your phone and you're all done.
How to Clear App Cache on Galaxy S8
Another common step is to clear app cache on smartphones. This will fix a misbehaving app, or free up space when something like Instagram or Facebook are starting to use up too much space after months of use. Each app temporarily stores information. And slowly, that cache starts to add up and you might run out of space on your phone. Here's how to clear the cache on each app themselves.
Head to Settings in the app tray (or tap the gear-shaped setting button in the pulldown bar)
Select Apps or Applications
Scroll through the list and find the app you'd like to clear (we chose Instagram)
Now, tap on Storage
Select Clear Cache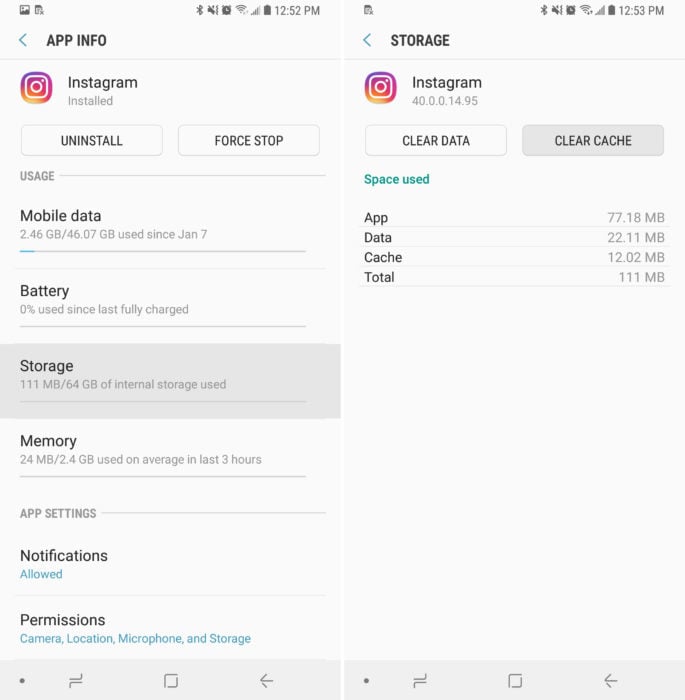 Only select the Clear Cache option, and don't tap the Clear Data button. Otherwise, your Galaxy S8 will delete all of the data associated with that app, including settings or login information. And while that won't cause any problems, it's frustrating to deal with.
If you clear the data for Instagram you'll have to log in again, then change any settings or options. It wipes out everything similar to uninstalling an app, without actually uninstalling it. Just keep that in mind before you proceed.
When Should You Clear the Cache?
So when should you clear an app's cache or your phone cache? Most likely you'll never have to do this. And while it can help after a major update like the Galaxy Android 8.0 Oreo update, you still shouldn't need to. That said,  if an app starts to misbehave or "feel" slow and laggy, this is a good place to start. Clear the cache first, then try uninstalling and reinstalling it.
For other Galaxy S8 problems check out this post for more help. If all else fails, try clearing the full cache on your Galaxy S8 using our guide.