How to Free Up Space on Your Samsung Galaxy Phone
In this guide we'll show you how to free up space on your Samsung Galaxy phone. Whether that's an old Galaxy S6 or the new Galaxy Note 8. If you're running out of space on your Galaxy things get slow, apps won't install, and other frustrating problems can arise. We'll show you how to manage your storage, and get some of it back.
Samsung phones have a lot to offer, including expandable storage on most, but after owning a device for a while space starts to become an issue. Especially if you don't have a micro-SD card or have a 2-3 year old phone.
Read: 10 Common Galaxy S7 Problems & How to Fix Them
You'll be happy to know that Samsung actually has a few tools in place to help owners manage their storage. Older phones have "Smart Manager" and newer devices running Android 7.0 Nougat have "Device Maintenance". Both apps are available in the settings menu on Samsung phones or tablets.
We'll start with Smart Manager for older phones like the Galaxy Note 4 or Galaxy S6, then move on to some of Samsung's latest devices. When you only have 32GB of storage, it's easy to run out of space. Don't worry though, we're here to help and have an easy to follow video for you below.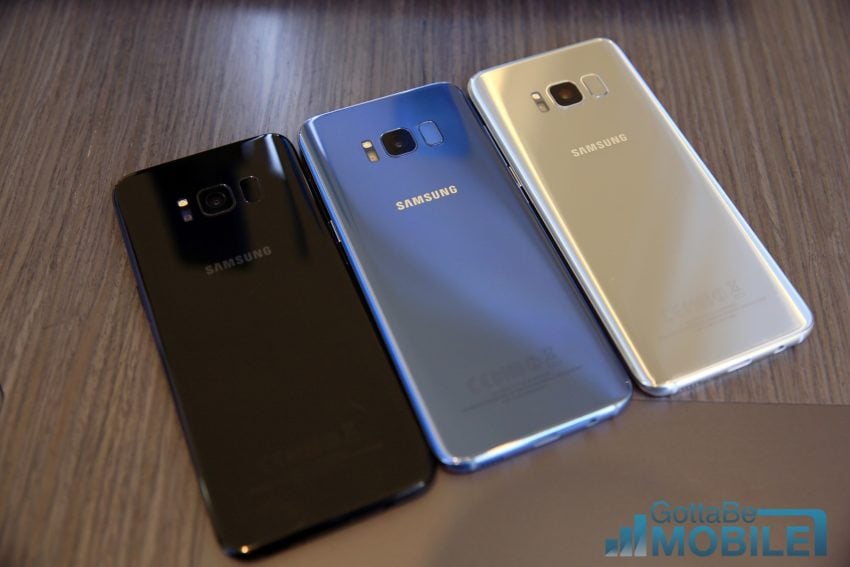 Before we begin, it's worth noting that both of these modes are rather helpful. Displaying detailed information about the battery and battery usage, performance, storage, and memory usage. These maintenance modes have a lot to offer, but we'll focus on the storage side of things. Here's how to use these tools, along with other ways to free up space at the same time.
How to Free Up Space Your Samsung Galaxy with Smart Manager
The first thing you'll want to do is head to your settings menu and open the Smart Manager tool. From here, you'll see a breakdown like our image below.
Pull down the notification bar and tap the gear-shaped settings icon, or find the Settings app in the application tray
Scroll down to and select Smart Manager
Now, select the option labeled Storage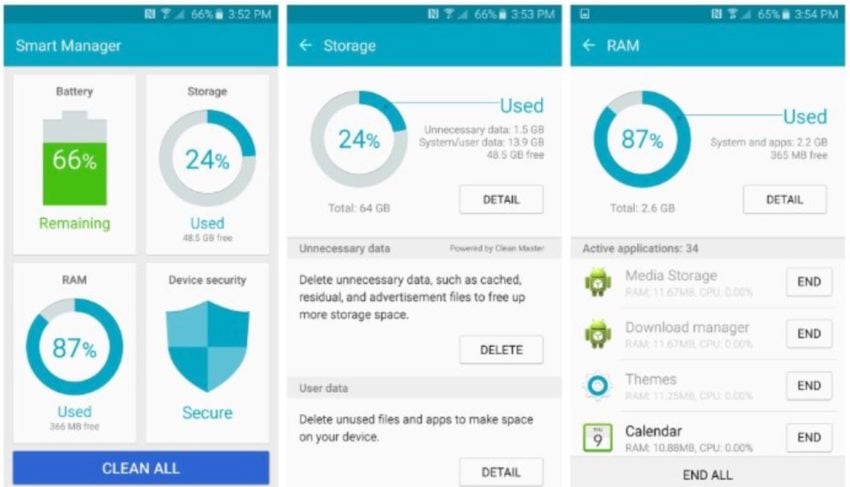 This is where the magic happens. You see how much space is available, and can easily delete unnecessary data, user data, and other things. Scroll through the list and select from the options that best suit your needs. Well, once the phone finishes analyzing your storage first.
You can simply hit delete to clear unnecessary data like old files, cached data, thumbnails and other things, or tap "Detail" to see a breakdown of everything in categories. This helps you understand what's where, and what areas to focus on if you decide to use other apps to help you free up space.
Next, simply go back to the main "storage" screen and tap the second choice "Unnecessary data". Your phone will delete cached files, residual files, and such. Your phone decides what to delete here, and it's nothing you'll miss. So don't worry about it deleting photos or videos, that won't happen. Let it finish, re-analyze, and you're all set.
If this didn't free up enough space consider uninstalling unused apps or follow this guide with the 5 best apps to free up space on Android.
How to Free Up Space on the Galaxy S7, S7 Edge, S8, S8+, Note 8 and more
Next, we'll show you how to free up space using Device Maintenance on any Samsung device running Android 7.0 Nougat or later. Basically, any somewhat new phone or tablet. The first thing you'll want to do is head to your settings menu and open the Device Maintenance tab. From here, each category breaks down into multiple layers for easy access and full controls.
Pull down the notification bar and tap the gear-shaped settings icon, or find the Settings app in the application tray
Scroll down to and select Device Maintenance
Now, select the third icon labeled "Storage"
New Samsung Galaxy devices use the same basic system as earlier models, only under Device Maintenance instead. It's just a newer, more powerful and more advanced version of what we detailed above. You'll get a breakdown of documents and downloads, images, audio, videos, and all of your apps. Each category displays how much storage is in use. Then, if you have a microSD card, you'll see that at the bottom.
In the middle of your screen, you'll see a big "Clean Now" button on new Galaxy devices. This is a very basic cleaning, but effective nonetheless. Samsung quickly frees up storage space by deleting unnecessary files, data, cached info, thumbnails, advertisement files and video preview icons.
Once you hit Clean Now sit back and wait for it to finish. Expect to get anywhere from 1-5GB of storage back, if not more, depending on how much you use your phone. Think about every update, app update, or video you watch. All of that gets temporarily saved on your phone. This simply erases all of that and cleans up your phone. Giving you a fresh slate moving forward.
Again, you can tab on each sub-category for more information, or to clear things from each individual area. It's a good way to delete duplicate pictures, old videos, text messages, unused apps and more.
Final Thoughts
In closing, we recommend buying a microSD card and then moving apps to the SD to free up more space. If you're using a Galaxy S6, you don't have a microSD slot. Instead, you're stuck with how much space your phone has. If that's the case, consider deleting pictures, videos, apps, text messages, or using these 5 apps to free up space on your phone.
At the end of the day, it all comes down to being more aware of storage as you use your phone day in and day out. If you take 10 photos to get the perfect shot, delete the bad ones. Don't just leave them for later, because after doing so for 1-2 years you'll have a ton of wasted space and photos you don't want or need.
Take a few minutes every month or so to clean out pictures or videos, or uninstall apps you no longer use and enjoy. That way you're not in a rush to delete anything and everything when you're phone suddenly tells you there's no space left and you can't download apps or take photos. Before you go, check out these 65 Helpful Galaxy S6 Tips & Tricks.