How to Clear Your Galaxy S9 Browser History
In this guide we'll show you how to clear your Galaxy S9 browser history and hide internet activity. Whether that's on Google Chrome or Samsung's Internet Browser app. What you do online is no one's business but yours so here's how to delete everything.
Privacy is a big issue these days, and clearing your entire web browser history is a good place to start. If you want to hide traces of a birthday present you had to research, or a weird site you went to, we'll show you how.
This guide will remove internet activity, clears the cache, cookies, site data, and even login info or passwords if you want. You get to choose what you remove. So, follow our video guide below, or follow the step-by-step instructions.
Each website you visit and Google search gets saved on your device and Google account. Just like on a computer, this information is easy to find in the browser history. Anyone can look it up if they want. However, it's also just as easy to clear any trace of what you do or where you go online.
How to Clear Your Galaxy S9 Browser History
There are several different web browsers available for Android phones. You probably use Samsung's "Internet" app, so we'll explain how to delete your history on that browser first. Then, we'll give you similar instructions to wipe out Google Chrome, as it's the most popular web browser on Android.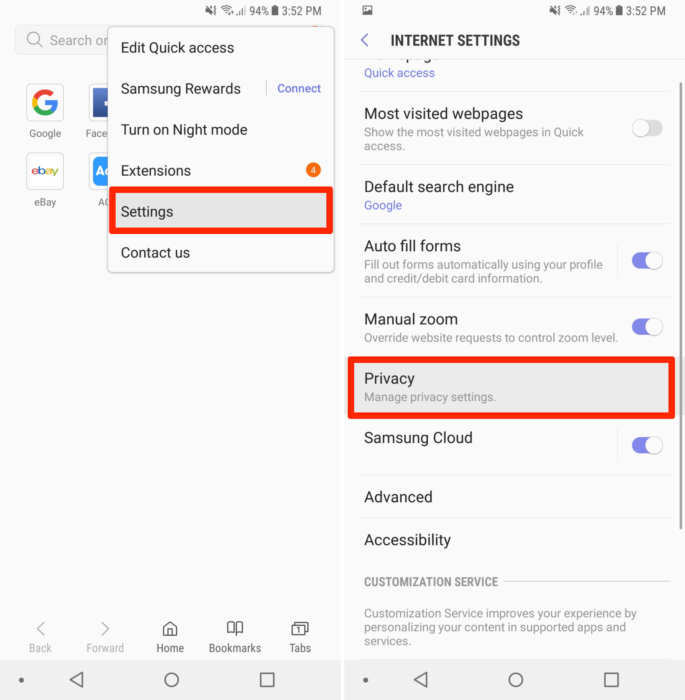 Open Samsung's Internet web browser app
Tap the 3-dots menu button at the top right
Click on Settings
Scroll down and select Privacy
In the Privacy category tap on Delete personal data
Choose what you want to delete from the pop-up of saved information
Select all that apply, and hit the big Delete button
We recommend clearing your history, cache, and cookies only.
This process will instantly clear your entire web browsing history, cache, cookies and site data. As you can see from our screenshots above, this will NOT erase your username or login information for your favorites sites or services. Meaning the browser will still remember (auto fill in) your Amazon or other site login information.
Auto-fill and password data will not get erased unless you choose it from the popup of options. However, if you really want a clean slate you'll have to wipe out everything. Just think about what you've done online, then choose what's best for you and your situation.
How to Delete Google Chrome Browser History
The process of clearing your browser history is relatively the same on any web browser. Whether you use Google Chrome, Firefox, Opera, or something else, just look for similar settings. Considering Chrome is extremely popular, we'll show you how to delete it too.
Open the Google Chrome Browser
Tap the 3-dots menu button at the top right, and select History
Select the trash can next to each result to delete browsing history one at a time
Or, tap Clear Browsing Data for more options and full controls.
As you noticed from our instructions, Google gives you a few different options here. We really like the option to clear websites or Google searches (or any history) one at a time. That way it doesn't look like you're trying to hide something. Just delete what you need to remove, and leave the rest. Or, tap "Clear Browsing Data" for the full process similar to what's shown above.
Like Samsung, Google offers those three main categories first to delete. Instantly get rid of your browsing activity, cache, and a few other things. Additionally, Google lets you choose to clear your web browsing activity from the last hour, 24 hours, a few weeks, or until the end of time to delete everything. Most users will appreciate the extra controls.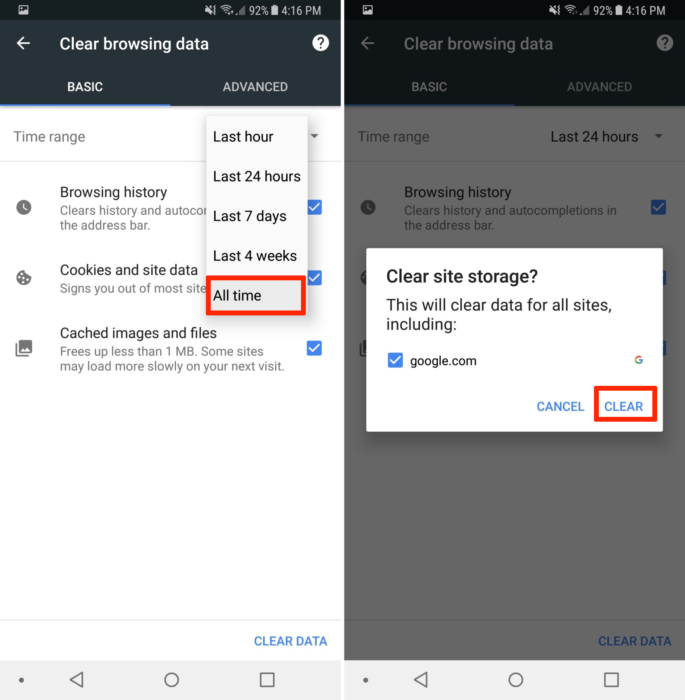 Now, select how much history you want to delete from the drop-down as shown in our screenshot. Then, just hit Clear Data at the bottom of your screen.
Other Details
Pay attention during this part of the step, because by default Google only removes the last hour of your browser history. That might not be enough for some people. If you need to remove more than that, change the length and do it again like we did in our images.
In closing, we want to remind you that all browsers have a "Private Window" or "Incognito Mode" for better privacy. These modes don't remember anything you do online. Use that if you don't want to worry about leaving your history behind. Open Google Chrome, tap the + sign, and open a new Incognito mode. Additionally, download InBrowser, it uses privacy mode 24/7 and automatically deletes everything when you're done.
Before you go, take a peek at these 20 Best Galaxy S9 cases, or here are a few tips to get better battery life.

As an Amazon Associate I earn from qualifying purchases.