20 Best Samsung Galaxy S9+ Cases
The Samsung Galaxy S9+ is one of the best Android phones available. Whether you've owned it all year or just got one because you don't like what we're seeing from the Galaxy S10 rumors, you'll want a case. Which is why this guide gathers up a list of the best Galaxy S9+ cases to keep your phone safe.
Galaxy S9 Plus cases come in many different styles, colors, and materials. Some are more durable than others or have extra features, but all of them will keep your phone looking new.
Our guide has everything from thin and clear cases, wallet cases, to heavy-duty military grade protection. Some cost under $9, which is cheaper than spending $150+ to repair a broken screen. Or, pay around $30 to get a really durable case from a reputable brand or something made by Samsung.
While we recommend everyone buy a durable case from a popular brand, even those cheap $6 TPU cases on Amazon are better than nothing. In fact, they're what I prefer as they do an excellent job for just a few bucks. Keep in mind that the Galaxy S9+ is IP68 dust and water-resistant. Meaning you don't need a waterproof case. If you need a case for the smaller Galaxy S9 click here.
Read: 9 Best Galaxy S9 Plus Screen Protectors
Popular case styles for a big phone like the Galaxy S9+ include wallet cases or a case with a built-in kickstand. We even found a camera lens case that turns those dual cameras into a power photography system. And if you're a minimalist, we have some clear or ultra-thin cases that won't cover up your beautiful phone.
Don't overpay for a case in carrier or retail stores. Instead, choose one from our list of the best cases by Spigen, Speck, Incipio, Griffin, Tech21, UAG and more. These are the best Galaxy S9+ cases.
Spigen Liquid Armor ($11)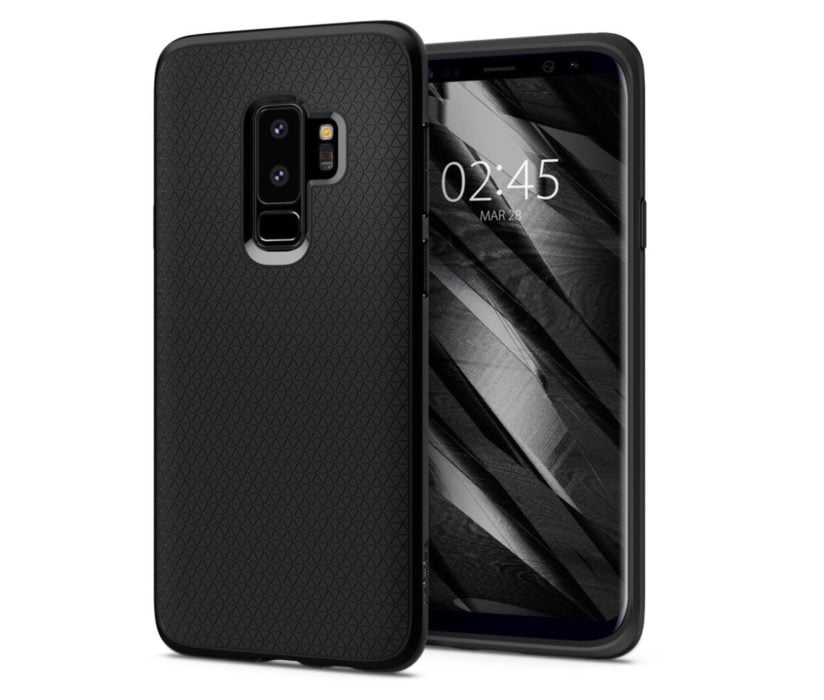 Our first recommendation is usually a Spigen case, as they have some of the best options available in a slew of different styles.
The Spigen Liquid Air Armor is my personal favorite. It's a TPU case which means it's lightweight, flexible, yet very durable at the same time. TPU is like silicone and flexible plastic combined, and what almost every case maker uses these days. Then, Spigen adds air cushion technology to the corners to absorb any impacts from drops or accidents. It's a light but durable case with an anti-slip geometric pattern on the back making it easy to hold. Our video above explains why it's my favorite.
Basically, this case isn't too thin, not too thick, comfortable and easy to use, and just an all-around great choice. It's also a perfect middle ground in terms of the price.

As an Amazon Associate I earn from qualifying purchases.