How to Disable Galaxy S9 Automatic App Updates
This guide explains how to disable automatic app updates on the Galaxy S9 and why you should. Automatic updates take place behind the scenes, but you also get notifications about them almost daily. Whether you don't want to see those notifications all the time, or just want to know what's updating and changing, we'll show you how to disable them.
When you first get your Galaxy S9 or S9+ there are dozens of apps that need updates. Then, as you continue to use the device and download apps or games, more updates will surface.
Read: How to Change the Galaxy S9 Lock Screen & Wallpaper
By turning off automatic app updates you'll get to manually control updates on your smartphone. That's a big reason to turn the auto-updates off. Additionally, turning them off can save your mobile data, and prevent overage charges. Then, you'll know what's going on with your device, and see changelogs before accepting the update. It can also help keep the phone's notification center organized.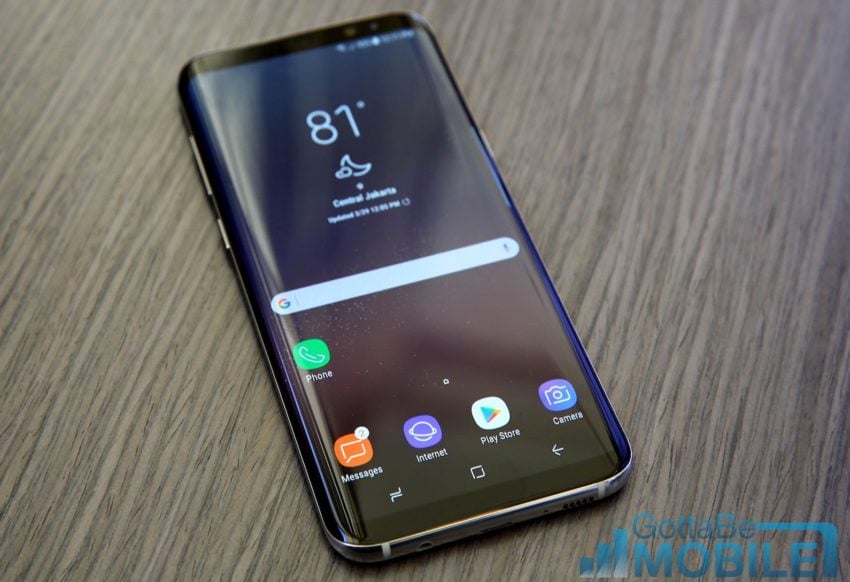 How to Disable Galaxy S9 Automatic App Updates
Before we begin, it's important to mention that your phone probably has two app stores. One is the Google Play Store you use all the time, and the other is Samsung Galaxy Apps. We can quickly manage and disable automatic updates on both platforms.
First, we'll explain how on the Google Play Store as it gets updates the most. Then, move on to Samsung's Galaxy App store.
Google Play Updates
Find and open the Google Play Store on your home screen or app tray
Tap the top left (3-lines) menu button where it says "Google Play"
Select Settings from the slide-out menu
Under General settings click Auto-update apps
Now select one of the three options (as shown below)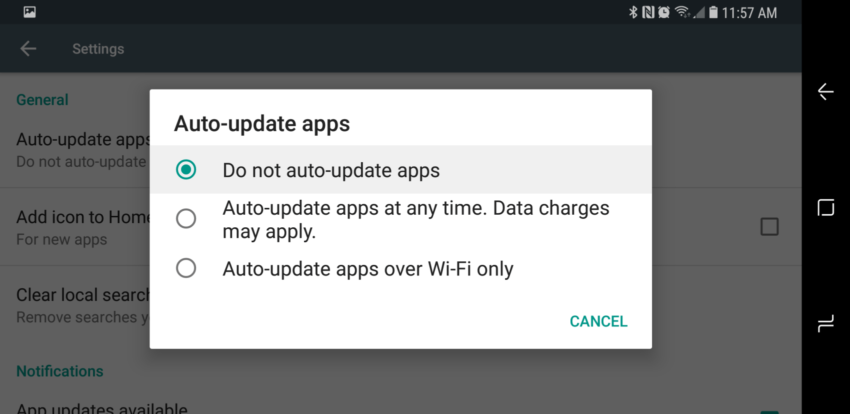 As you can see above, Google gives you three options to choose from. Those are: do not auto-update apps, auto-update apps at any time (enabled by default) or auto-update apps over Wi-Fi only. Choose the option that works best for you. Select do not auto-update apps to get rid of automatic updates.
By disabling auto-update apps you'll have more control over your device. That way big apps and games can't update and use your entire data plan before the end of the month. We've seen game updates use 1GB in a single update. Not to mention you won't be aware of any potential changes to your favorite apps. If that's not a concern and you want to get rid of the notifications, select to update apps over Wi-Fi only. That way apps will update on their own, but only when you're on WiFi.
I turn auto-updates off. That way I know what's new, what's changing, and what to look for. Instead of just being surprised when my favorite apps or games change at a moments notice.
Galaxy App Store Updates
Next, we'll explain a similar process for Samsung's Galaxy App Store on the Galaxy S9. This is Samsung's dedicated store for camera modes, pre-installed apps, and a few other things. Samsung updates the Always-on display, Edge apps panel, Internet browser, add-on camera features, and a few other things here.
We recommend leaving these enabled, that way you're always on the latest apps and versions from Samsung with the latest features. However, the same rules apply to not knowing what's changing when you do get updates. It's worth noting that some carrier models of the S9 do not have the Galaxy App Store. If you don't see it in the app tray, skip this area, and you're all done. Otherwise, here's how to disable automatic app updates on the Samsung side.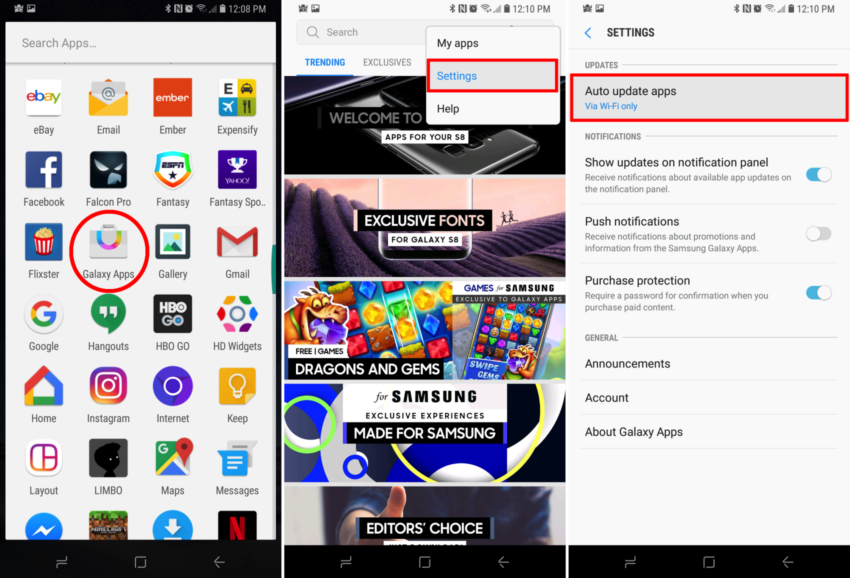 Find and open Galaxy Apps in the app tray
Tap the (3-lines) menu button near the top right of the screen
Select Settings from the pop-up menu
Click the first option labeled Auto-update apps
Now select Turn Off or choose from the options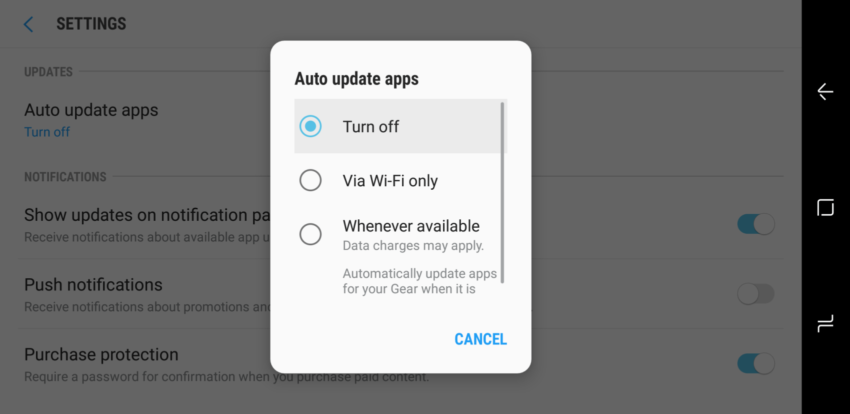 Samsung has options similar to the Google Play Store. Simply choose what's right for you. By default, it only updates when you're on a WiFi connection. That way you don't waste your monthly data plan.
Then, you have the choice between letting apps update whenever and wherever, or turn them off completely. If you turn these off you'll get notifications for new app updates, so you won't miss anything. They just won't update automatically.
Other Details
Keep in mind that if you disable auto update apps on both stores, you'll get notifications almost daily that apps have updates available. This is very frustrating and can start to overload your notification bar. Choose between constant notifications, a little more control, or turn everything off.
Personally, I recommend setting both stores to automatically update over WiFi only. This way you'll have the latest features, won't use your data, and won't get constant notifications to update your applications. While you're here, take a peek at these tips to improve Galaxy S9 battery life, or get a Galaxy S9+ screen protector and keep your phone safe. Drop a comment below if you have any questions or concerns.

As an Amazon Associate I earn from qualifying purchases.