10 Best Galaxy S9+ Screen Protectors
Yes, you can still use a screen protector with the Galaxy S9+ even with the curved display. While the Galaxy S10 looks nice, the Galaxy S9+ is still one of the best phones Samsung offers. You'll want to make it last, so here's a list of the best Galaxy S9+ screen protectors.
The Galaxy S9+ is durable, but accidents happen at any moment, and a tempered glass screen protector will keep it looking nice, new, and scratch-free.
Galaxy S9 Plus screen protectors come in a few different styles and durability levels. Like cheap films, or strong tempered glass. Some brands even use a UV light for the best installation. We've found some priced under $8, and a few for $12, which is far cheaper than the $150+ it will cost to replace a damaged display.
A screen protector for the Galaxy S9+ is highly recommended. Even spending $7-8 on a cheap film is better than nothing, especially if you don't plan on keeping it in a case. More reputable brands want upwards of $50, but those aren't necessarily better.
The more expensive "glass protectors" use reinforced and tempered glass. Tempered glass goes through a chemical process that makes it scratch and shatter-resistant, and extremely durable. Similar in strength to the built-in glass on the phone.
Basically, if you want to keep the Galaxy S9+ safe you'll want a screen protector from a brand we know, use, and trust. Or you'll want to buy a UV light and easy installation tray so nothing goes wrong.
Read: 20 Best Galaxy S9+ Cases & Covers
We still recommend a screen protector if you're going to buy a case from our roundup. That's because a case won't protect your phone in a purse, pocket full of keys, or from life's daily hazards. Accidents happen, and you'll want protection. Especially if you want it to last until you upgrade to the Galaxy S11 in 2020. For now, consider popular brands like Otterbox, Tech21, InvisibleShield, Spigen, or WhiteStone's Dome Glass process.
Caseology Tempered Glass (Easy Install Tray)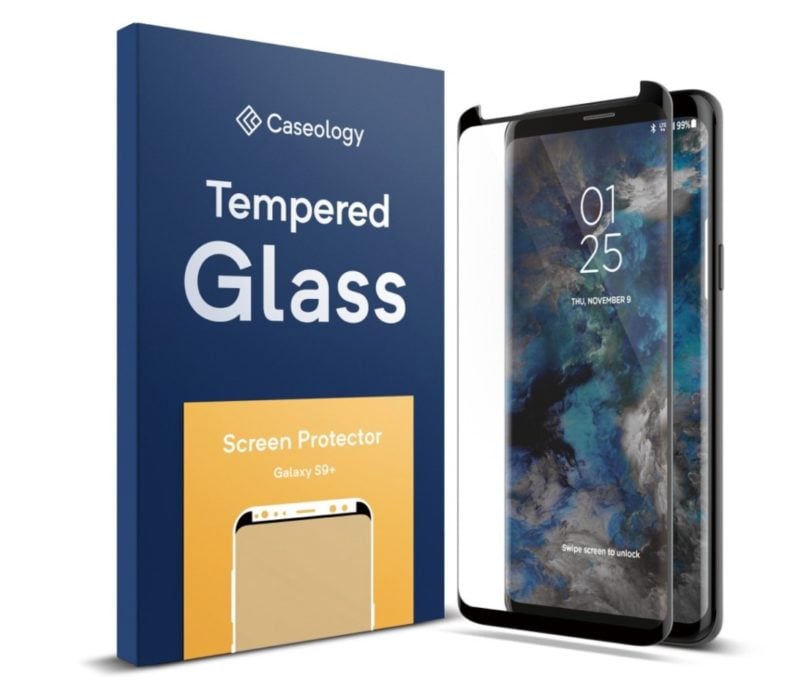 First off, we're recommending the Caseology Tempered Glass Screen protector kit for the Galaxy S9+. While they make great cases, the reason this made our list is because of the easy installation tray.
No one likes putting on screen protectors, and half the time we mess up anyways. This is especially true with the curved glass edge on Samsung phones. With Caseology, you'll get a super simple easy installation tray that perfectly aligns the glass protector for you. Pull off the protective film, line it up, and drop it in place. Then use the included squeegee to get rid of any bubbles.
Each Caseology glass works great with cases, which means the edges are just a tiny bit short so your case doesn't pull it up and ruin your screen protector. They're using 9H reinforced glass with anti-fingerprint coatings, rounded edges to prevent chipping, and it's pretty affordable too. Don't forget Samsung sells official accessories as well.