How to Disable Google Assistant and Get Google Now Back
Now that the Google Assistant is on almost all Android devices, millions of users might be looking for a way to get rid of it and go back to Google Now. If that's you, this guide will show you how. Whether you don't like the Google Assistant, or just want to disable it, these are the steps to take.
In March, Google released its new virtual personal assistant. Initially only available to Nexus and Pixel phones or tablets, now anyone can press and hold the home button to use the Google Assistant.
Read: Fun Google Now Tips & Tricks (Assistant too)
A lot of users love everything the Assistant has to offer, but it's not for everyone. It doesn't have the same screen search or easy voice controls of Google Now. And sometimes it's more interactive when you just want to do a simple search. Thankfully, switching back to Google Now is pretty easy thanks to a little trick we'll explain below. We also have steps just to disable Assistant, if you'd like.
How To Switch from Google Assistant Back to Google Now
Basically, all you need to do is change a few settings on your phone and trick it into thinking you're in a region that doesn't have the Google Assistant. Once you do, your Android phone or tablet will disable the Assistant, and revert back to Google Now.
Open Settings from the app drawer or by tapping the gear-shaped settings button in the notification bar
Navigate to and select Languages & Input
Tap Languages
Tap Add a language
Select the language of your choice, for our guide, select English
Now, select a region, we chose US Virgin Islands
Tap Options, then Remove and remove English (United States)
As a quick warning, so far we're not seeing a way to undo these changes. Meaning once you change the language and get rid of the Assistant, you're stuck with Google Now. However, you can always try re-downloading the Google Assistant from the Play Store.
Once you remove the original English language, your phone will revert to Google Now which is still the default option in the Virgin Islands. Formally known as Google Now on Tap. Long-press the home button and you're all done. Interestingly enough, on the Pixel, this also removes the multi-color flower animation from the home button.
If you don't want Google Now either, here's how to just simply disable the Assistant.
How to Disable the Google Assistant
Next, we can completely disable the Assistant and all of its features. And while it's built right into most of the Android experience, here's how to disable everything.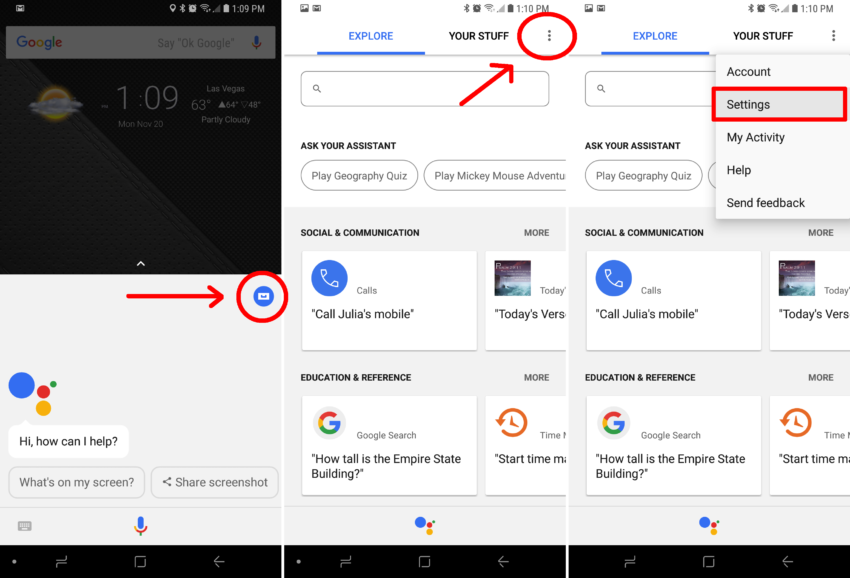 Long press the home button to launch the Assistant
Tap the little blue Drawer icon in the middle right side of the screen
Select the 3-Dots Menu button at the top right, and choose Settings
Scroll down to Devices and select Phone or the device you want to disable it on
Now, simply uncheck Google Assistant (the first option)
As a reminder, this completely disables all Assistant features. That includes saying, "Ok, Google" and other voice commands. However, if you're using an older device (that didn't come with the Assistant out of the box) it looks like the "Ok, Google" voice commands still work.
To re-enable the Google Assistant at any point, just long press your home button and tab the blue Turn On button. Before you go, find out how to change the voice in Google Assistant right here.

As an Amazon Associate I earn from qualifying purchases.